Thinking of Buying an RV or Motor Home? Think Again!
A Lemon Law attorney has some insights on the downsides of RV ownership you should think about before putting your money down and hitting the road.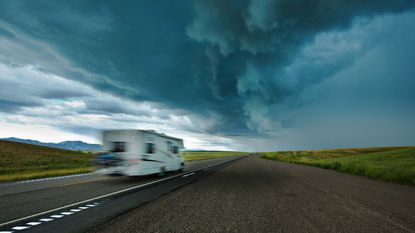 (Image credit: Getty Images)
"I run a photography business with my wife and adult son, traveling around the country taking photos of school kids and teachers for yearbooks. We are considering purchasing a large motor home where we can live and have a setup to take portraits and process the photos.
"What do you think of this idea? Have you had clients who regretted buying their RV or motor home?"
Bought a Revcon - Was Left in Tears
Years ago I had a client, "Jim," who purchased a top-of-the-line Revcon, at that time the most advanced and expensive motor home on the market. But it had one major problem after another. Twice he took it to the factory near San Diego for repairs.
Subscribe to Kiplinger's Personal Finance
Be a smarter, better informed investor.
Save up to 74%
Sign up for Kiplinger's Free E-Newsletters
Profit and prosper with the best of expert advice on investing, taxes, retirement, personal finance and more - straight to your e-mail.
Profit and prosper with the best of expert advice - straight to your e-mail.
He was never able to drive it as he had dreamed, and this evil motor home nearly drove him crazy. Now, Jim stuttered, badly. The last time we spoke on the phone, he was angry, hurt, sobbing and could hardly say one sentence that I could understand. I never forgot the name Revcon.
Words of wisdom from a Lemon Law attorney
"While RV, motor home/coach sales are soaring across the country, I don't recommend buying one. It could be the most costly mistake a family or a business could make," says Michigan Lemon Law attorney Steve Lehto. He acknowledges that RVs are a wonderful way to travel with few restrictions and can be far more convenient than most other ways of going on vacation. However, "You've got to know what you are getting into and the legal protections that might not exist."
I asked him to list those areas where most RV buyers find themselves in the dark:
1. Don't count on Lemon Laws to cover your RV.
Just see what happens if your $250,000 motor home turns out to be a disaster. In most states getting the manufacturer to buy it back is next to impossible, according to Lehto.
While all states have strong lemon law protections for automobile purchases that are effective, how they handle RVs is, in general, not the same, and the level of protection offered the buyer tends to be much lower. So, before buying an RV, see what type of Lemon Law protection (if any) your state offers, Lehto advises.
In your state's Lemon Law, when you see the wording "reasonable attempts to repair the RV," you are faced with a huge question: What is "reasonable"? How many times? The lack of specificity makes obtaining Lemon Law relief for an RV purchase extraordinarily difficult in most states for that reason.
"In other words," Lehto says, "merely because a state claims to have a lemon law that applies to RVs is no assurance it will be of benefit to you should trouble arise. It is window dressing for most U.S. states."
2. Dealerships are designed to sell RVs, not to fix them.
Except in states that offer strong lemon law protections for RVs, dealers are often poorly equipped to accomplish repairs, Lehto says. Often, you will have to wait months for a technician from the manufacturer to come to the selling dealer to do the repair.
Or, you may be told to drive — or tow — your new RV halfway across the country to the manufacturer to have repairs done!
3. Owning an RV is hard work!
They are difficult to drive on the freeway, to park, to store, and to move around in an RV park. You have to load and unload before and after trips, hook up and unhook at campsites, deal with maintenance and repair issues, on an on.
4. Are you in poor health? Forget it!
Every year there are stories of people with serious health issues who decided to live in an RV and wind up near death's door, having traveled to remote areas where little, if any, immediate access to health care is possible. Consider the reality of almost constant road vibration and the impact on back pain and other issues.
5. Recognize the inconveniences you must accept.
There are things you will have to live with, such as limited showers, hideously high gasoline expense, and the need for someone in your family to be a handy person who can fix small things that act up. Lacking this ability, forget the RV!
Due diligence before buying
Lehto feels that it is "extraordinarily important to be informed about the pros and cons of RV ownership before buying. So, visit RV parks, speak with the community and discuss the pros and cons of RV ownership as well as makes and models owners prefer."
He draws a parallel between buying an RV and moving to a foreign country:
"To test whether the RV lifestyle is for you, your family or business, rent one first. If you were considering moving to a foreign country, you would visit, first, and spend time there. Dealers are generally happy to rent an RV for a couple of weeks. By so doing, you might discover that it isn't for you."
Concluding our chat, Lehto strongly recommends "buying a fairly new, used RV. You will save yourself thousands of dollars."
And the next time you are online, go to Lehto's Law on YouTube. You'll be glad you did.
This article was written by and presents the views of our contributing adviser, not the Kiplinger editorial staff. You can check adviser records with the SEC or with FINRA.
Attorney at Law, Author of "You and the Law"
After attending Loyola University School of Law, H. Dennis Beaver joined California's Kern County District Attorney's Office, where he established a Consumer Fraud section. He is in the general practice of law and writes a syndicated newspaper column, "You and the Law." Through his column he offers readers in need of down-to-earth advice his help free of charge. "I know it sounds corny, but I just love to be able to use my education and experience to help, simply to help. When a reader contacts me, it is a gift."