'Gray Divorce' Rates Are Exploding Due to This Perfect Storm
Here's why divorce rates among those 50 and older are booming … and what women can do to recover and rebound.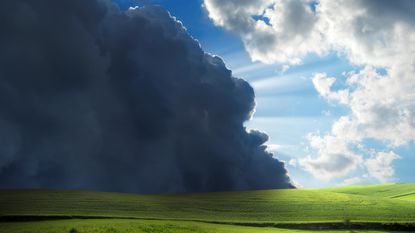 (Image credit: Getty Images)
At a time when divorce is becoming less common for Millennials, so-called "gray divorce" is on the rise for Baby Boomers. According to the Pew Research Center, the divorce rate has roughly doubled since the 1990s for American adults ages 50 and older. But why? The climbing rate stems from a host of societal factors, and it has significant financial implications, especially for women.
Change in Divorce Stigma
In today's world, women are more empowered and educated, and the reduced divorce stigma is giving women more freedom to walk away from a less-than-ideal or emotionally draining situation. With general attitudes toward divorce becoming more relaxed, it is easier to walk away, especially when your peers are doing the same thing.
Longer Life Expectancies
Longer life expectancies are also upping the stakes for women who are unhappy in their marriages. Better medical treatments, more health care awareness and enlightenment around what will help us live longer have also extended the years spent together in marriage. For a 55-year-old woman, her marriage may last another 30 years, or even more. This ups the ante for those in unhappy marriages and may prompt them to question whether they can put up with their spouse for that much longer.
Subscribe to Kiplinger's Personal Finance
Be a smarter, better informed investor.
Save up to 74%
Sign up for Kiplinger's Free E-Newsletters
Profit and prosper with the best of expert advice on investing, taxes, retirement, personal finance and more - straight to your e-mail.
Profit and prosper with the best of expert advice - straight to your e-mail.
Postponed Divorces
Some adults admit that they stay in their marriage to set an example for their children, and to keep a united family unit while raising them, which causes unhappy couples to put off divorce until kids are grown and possibly even starting families of their own. When couples who stay together "for the kids" are free from the day-to-day responsibilities of raising children, new light is shed on the relationship, and a late-life re-evaluation of their marriage may come to the forefront of their thinking.
Matrimonial attorney Lisa Zeiderman of Miller Zeiderman LLP says that she often meets with clients who have remained in their marriages because they felt their children were better off with intact families. Interestingly, Zeiderman often hears clients express that children are relieved when the parents finally announce the divorce, sometimes asking "What took so long?" or saying, "I am so glad that I don't have to hear the two of you arguing anymore."
Repeat Divorces
Some Baby Boomers are on their 2nd, 3rd or even 4th marriages. Studies show that these marriages tend to have lower success rates. The divorce rate for people over 50 who have been married more than once is 2.5 times higher than those who have been coupled with the same person throughout their life. According to Zeiderman, this high divorce rate is a significant reason why couples should enter into prenuptial and postnuptial agreements, especially if they have been married before. A prenup or postnup agreement can set forth the division of assets, liabilities and spousal support in the event of a separation or divorce.
General Dissatisfaction and COVID
We can also blame some of the recent rising divorce rates on the COVID pandemic. Avani Ramnani, a Certified Divorce Financial Analyst® with Francis Financial, shares, "The unexpected in-home isolation puts a sharper focus on issues in the marriage that may have otherwise been overlooked. Loss of income, employment and separate routines that allowed healthy time away from each other have produced a perfect storm. With these additional pressures, some marriages are wilting under the added stress." Ramani says she is meeting more women who say they're considering walking away from long-term marriages. "These women have had it with their spouses and are ready to get away from all of the tension and fighting."
Financial Headwinds for Women
As we know, women already face many financial obstacles, including earning less than men, starting retirement with smaller amounts saved, and living longer. When coupled with divorce, the economic outcome can be disastrous. Research suggests that women usually do not fully recover from the financial consequences of divorce. After divorce, the average woman's income falls by more than a fifth and remains low for many years.
According to Ramnani, gray divorcees are even more financially vulnerable. A study conducted by the Social Security Administration found that around 20% of divorced women 65 or older live in poverty and are less financially secure than married or widowed adults.
A prevalent issue, according to Zeiderman, is that "often one of spouses has not only remained for years in a less-than-satisfying marriage, but also sacrificed earning power." Zeiderman states that, "It is not unusual for women to come to me after having remained in the marriage until their children are grown, and then find themselves unable to support themselves in the lifestyle to which they have grown accustomed." Women can find it difficult if not impossible to regain their footing in a career, having been out of the workforce for all those years.
Zeiderman warns, "While their executive spouse may have promised that they will take care of the stay-at-home mother forever, all bets are often off when a couple files for divorce. To make matters worse, the court system is not kind when it comes to alimony and maintenance. Women may find themselves forced to scramble for low-paying positions and build a career as they head toward age 60 or more." Zeiderman recommends that prior to giving up a career and your earning power, couples with a stay-at-home spouse should enter into prenuptial or postnuptial agreements so that no one is surprised later.
Building Financial Security
What can women do to ensure financial stability after a gray divorce? Education is key. Knowing your expenses, assets and income will help women make sound decisions that will help grow their wealth and put them on a path to financial security. According to financial divorce expert Ramnani, "The best way to get the needed information is to work with a fee-only, fiduciary financial adviser. Financial advisers can help with post-divorce retirement planning and craft income strategies to help you maintain your financial security."
This article was written by and presents the views of our contributing adviser, not the Kiplinger editorial staff. You can check adviser records with the SEC or with FINRA.
President & CEO, Francis Financial Inc.
Stacy is a nationally recognized financial expert and the President and CEO of Francis Financial Inc., which she founded 15 years ago. She is a Certified Financial Planner® (CFP®) and Certified Divorce Financial Analyst® (CDFA®) who provides advice to women going through transitions, such as divorce, widowhood and sudden wealth. She is also the founder of Savvy Ladies™, a nonprofit that has provided free personal finance education and resources to over 15,000 women.