3 Big Technology Stocks With Big Dividend Potential
Technology stocks' yields aren't much to look at, but these three firms have deep financial resources to keep the pedal down on dividend growth.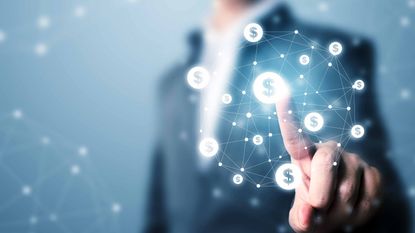 (Image credit: Getty Images)
The Federal Reserve has stated that it will keep printing money until it has achieved its dual mandate of full employment and 2% inflation.
It's nowhere near achieving either of those targets, so the Fed's benchmark interest rate will continue to stay low – Fed Chair Jerome Powell indicated recently that timeline could be at least three years. That's great news for the equity markets overall, but bad news for investors looking for yield because income from bonds could be low for a long time.
Investors can seek out yield in equity, but they face difficulties there, too. The S&P 500 yields a low 1.7%. And it's far less than that in certain sectors, such as technology stocks, which on average yield less than 1%.
But baseline yield isn't the only thing that matters in dividend investing.
Dividend payers that grow their payouts rapidly over time produce a higher "yield on cost." Investors considering these dividend growers should also make sure they have low dividend payout ratios (the percentage of profits that go toward funding dividends). That means they'll likely have the resources to continue boosting their cash distributions over time.
The tech sector has dividend raisers in spades. So, those looking to the sector for continued growth will also find sources of swelling dividends. Read on as we look at three technology stocks that fit right in with an income investor's portfolio.
Data is as of Dec. 10. Stocks listed in reverse order of yield. Dividend yields are calculated by annualizing the most recent payout and dividing by the share price.
1/3
Microsoft
Market value: $1.6 trillion
Dividend yield: 1.1%
5-year average dividend growth: 10.1%
Let's kick off our look at dividend-paying technology stocks with Microsoft (MSFT (opens in new tab), $210.52).
The yield on Microsoft might not be high, at a little more than 1%. But again, remember: It's not just the size of the dividend, but the growth rate.
MSFT's payout has more than quadrupled over the past 10 years. But it still has a low payout ratio of 34%, which means Microsoft has plenty more room to keep expanding its payout, should it choose.
Microsoft isn't just some utility that only pays out dividends, however. Its Azure cloud computing system is helping to keep the $1.6 trillion company growing. In the company's quarter ended Sept. 30, for instance, Azure revenues jumped by 47% year-over-year. That's helping it catch up with Azure's main competitor, Amazon.com's (AMZN (opens in new tab)) Amazon Web Services, which grew its revenues by 29% during the same period.
2/3
Apple
Market value: $2.1 trillion
Dividend yield: 0.7%
5-year average dividend growth: 9.7%
As is the case with Microsoft, Apple's (AAPL (opens in new tab), $123.24) has a low dividend yield, in this case less than 1%.
But also as was the case with MSFT, AAPL has been a tremendous dividend grower. Since the company reinstated the dividend eight years ago, its payout has expanded by 116%.
And Apple pays out just 25% of its profits in dividends, so it too has great leverage to expand the dividend if management desires.
Like many technology stocks, Apple's business has been mostly resilient during the pandemic, too. For the quarter ended June 2020, revenues grew 11% year-over-year, while profits improved by 18%. Its September quarter saw flatter performance, but that was the quarter before the launch of its 5G iPhone 12 line, which many analysts expect to begin a new iPhone "supercycle."
3/3
Nvidia
Market value: $321.2 billion
Dividend yield: 0.1%
5-year average dividend growth: 10.1%
Nvidia's (NVDA (opens in new tab), $518.89) yield is almost microscopic at the moment, and it's rarely above 1%. But the dividend growth has been tremendous, with the dividend up 113% since the chipmaker initiated the dividend eight years ago.
And that's despite the fact that Nvidia, in an act of an abundance of caution because of COVID-19, didn't even hike its payout in 2020.
But it certainly has the means to ramp up the dividend growth once again – it pays out a thin 10% of its profits out as cash distributions to investors.
NVDA is the leader in providing graphics processing units (GPUs), which are a staple in artificial intelligence (AI) and cloud computing. And its business model is actually being helped by the pandemic. During the third quarter, the company notched record overall revenues of $4.7 billion (+57% year-over-year), helped by record gaming sales that grew 37% and record data center revenues that jumped 162%.
Unsurprisingly, Nvidia has been one of the best large-cap technology stocks on the market in 2020, with 120% gains year-to-date.