Stock Market Today: Stocks Gain Ground After ECB's Aggressive Rate Hike
The European Central Bank (ECB) went "ultra-big" this morning in its fight against inflation, and indicated more rate hikes are on the way.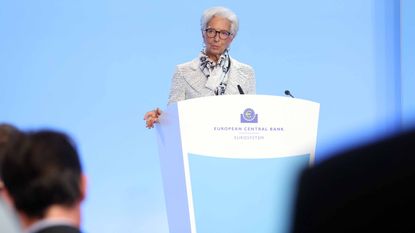 (Image credit: Getty Images)
Stocks kept investors on edge for most of Thursday, swinging between positive and negative territory throughout the session as investors sized up global central bank headlines.
Kicking things off was an early morning decision from the European Central Bank (ECB) to hike its key interest rate by an unprecedented 75 basis points. A basis point is one one-hundredth of a percentage point.
"Stuck between a rock and a hard place, ECB policymakers felt they had little option but to go ultra-big with the rate rise to try and cut the rope on inflation and spark a fall from its ascent," says Susannah Streeter, senior investment and markets analyst at Hargreaves Lansdown. She adds that it couldn't have come at a worse time. "With energy prices so elevated, bringing an end to the price spiral is going to be far from easy, and the ECB is warning that fresh hikes will be on the way."
Subscribe to Kiplinger's Personal Finance
Be a smarter, better informed investor.
Save up to 74%
Sign up for Kiplinger's Free E-Newsletters
Profit and prosper with the best of expert advice on investing, taxes, retirement, personal finance and more - straight to your e-mail.
Profit and prosper with the best of expert advice - straight to your e-mail.
Back at home, Federal Reserve Chair Jerome Powell this morning doubled down on the hawkish tone he struck in a late-August speech in Jackson Hole, Wyoming. Speaking during a virtual conference hosted by the Cato Institute, Powell indicated that the Fed is firmly committed to fighting inflation and will be as aggressive as it needs to be in order to do that. "It is very much our view, and my view, that we need to act now forthrightly, strongly, as we have been doing, and we need to keep at it until the job is done," he said.
Sign up for Kiplinger's FREE Investing Weekly e-letter for stock, ETF and mutual fund recommendations, and other investing advice.
These two events sparked a wild ride for investors, but at the close, the major market indexes were in the green. The Dow Jones Industrial Average ended up 0.6% at 31,774, the S&P 500 Index rose 0.7% to 4,006, and the Nasdaq Composite gained 0.6% to 11,862.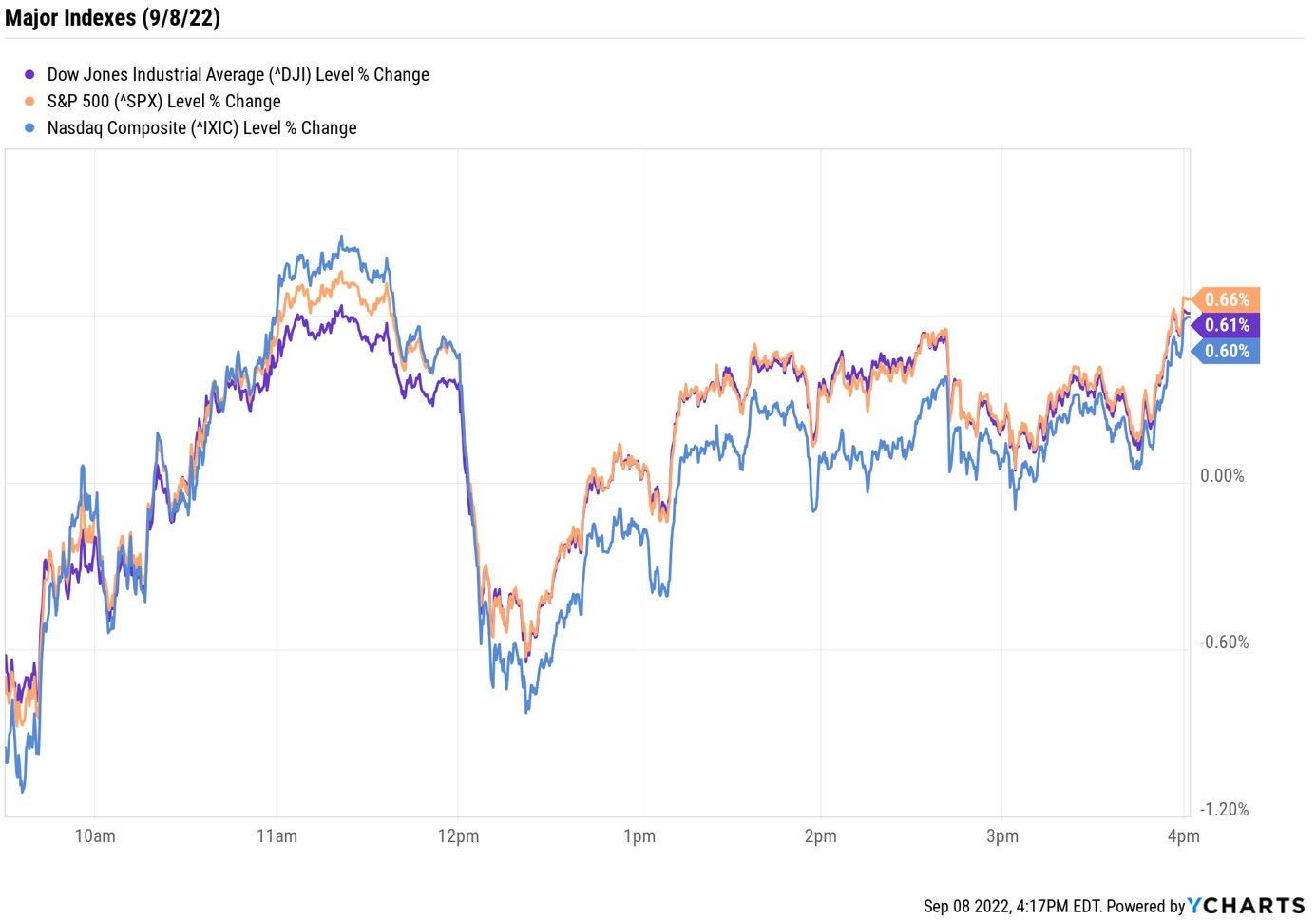 Other news in the stock market today:
The small-cap Russell 2000 tacked on 0.7% to 1,844.
U.S. crude futures gained nearly 2% to end at $83.54 per barrel.
Gold futures fell 0.4% to finish at $1,720.20 an ounce.
Bitcoin rose 1.8% to $19,355.05. (Bitcoin trades 24 hours a day; prices reported here are as of 4 p.m.)
Snap (SNAP (opens in new tab)) stock jumped 9.4%, building on Wednesday's 6.4% gain, after a report in The Verge (opens in new tab) detailed a leaked memo from the social media company's CEO Evan Spiegel. According to the article, the internal memo to employees detailed SNAP's plans to grow Snapchat's user base by 30% to 450 million and increase revenue to $6 billion by the end of 2023. UBS Global Research analyst Lloyd Walmsley (Buy) said he is "encouraged" by the targets. "We recognize this could be an internal stretch goal and the company is in a show-me mode given macro uncertainty," Walmsley writes in a note to clients. "Nonetheless, we think the company has done a good job executing, showing daily active user growth of 85% since 2018 to date and growing revenue 3x from 2018 through 2022 estimates. As such, we give management the benefit of the doubt here."
GameStop (GME (opens in new tab)) rose 7.5% after the video game retailer reported earnings. While GME reported lower year-over-year sales and a wider per-share loss in its second quarter, it unveiled a partnership with crypto exchange FTX. "At a high level, the partnership will introduce more GameStop customers to FTX's community and its marketplaces for digital assets," says Wedbush analyst Michael Pachter, who has an Underperform (Sell) rating on GME. "The two companies will collaborate on new ecommerce and online marketing initiatives, with GameStop beginning to carry FTX gift cards in select stores as its preferred retail partner in the U.S. Financial terms were not disclosed, though we are skeptical that the partnership will drive meaningful revenue or profit contribution."
REIT Dividends to Help Fight Inflation
Next week, Wall Street will get the latest reading on inflation data, with the consumer price index (CPI) for August set for release ahead of the Sept. 13 open. Prices eased back slightly in July, but it's likely that inflation is not done yet.
"There is some evidence that food prices may be moderating after a year's worth of large monthly increases," says Kiplinger economist David Payne. "But continuing large wage increases at many businesses are likely to keep upward pressure on most prices for some time to come." And even if inflation continues to trend lower, it will take awhile to bring prices back down to a sustainable level.
Given that backdrop, investors should know that dividend stocks offer a powerful way to mitigate the effects of red-hot inflation. And one of the best places to find healthy yields is in real estate investment trusts (REITs). Remember, REITs are an especially attractive option for income-seeking investors because they are legally required to distribute at least 90% of their taxable earnings back to shareholders. It's even better when these generous REITs boast exceptional dividend growth. Here, we take a look at 12 real estate stocks that have consistently raised their payouts in recent years, and delivered impressive growth to boot.
Contributing Editor, Kiplinger.com
With over a decade of experience writing about the stock market, Karee Venema is an investing editor and options expert at Kiplinger.com. She joined the publication in April 2021 after 10 years of working as an investing writer and columnist at Schaeffer's Investment Research. In her previous role, Karee focused primarily on options trading, as well as technical, fundamental and sentiment analysis.