How a Stock Trade Actually Works
While trades are now commission-free to most consumers, a lot of money is still being made on penny-level differences in the process.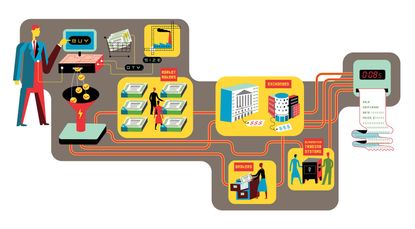 (Image credit: Illustration by Otto Steiniger)
Stock trades are free these days at most online brokers. But where and how your trade is filled can impact your purchase price. And "it all happens in a flash," says Jeff Chiappetta, vice president of trade and education at Schwab. It takes just 0.08 seconds, on average, at Schwab, from the time you submit your trade to validation of execution. Here's a step-by-step look at what happens when you place a market-order stock trade.
Step 1: You click "buy"
After you submit a trade but before it is routed to the next step, your brokerage firm will review your trade for certain factors. The size of the company and the size of your trade can influence where and how the order is filled and the price you pay. Fractional orders or oversized orders (say, more than 10,000 shares), for instance, may be filled in multiple transactions. Some firms may scrutinize a trade for whether it could impact the stock's trading price. An exceptionally large order "could drive the price of a stock up or down," says Chiappetta, "and we don't want that." Some firms also check to see that you have the cash or margin in your account to cover the trade; others may give you leeway to fund the account over the next two business days.
Step 2: Routing
Your broker has a duty to deliver the best possible execution price to you for your trade, which means it must meet or beat the best price available in the market. To do so, it can choose to send your order to one of four venues:
Subscribe to Kiplinger's Personal Finance
Be a smarter, better informed investor.
Save up to 74%
Sign up for Kiplinger's Free E-Newsletters
Profit and prosper with the best of expert advice on investing, taxes, retirement, personal finance and more - straight to your e-mail.
Profit and prosper with the best of expert advice - straight to your e-mail.
■ Market makers, including firms such as Citadel and Virtu Financial, "act like car dealers" for buyers and sellers, says James Angel, a professor at Georgetown's McDonough School of Business. These firms will pay a fraction of a penny for every share that your broker sends their way in a practice called payment for order flow. Although some brokers don't accept payment for order flow, it's not necessarily a bad thing: In exchange for the order flow, the market maker also promises to beat the best quoted price you see flashing on your quote page. Say the current market price for XYZ stock is $50. The market maker may fill your order at $49.98 a share. That's price improvement.
Brokerages must disclose how much they receive in payment for order flow every year. Firms like to tout their price improvement. Fidelity "passed back $650 million in price improvement" in 2019, says Gregg Murphy, senior vice president of Fidelity's retail brokerage division. This year, the figure may double. Schwab's Chiappetta says the firm passes back $8 of price improvement for every $1 it receives for payment for order flow. "Net-net, our clients are saving money," he says.
■ An exchange, such as Nasdaq or the New York Stock Exchange, can fill the order, too. But the exchanges charge your broker roughly 30 cents for every 100 shares traded, says Angel. "Doesn't sound like a lot, but every penny adds up," he adds.
■ Some brokers (but not all) may fill the trade from their own inventory. The broker makes money on the "spread"—the difference between the purchase price and the sale price.
■ Alternative trading systems are a last option. Most trades don't end up here, says Chiappetta, but these systems match buyers with sellers. In some cases, there's little transparency. "That's why they're called dark pools," says Chiappetta.
Step 3: Confirmation
You'll get a notification that the order was filled, at what price and what time. If the order was small (fractional, for example) or oversized (for more than 10,000 shares, say), you might see multiple executions, says Murphy.
Senior Associate Editor, Kiplinger's Personal Finance
Nellie joined Kiplinger in August 2011 after a seven-year stint in Hong Kong. There, she worked for the Wall Street Journal Asia, where as lifestyle editor, she launched and edited Scene Asia, an online guide to food, wine, entertainment and the arts in Asia. Prior to that, she was an editor at Weekend Journal, the Friday lifestyle section of the Wall Street Journal Asia. Kiplinger isn't Nellie's first foray into personal finance: She has also worked at SmartMoney (rising from fact-checker to senior writer), and she was a senior editor at Money.