ESG Investing Takes Off
For our ESG 20, we identified 15 stocks and five funds that excel at meeting environmental, social and corporate governance challenges.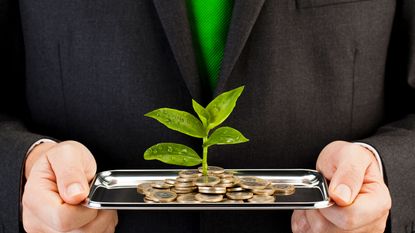 A few years ago, I wrote a column about investing in companies that are compatible with your values. I had sold my shares of Facebook after it came to light that during the run-up to the 2016 presidential election, data analysis firm Cambridge Analytica collected information from tens of millions of Facebook users without their permission—and Facebook wasn't doing much to police such breaches. But I admitted that I wasn't all-in on severing my ties to the social media company. I was reluctant to delete my Facebook account because it was (and still is) a wonderful way to stay in touch with family and friends.
If investing in companies that do an outstanding job helping people and the planet is important to you, you face some challenges. In addition to the usual screens (price-earnings ratios, revenues and so forth) to evaluate a company for performance, it takes an enormous amount of time to do the research to be sure a company's practices jibe with what's important to you—assuming you even have access to all the facts.
Introducing the ESG 20. Introducing the Kiplinger ESG 20 identifies 15 companies and five funds that excel at meeting ESG challenges. (ESG stands for environmental, social and corporate governance.) To create our list, our investing team did extensive research, reviewing ratings of stocks and funds published by ESG rating firms and interviewing fund managers, Wall Street analysts, ESG investing experts and company executives.
Subscribe to Kiplinger's Personal Finance
Be a smarter, better informed investor.
Save up to 74%
Sign up for Kiplinger's Free E-Newsletters
Profit and prosper with the best of Kiplinger's expert advice on investing, taxes, retirement, personal finance and more - straight to your e-mail.
Profit and prosper with the best of Kiplinger's expert advice - straight to your e-mail.
Since I wrote my column about my struggles to invest with a value screen, ESG investing has taken off. In recent years, asset flows into ESG-oriented funds have broken records quarter after quarter. More investors are embracing it in a bid to drive change and help solve problems in light of crises tied to climate change and the global pandemic, as well as pressing social issues such as income inequality and the push for racial justice.
The poll that Kiplinger conducted with Domini Impact Investing offers a snapshot of attitudes toward ESG investing today. In the national survey of more than a thousand investors, more than two out of three respondents say a company's environmental practices, social issues management and governance policies are very or somewhat important to them when choosing investments. Four in 10 say they have purchased stocks or bonds in the past based on environmental, social or governance issues; among millennials, the number jumps to nearly two-thirds.
The reasons vary: More than one-third want to make a positive impact on the environment. About one-fourth want to build a better future for all. Some 15% want to invest in their local community.
Recent headlines may be spurring some of this interest: More than half say they are more likely to put money in ESG investments because of news of environmental or climate change concerns; more than one-third are more likely to do so because of media reports of social unrest. Nearly one-third are also more likely to make an ESG investment because of the COVID-19 pandemic.
The good news is that you don't have to sacrifice performance with ESG investing. The S&P Composite 1500 ESG index, a broad measure of ESG-focused stocks covering U.S. companies of all sizes, returned an annualized 18.6% over the past three years; the S&P Composite 1500, its non-ESG cousin, had a 17.2% gain.
Editor, Kiplinger's Personal Finance
Mark became editor of Kiplinger's Personal Finance magazine in July 2017. Prior to becoming editor, he was the Money and Living sections editor and, before that, the automotive writer. He has also been editor of Kiplinger.com as well as the magazine's managing editor, assistant managing editor and chief copy editor. Mark has also served as president of the Washington Automotive Press Association. In 1990 he was nominated for a National Magazine Award. Mark earned a B.A. from University of Virginia and an M.A. in Writing from Johns Hopkins University. Mark lives in Washington, D.C., with his wife, and they spend as much time as possible in their Glen Arbor, Mich., vacation home.