How the Debt Ceiling Negotiations Affect the Budget: Kiplinger Economic Forecasts
Compromises in the debt ceiling negotiations mean more spending caps for future annual budgets.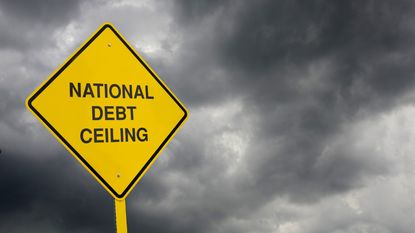 (Image credit: Getty Images)
U.S. politics has a wide-reaching impact not just on the U.S. and its economy but across the world too. Our highly-experienced Kiplinger Letter team will keep you abreast of the latest developments and forecasts (Get a free issue of The Kiplinger Letter or subscribe). You'll get all the latest news first by subscribing, but we will publish many (but not all) of the forecasts a few days afterward online. Here's the latest...
The debt ceiling negotiations were long and ever-changing. In the end, the United States will make good on its debts, but lawmakers compromised on the national budget.
The debt ceiling drama is over, at least for the next year and a half, now that Congress has agreed to suspend Uncle Sam's borrowing limit until January 2025, avoiding a calamitous default. But to get that bill across the finish line, lawmakers agreed to a slew of spending caps that will affect numerous federal government programs.
Subscribe to Kiplinger's Personal Finance
Be a smarter, better informed investor.
Save up to 74%
Sign up for Kiplinger's Free E-Newsletters
Profit and prosper with the best of expert advice on investing, taxes, retirement, personal finance and more - straight to your e-mail.
Profit and prosper with the best of expert advice - straight to your e-mail.
Nondefense discretionary spending will be flat for the 2024 fiscal year, which starts Oct. 1 and increases by only 1% the following fiscal year. That is, effectively, a budget cut, since the rate of inflation is expected to be higher going forward. Defense spending will increase by 3.3%, with a smaller increase scheduled for 2025. Veterans' healthcare will remain fully funded.
No budget caps are set in stone after 2025, just a non-enforceable target to limit spending to 1% growth until 2030, which future Congresses can and, if past is precedent, likely will ignore. Congressional Budget Office projections show that these measures will reduce federal budget deficits by $1.5 trillion over the next decade (the current debt: $31.8 trillion), but only if lawmakers also follow the nonbinding spending caps.
Also included: Incentives for Congress to pass all 12 annual spending bills, a feat not accomplished since the 1990s. Failure to do so during the next two years would result in an automatic 1%, across-the-board discretionary spending cut. The goal is to get lawmakers out of the habit of passing continuing resolutions, cobbled together at the last minute to keep the federal government funded.
As for specific spending cuts, the IRS was a major target. The legislation rescinds $1.4 billion in funding from the $80 billion Congress allocated to the agency in 2022. A handshake deal not written into the bill aims to take another $20 billion from IRS over the next two years, the money going to other nondefense programs. Roughly $30 billion in unspent COVID relief money will also be clawed back, including funds allocated to federal health agencies and pandemic-era aid programs.
Other provisions of note: Streamlining the environmental review process for energy projects, such as pipelines. The bill will also expedite the review process of a natural gas pipeline in Appalachia, at the behest of Sen. Joe Manchin (D-WV). Ending a COVID-era pause to student loan payments by the end of summer, though a pending Supreme Court case could make that deadline even sooner. Phasing in broader work requirements for many adults on food stamps, though this provision will expire in 2030 and already includes many exemptions.
As with any congressional compromise, most lawmakers are disappointed by the deal in some way.
This forecast first appeared in The Kiplinger Letter, which has been running since 1923 and is a collection of concise weekly forecasts on business and economic trends, as well as what to expect from Washington, to help you understand what's coming up to make the most of your investments and your money. Subscribe to The Kiplinger Letter.
Read more

Associate Editor, The Kiplinger Letter
Sean Lengell covers Congress and government policy for The Kiplinger Letter. Before joining Kiplinger in January 2017 he served as a congressional reporter for eight years with the Washington Examiner and the Washington Times. He previously covered local news for the Tampa (Fla.) Tribune. A native of northern Illinois who spent much of his youth in St. Petersburg, Fla., he holds a bachelor's degree in English from Marquette University.