Debt Ceiling Will Be Averted but It Won't Be Easy: Kiplinger Economic Forecasts
There's a lack of cross-party agreement on the debt ceiling right now but don't expect a full-blown crisis.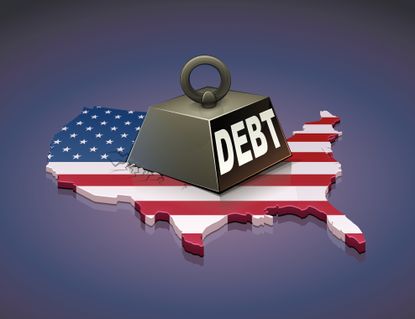 (Image credit: Getty)
The debt ceiling is a limit on the amount of debt Treasury can incur and influences how much money the government can borrow.
The debt ceiling is one of the hottest topics of the year, so to keep you in the loop on what is going on, our highly experienced Kiplinger Letter team will update you on all the important events and data (Get a free issue of The Kiplinger Letter or subscribe). Here's the latest forecast…
With no deal on the debt ceiling in sight and time running out for lawmakers to act, how might this impasse get worked out? Here are the unvarnished prospects as we see them.
Subscribe to Kiplinger's Personal Finance
Be a smarter, better informed investor.
Save up to 74%
Sign up for Kiplinger's Free E-Newsletters
Profit and prosper with the best of expert advice on investing, taxes, retirement, personal finance and more - straight to your e-mail.
Profit and prosper with the best of expert advice - straight to your e-mail.
The basic obstacle to a deal is quite simple: a fight over cutting spending as part of the vote to raise the limit on how much Treasury can borrow to keep paying all of the government's expenses.
No political agreement yet on the debt ceiling
The GOP is adamant about reining in deficits. A House Republican bill that narrowly passed last week would trim $4.8 trillion in outlays over the next decade, with savings broadly distributed except for defense.
Dems in Congress and the president say no. No spending cuts as part of the increase in the limit.
The key negotiators: President Joe Biden and House Speaker Kevin McCarthy (R-CA). But they have not met for months now, and Biden says he won't negotiate until Congress passes a budget resolution that lays out ceilings for the coming fiscal year's appropriations bills.
That's nowhere near happening. So, a stalemate...
The debt ceiling could go to the wire
How much time is left to work out a compromise is a matter of debate. Treasury has been juggling funds after hitting the formal debt limit of $31.4 trillion, staving off a default. It can keep up that juggling act a bit longer, but opinion varies as to when it will truly run out of money — from as early as June to as late as August.
One thing you can be pretty sure of; any deal will come down to the wire when the threat of a default is hanging over Wall Street and causing financial angst.
There'll be a compromise to avert a debt ceiling crisis
In Washington, nothing focuses the political mind quite like an imminent crisis. The GOP faces a tall task to win any spending cuts, but not an impossible one. McCarthy's bill saving $4.8 trillion has no chance in the Senate. But simply passing it suggests that he'll be able to hold his caucus together and force Senate Democrats to at least consider a compromise that includes smaller cuts to lift the debt ceiling.
Biden and congressional Democrats have consistently said no to any such move, but simply saying no may get harder, now that House Republicans have offered a plan. Don't be surprised if we get a short-term compromise, a short suspension of the debt ceiling, for instance, to buy more time.
If McCarthy and Biden can't agree on a long-term solution, Senate Minority Leader Mitch McConnell (R-KY) may step in to negotiate a brief fix with Biden, his old Senate colleague.
If financial markets start to panic about a default, McConnell will do whatever he can to head it off. If all these options fail, don't expect a full-blown debt default. More likely, a brief default would force both parties to agree on some sort of compromise, even if it's just an exercise in kicking the can down the road. But even a limited delay in paying interest on some debt would rattle markets. Not what a slowing economy needs.
Read more

Associate Editor, The Kiplinger Letter
Sean Lengell covers Congress and government policy for The Kiplinger Letter. Before joining Kiplinger in January 2017 he served as a congressional reporter for eight years with the Washington Examiner and the Washington Times. He previously covered local news for the Tampa (Fla.) Tribune. A native of northern Illinois who spent much of his youth in St. Petersburg, Fla., he holds a bachelor's degree in English from Marquette University.