China's Economy Weakened by Low House Prices and Falling Exports: Kiplinger Economic Forecasts
The country lost momentum due to fewer exports and declining housing prices, but fast fashion retailers are booming.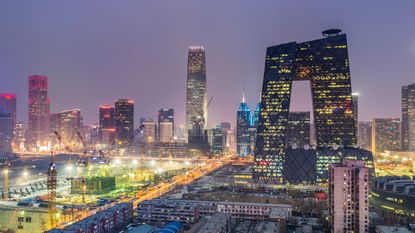 (Image credit: Getty Images)
China's economy relies heavily on manufacturing and exports, but inflation and COVID restrictions have affected the status quo. To help you understand what is going on and what we expect to happen in the future, our highly-experienced Kiplinger Letter team will keep you abreast of the latest developments and forecasts (Get a free issue of The Kiplinger Letter or subscribe). You'll get all the latest news first by subscribing, but we will publish many (but not all) of the forecasts a few days afterward online. Here's the latest...
China's economy is losing momentum amid slowing external demand, after it grew 4.5% in the first quarter due to the end of COVID restrictions. Manufacturing activity fell deeper into contraction in May. Meanwhile, activity tied to services and construction fell sharply during the month. Exports fell in May, as consumers worldwide cut back on goods they want but don't necessarily need.
China's property market remains a major drag on growth. Home sales are weak, price growth has cooled, and new housing starts have continued to drop. Excess leverage and overbuilding by developers for several years has led to debt stress in the real-estate sector and empty dwellings in many Chinese cities. Those problems mean Beijing can't use its old playbook of subsidizing housing to boost the economy.
Subscribe to Kiplinger's Personal Finance
Be a smarter, better informed investor.
Save up to 74%
Sign up for Kiplinger's Free E-Newsletters
Profit and prosper with the best of expert advice on investing, taxes, retirement, personal finance and more - straight to your e-mail.
Profit and prosper with the best of expert advice - straight to your e-mail.
A host of stimulus measures are in the works to try to prop up growth: new spending on infrastructure projects and lower interest rates to support lending.
Despite China's economic woes, its retailers are thriving in fast fashion, the trend of catering to fast-changing consumer tastes in clothing. Firms like Uniqlo, H&M and Zara once dominated it, but online-only Chinese retailers Shein, Temu and AliExpress, a unit of retailer Alibaba, are gaining ground. The fast-fashion industry has many critics, due to its tendency to use cheap fabrics for clothes that get trashed after going out of style, but Chinese retailers seem well-suited to the business model.
This forecast first appeared in The Kiplinger Letter, which has been running since 1923 and is a collection of concise weekly forecasts on business and economic trends, as well as what to expect from Washington, to help you understand what's coming up to make the most of your investments and your money. Subscribe to The Kiplinger Letter.
Related Content

Rodrigo Sermeño covers the financial services, housing, small business, and cryptocurrency industries for The Kiplinger Letter. Before joining Kiplinger in 2014, he worked for several think tanks and non-profit organizations in Washington, D.C., including the New America Foundation, the Streit Council, and the Arca Foundation. Rodrigo graduated from George Mason University with a bachelor's degree in international affairs. He also holds a master's in public policy from George Mason University's Schar School of Policy and Government.