Where the Midterm Election Races Stand Today
In a tight race, these state elections may make the difference when midterm results are announced in November.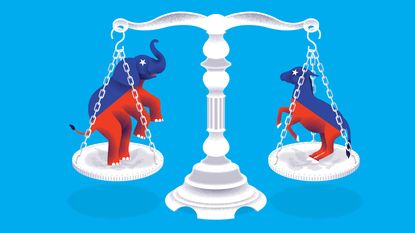 (Image credit: Illustration by Neil Webb)
With the congressional midterm elections only weeks away, here's how we think things will shake out.
In early spring, Republicans appeared well on their way to steamroll through the midterms and win back control of the House and Senate. Democrats were struggling to compete, weighed down by an unpopular president and sky-high inflation and gas prices.
But as the summer wore on, Democrats' prospects improved. Gas prices dropped, supply chain problems got better and the Supreme Court's decision to overturn Roe v. Wade energized their voters – all good news for the party. Some big-ticket Democratic bills that passed Congress in recent months also helped.
Subscribe to Kiplinger's Personal Finance
Be a smarter, better informed investor.
Save up to 74%
Sign up for Kiplinger's Free E-Newsletters
Profit and prosper with the best of expert advice on investing, taxes, retirement, personal finance and more - straight to your e-mail.
Profit and prosper with the best of expert advice - straight to your e-mail.
Meanwhile, several Republican candidates, particularly Senate hopefuls endorsed by former President Donald Trump, underwhelmed, both on the campaign trail and with fundraising. Senate Minority Leader Mitch McConnell (R-KY) even downplayed his party's chances of retaking the Senate, openly worrying about the "quality" of many GOP candidates.
On top of everything else, Trump's high-profile legal woes have been a drag on his party's midterm hopes.
But momentum in politics is fickle and can swing back quickly. In recent weeks, Republican candidates have done better in midterm polls and improved on the campaign trail.
So it's increasingly likely that control of the next Congress in January will be split. We anticipate that Republicans still will take control of the House, though they'll likely net fewer seats in the 435-member chamber than we initially expected – 15, versus the 25 seats we predicted in April.
Control of the Senate is too close to call. Democrats have an opportunity not just to hold on to their one-vote majority, but to expand it by a seat or two, with a few lucky breaks.
Here are some key Senate races to watch:
Pennsylvania
This is the Dems' biggest chance to flip a GOP-held Senate seat. Democratic Lt. Gov. John Fetterman has run a strong campaign despite being partially sidelined for months while recovering from a stroke. He has consistently led Republican Mehmet Oz in the polls and with fundraising, though Oz's attacks on his rival's health may be giving some potential Fetterman voters pause. For now, the nod goes to Fetterman.
Wisconsin
The Badger State also is very much in play, with GOP Sen. Ron Johnson and Democratic challenger Lt. Gov. Mandela Barnes trading leads in the polls. Barnes's progressive politics will help him in the state's two largest cities, Milwaukee and Madison, though it may fall flat in rural areas. Johnson's incumbency gives him a slight edge, but Barnes may surprise.
Ohio
The GOP was expected to win here without too much trouble. And the party still might, with Republican candidate J.D. Vance holding slight leads in the polls over longtime Democratic Rep. Tim Ryan. But Ryan has run as good a campaign as his party could wish, and Vance has struggled to get his up and running. Republicans privately are nervous about this race, but Vance still has the inside track.
North Carolina
Odds are decent that Republican Ted Budd will succeed the retiring GOP Sen. Richard Burr. But Budd has held only slight leads versus Democrat Cheri Beasley in most polls. The state's changing demographics will help Beasley, though it may not be enough to push her over the finish line.
Georgia
This race is a tossup. Incumbent Sen. Raphael Warnock (D) led Herschel Walker (R) in most polls this summer and has a massive cash advantage. And Walker, running in his first election, has been dogged by repeated gaffes. But the former University of Georgia football star has begun to turn the tide, leading in a few recent polls. He's also brought in veteran political operatives to steady his once-wobbly campaign. This race may be decided by a handful of votes.
Arizona
Democrat Sen. Mark Kelly has led in most polls by single digits and enjoys a fundraising advantage over Republican challenger Blake Masters. And Masters has faced blowback from friends and foes alike over a lengthy list of controversial comments. But look for a flood of campaign cash to flow into Masters's coffers from outside sources, as Republicans see this race as a key potential pickup. The race will be tight, but for now, the nod goes to Kelly.
Nevada
Democrats increasingly are worried about their chances to hold on to this seat, as Sen. Catherine Cortez Masto (D) and challenger Adam Laxalt (R) are locked in one of the most competitive Senate races in the country. Cortez Masto is the first Latina to serve in the Senate, which in the past would have played well among Nevada's large Hispanic population. But Republicans have made inroads wooing Hispanic voters in the Silver State and elsewhere. The advantage goes to Cortez Masto, but just barely.
A few caveats to keep in mind about the midterms. First, the political environment could change between now and Election Day, so don't take this as our final word on the matter. Second, we expect higher than normal turnout. Finally, outside money will flow freely to candidates of both parties during the home stretch. All of this makes forecasting trickier. But we expect many races to be extremely close, so close that the outcome of some – and control of at least the Senate – may not be decided until days after the election.

Reporter, The Kiplinger Letter
Housiaux covers the White House and state and local government for The Kiplinger Letter. Before joining Kiplinger in June 2016, he lived in Sioux Falls, SD, where he was the forum editor of Augustana University's student newspaper, the Mirror. He also contributed stories to the Borgen Project, a Seattle-based nonprofit focused on raising awareness of global poverty. He earned a B.A. in history and journalism from Augustana University.