Kiplinger's Inflation Outlook: Inflation Eases a Bit, but Price Pressures Lurk
Inflation should decline, but slowly, because of the wage-price cycle in services.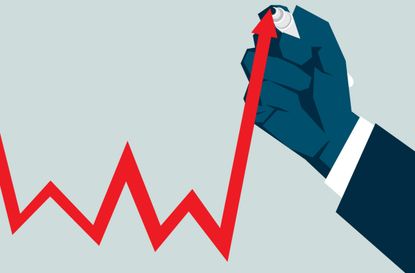 (Image credit: iStockphoto)
Kiplinger's Economic Outlooks are written by the staff of our weekly Kiplinger Letter and are unavailable elsewhere. Click here for a free issue of The Kiplinger Letter or for more information.
Annual inflation dropped to 6.0% in February. Price increases for groceries have been easing over the past six months, a welcome relief after rising 10% last year. Egg prices fell 6.7%. Energy prices declined, thanks to an 8.0% drop in natural gas costs. Goods prices were flat in February, helped by a 2.8% reduction in used-car and used-truck prices, their eighth consecutive decline.
But price pressures lurk in services, as cost-of-living pay increases given to workers force businesses to raise prices. While the cost of shelter is expected to slow, that may not be until midyear. For now, it is still rising at an 8.1% rate. Price increases in other services, except for medical care, are still elevated, rising 0.8% in February, up from 0.65% in January.
Subscribe to Kiplinger's Personal Finance
Be a smarter, better informed investor.
Save up to 74%
Sign up for Kiplinger's Free E-Newsletters
Profit and prosper with the best of expert advice on investing, taxes, retirement, personal finance and more - straight to your e-mail.
Profit and prosper with the best of expert advice - straight to your e-mail.
The slowing economy is likely to bring the yearly inflation rate down to around 4.0% by the end of 2023. However, this will still be higher than the Federal Reserve's target of 2.0%-2.5%.
The gradual inflation slowdown means that the Fed will likely continue its policy of raising short-term interest rates by a quarter of a percentage point. Because of the turmoil in the banking sector right now, the odds of the Fed skipping a rate hike at its next meeting (March 22) are 50-50 at the moment. If it does hold off in March, it will continue hikes at its May 3 and June 14 meetings.
The Fed is looking for an easing in underlying components of inflation that create month-to-month momentum. Shelter is important too since it's a large part of the index, but Chair Jerome Powell has stated that he knows that slowdowns in this component "are in the pipeline," as rental agreements come up for renewal. But the Fed is concerned that if inflation comes down too slowly, then wage increases will stay strong, creating a cycle of further price increases, as businesses try to maintain their profit margins by passing higher wage costs along to customers.
Related content
Staff Economist, The Kiplinger Letter
David is both staff economist and reporter for The Kiplinger Letter, overseeing Kiplinger forecasts for the U.S. and world economies. Previously, he was senior principal economist in the Center for Forecasting and Modeling at IHS/GlobalInsight, and an economist in the Chief Economist's Office of the U.S. Department of Commerce. David has co-written weekly reports on economic conditions since 1992, and has forecasted GDP and its components since 1995, beating the Blue Chip Indicators forecasts two-thirds of the time. David is a Certified Business Economist as recognized by the National Association for Business Economics. He has two master's degrees and is ABD in economics from the University of North Carolina at Chapel Hill.