How a Small Business Can Find the Ideal Banking Partner
Your financial institution should provide your business with more than checking and savings accounts. It should have a vested interest in your success, especially during uncertain times.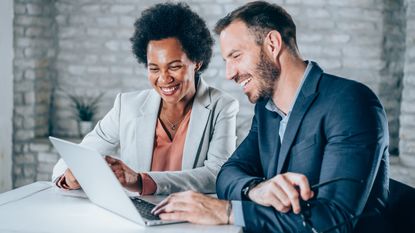 (Image credit: Getty Images)
The economic landscape is increasingly challenging for small businesses, as they face rising lending rates and high inflation, all while the threat of a recession continues to loom large.
In uncertain times, businesses rely more on their networks to keep moving forward. A financial partner stands out as a key source of support during these times. But this relationship becomes even more vital during times of uncertainty, highlighting the importance of choosing the right financial partner to help navigate challenges and promote growth and stability.
How to find the right partner
The selection of a financial partner is vital to a business' long-term success, and it is important to consider different options in your search for a financial institution. In a world dominated by online platforms, it might be tempting to secure a loan from a fintech company with an attractive website and no brick-and-mortar presence. However, it is essential to prioritize institutions that genuinely understand your business and offer tailored solutions. Engage with multiple financial institutions and leverage your entire relationship — from deposits to treasury management services — to secure the best terms.
Subscribe to Kiplinger's Personal Finance
Be a smarter, better informed investor.
Save up to 74%
Sign up for Kiplinger's Free E-Newsletters
Profit and prosper with the best of expert advice on investing, taxes, retirement, personal finance and more - straight to your e-mail.
Profit and prosper with the best of expert advice - straight to your e-mail.
The ideal banking partner is one that invests time in understanding the nuances of your business. Having a trusted financial partner not only streamlines operations but also ensures that the business remains focused on its core objective of serving and looking out for its customers. Building a long-term relationship with a local credit union or bank can be immensely beneficial and can support business growth over the years.
There are plenty of third-party resources to help drive your decision, particularly via government programs. The Small Business Administration (SBA) offers several loan programs tailored for businesses that might not qualify for traditional financing. For instance, the SBA's 504 loan program can assist businesses in purchasing their premises, with a portion of the loan having a fixed rate for an extended period.
What to look for in your search
When looking for the right financial partner, it can be helpful to take a pulse of the marketplace and understand what your peers are prioritizing. The National Federation of Independent Business (NFIB) released findings from its Banking Survey in May 2023, where it reported what businesses are looking for in their banking partner. Several key trends emerged as sought-after qualities:
A staggering 87% of respondents said customer service is particularly important.
Proactive communication — particularly in uncertain times — is a top priority. Over half (59%) of respondents reported they do not speak with a bank representative more than once in the span of six to 12 months.
The survey also found that 5% of business owners are considering a change to their banking partner in the near future.
As you look for a partner, consider how important these — and other — qualities are to you and your business. Make sure the selected partner meets your criteria for long-term success.
Making the most of your current banking relationship
Your banking partner should be more than a checking and savings account; it should be a partner with a vested interest in your success. While it may not be the right time to change partners, there are several baseline support measures your financial institution should provide, including:
Real-time insights into the economic landscape. High inflation and increasing interest rates have intensified the ongoing challenge of managing cash flow. With costs for labor, inventory and overhead like rent and utilities on the rise, businesses are feeling the pinch. Additionally, the current labor market has made finding and retaining staff a significant concern. Having a firm understanding of these conditions and how they affect your business will help you make stronger decisions.
Insights into essential and strategic tools. In these trying times, a line of credit can be a lifeline. It provides short-term working capital and can be used to seize opportunities, like bulk purchasing to save money on essential items and services. However, discipline is key. With higher interest rates, it is crucial to repay quickly to ensure the interest does not negate the benefits. For businesses with seasonal operations, it is worth asking your financial institution about structuring a creative repayment plan aligned with your revenue peaks.
Support in establishing a strong and dynamic financial foundation. Just as with personal finances, a well-thought-out budget is the cornerstone of a business' financial health. Implementing solid accounting practices, regularly comparing pricing with competitors, and planning growth strategies are essential. Partnering with a local financial institution can provide invaluable guidance and support because they have a direct understanding of your competitive landscape. Moreover, maintaining a cash flow analysis and setting up an interest-earning business savings account can ensure liquidity for both regular operations and unforeseen events.
While the economic landscape might seem daunting, with the right strategies and a trusted financial partner, small businesses can navigate these challenges successfully. The key is to stay informed, be proactive, and prioritize long-term financial health over short-term gains.
related content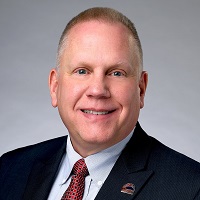 President and CEO, Affinity Federal Credit Union
Kevin Brauer, a distinguished finance industry professional with over three decades of experience, has been at the helm of Affinity Credit Union as CEO and President since January 2023. His substantial contribution to Affinity over the past seven years has been instrumental in propelling the firm's value proposition and innovating its financial well-being initiatives. Brauer leads Affinity's dedicated team of 500 employees at its Basking Ridge, N.J., headquarters and throughout its 18-plus branches.