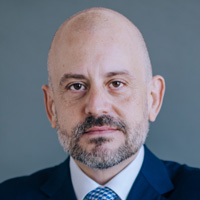 Brian Skrobonja, Chartered Financial Consultant (ChFC®)
Founder & President, Skrobonja Financial Group LLC and Skrobonja Wealth Management, LLC
Brian Skrobonja is a Chartered Financial Consultant (ChFC®) and Certified Private Wealth Advisor (CPWA®), as well as an author, blogger, podcaster and speaker. He is the founder and president of a St. Louis, Mo.-based wealth management firm. His goal is to help his audience discover the root of their beliefs about money and challenge them to think differently to reach their goals. Brian is the author of three books, and his Common Sense podcast was named one of the Top 10 podcasts by Forbes. In 2017, 2019, 2020, 2021 and 2022, Brian was awarded Best Wealth Manager. In 2021, he received Best in Business and the Future 50 in 2018 from St. Louis Small Business.
Securities offered only by duly registered individuals through Madison Avenue Securities, LLC. (MAS), Member FINRA &SIPC. Advisory services offered only by duly registered individuals through Skrobonja Wealth Management (SWM), a registered investment advisor. Tax services offered only through Skrobonja Tax Consulting. MAS does not offer Build Banking or tax advice. Skrobonja Financial Group, LLC, Skrobonja Wealth Management, LLC, Skrobonja Insurance Services, LLC, Skrobonja Tax Consulting, and Build Banking are not affiliated with MAS.
Skrobonja Wealth Management, LLC is a registered investment adviser. Advisory services are only offered to clients or prospective clients where Skrobonja Wealth Management, LLC and its representatives are properly licensed or exempt from licensure.
The firm is a registered investment adviser with the state of Missouri, and may only transact business with residents of those states, or residents of other states where otherwise legally permitted subject to exemption or exclusion from registration requirements. Registration with the United States Securities and Exchange Commission or any state securities authority does not imply a certain level of skill or training.
"Best Wealth Managers" and "Future 50 Company" are annual surveys conducted by Small Business Monthly. The winner is chosen by an online vote of the general public and no specific criteria is utilized to determine the winner. Some voters may not be clients of Brian Skrobonja and Skrobonja Financial Group. These awards are not representative of any one client's experience and are not indicative of future performance.
The appearances in Kiplinger were obtained through a PR program. The columnist is not affiliated with, nor endorsed by Kiplinger. Kiplinger did not compensate the columnist in any way.
The article and opinions in this publication are for general information only and are not intended to provide specific advice or recommendations for any individual. We suggest that you consult your accountant, tax or legal adviser with regard to your individual situation.
Phone: 636.296.5225 | Email: brian@brianskrobonja.com | Website: brianskrobonja.com