6 Ways to Get Your Kids to Do Chores Without Paying Them
Kids shouldn't be paid for doing routine tasks, but for doing extra jobs that parents define as above and beyond.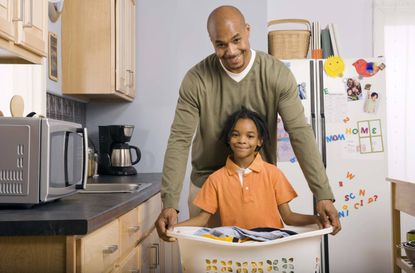 (Image credit: Getty Images/Creatas RF)
Allowances are always a burning issue for parents and children, and one of the hottest sources of conflict is whether an allowance should be tied to doing household chores. I weighed in on this in "8 Rules for Raising Money-Smart Kids". In brief, my take is that kids should not be paid for routine tasks, which they should do gratis simply because they're part of the family. To make the connection between work and pay, they may be paid for doing extra jobs, such as taking out the trash or recycling, mowing the lawn, washing the car, or whatever you define as above and beyond.
For many families, that raises a natural follow-up question: If you don't pay children for, say, washing dishes or tidying their room, how do you make sure the work gets done? Try these six tactics:
1) Ask politely. Many parents anticipate doing battle with their children. But, after all, you're the parent, and kids should respond to your request, especially if they're young. A friend once told me that when he was a boy, his mother had a surefire way of getting him to cooperate. "She would ask, 'Would you please do me a favor?'" said my friend. "How could I say no?" A variation is to ask kids to give you a hand, and then do the job side by side.
Subscribe to Kiplinger's Personal Finance
Be a smarter, better informed investor.
Save up to 74%
Sign up for Kiplinger's Free E-Newsletters
Profit and prosper with the best of expert advice on investing, taxes, retirement, personal finance and more - straight to your e-mail.
Profit and prosper with the best of expert advice - straight to your e-mail.
2) Make chores part of the daily routine. Chances are you already have a schedule for getting your children to do their homework or get ready for bed, so you can make chores part of the drill. So, for example, making the bed goes with brushing teeth in the morning, and clearing the table goes with doing homework at night. One dad I know gave his son, Patrick, one chore to do when he turned 5, then added a new job on each birthday. By age 7, Patrick was responsible for making his bed, setting the dinner table and doing his homework. "It was a mark of maturity," says Dad.
3) Give them guidance. Young children in particular sometimes feel overwhelmed and don't know where to start. So if you want them to keep their room neat, for instance, show them how to break down the job into several tasks that they can tackle one at a time. For example, they might start by making the bed, then tossing things they no longer use, and finally picking up the clutter on the floor. (To make it easier, add a few colorful bins, and don't mind too much if the stuffed animals get mixed in with the action figures.)
4) Propose a deal. This tactic works well with older kids, who have places to go, things to do, people to see. Tell them that before you will take them to the football game/movies/shopping mall or wherever (or lend them the car to get there on their own), they will have to make their bed/vacuum the family room/give the dog a bath or whatever. It shouldn't take more than a missed matinee or two for them to get the message.
5) Let kids choose what they'd like to do. Maybe one of them doesn't mind folding laundry while another prefers to walk the dog. Taking ownership of a task can cut down on complaints and give kids a vested interest in doing a job without being prodded.
6) Think outside the box. Children often get stuck doing the most mundane household chores. But there's plenty of work to be done around the house, so be creative in handing out responsibilities, and don't be afraid to raise the bar. Depending on their age, kids could be responsible for planning and preparing dinner once a week or breakfast on Sundays, baking cookies for the class Halloween party, packing their own suitcases for family trips, or helping to wrap holiday gifts.
A number of Web sites and apps can help you keep track of chores. Among them: ChoreMonster, DoughMain, My Job Chart and Allowance Manager. Each site lets you set up a system for tying allowance or other rewards to chores, but be aware that a number of them let kids spend money with a prepaid card or give them direct access to shopping sites. So choose the one that's most in tune with your family's values and the lessons you want to teach.

Janet Bodnar is editor-at-large of Kiplinger's Personal Finance, a position she assumed after retiring as editor of the magazine after eight years at the helm. She is a nationally recognized expert on the subjects of women and money, children's and family finances, and financial literacy. She is the author of two books, Money Smart Women and Raising Money Smart Kids. As editor-at-large, she writes two popular columns for Kiplinger, "Money Smart Women" and "Living in Retirement." Bodnar is a graduate of St. Bonaventure University and is a member of its Board of Trustees. She received her master's degree from Columbia University, where she was also a Knight-Bagehot Fellow in Business and Economics Journalism.