The City of Stockton Comes Back From the Brink
After filing for bankruptcy protection in 2012, the city manager of Stockton, Calif., made sustainable spending decisions and turned the city around.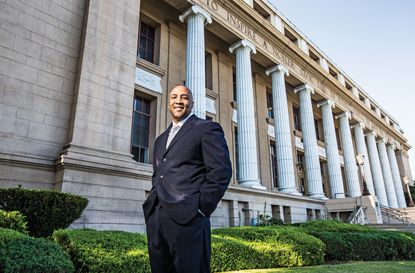 (Image credit: © 2016 Eric Millette, All Rights reserved)
Then: We chronicled the story of Stockton, Calif., in October 2012, just months after the city filed for bankruptcy protection—a result of what City Manager Kurt Wilson, pictured at left, says were years of "myopic decision-making, inadequate financial projections and [fiscal] overreaching." What followed were the 972 darkest days in the city's history, says Wilson. City retirees lost promised medical benefits, and bondholders saw the value of their holdings plummet. Hundreds of city workers lost their jobs, and the rest took pay cuts ranging from 9% to 23%.
Now: Stockton emerged from bankruptcy protection on February 25, 2015, but it is still under court supervision. City services remain depleted. Jobs unrelated to safety were cut by 43%, and there's no plan to restore them soon, says Wilson. The city closed one of its six libraries, and it has one-third fewer firefighters. Road repairs and tree trimming in this city of 62 square miles and roughly 300,000 residents are hopelessly backlogged due to the skeleton staffing. Although retirees kept their pensions, the city will not restore their medical benefits. And investors holding Stockton's unsecured debt took a heavy hit. They recovered between 17 and 50 cents on the dollar, depending on the bond issue and backing, according to Moody's Investors Service.
On the positive side, the police force, which lost about 25% of its officers, is hiring, thanks to revenues generated by a sales tax hike in 2013. It may take a few years, but the city can hire 46 additional officers—a 12% increase from current staffing levels. The city's economic development division has made great strides in wooing conventioneers and entertainers, including Clint Black and Carrie Underwood. That boosted hotel occupancy rates in 2015 by 12 percentage points, to 64.5%—a plus for bed tax revenues. The real estate market is coming back, too. The California Association of Realtors reports that median home values in San Joaquin County (of which Stockton is the county seat) are up 77% since the end of 2011.
Subscribe to Kiplinger's Personal Finance
Be a smarter, better informed investor.
Save up to 74%
Sign up for Kiplinger's Free E-Newsletters
Profit and prosper with the best of expert advice on investing, taxes, retirement, personal finance and more - straight to your e-mail.
Profit and prosper with the best of expert advice - straight to your e-mail.
Stockton's overall revenues have dropped 5%, but expenses have been cut three times as much, leaving the city on a sound financial footing, Moody's says. Citing the positive trends, rating agencies have begun upgrading some of the city's revenue bonds.
The bankruptcy wasn't a temporary thing, where you bounce right back to where you were, says Wilson. "We were in an unsustainable, unhealthy place. We want to be proud of the spending decisions we make today so that 20 years from now, whoever is sitting in this chair doesn't have to fix the problems we created."

Contributing Editor, Kiplinger's Personal Finance
Kristof, editor of
SideHusl.com
, is an award-winning financial journalist, who writes regularly for
Kiplinger's Personal Finance
and CBS MoneyWatch. She's the author of
Investing 101, Taming the Tuition Tiger
and
Kathy Kristof's Complete Book of Dollars and Sense
. But perhaps her biggest claim to fame is that she was once a
Jeopardy
question: Kathy Kristof replaced what famous personal finance columnist, who died in 1991? Answer: Sylvia Porter.