The 3 Spending Stages of Your Retirement
Popular thinking is that you'll spend less once you retire, but that's not what I've seen in my own clients, at least in the first few years.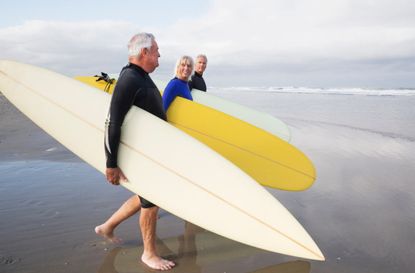 (Image credit: This content is subject to copyright.)
How much money will you need throughout your retirement years?
No magic formula can give you a precise answer, but I believe you can estimate costs. I also believe you should plan for three distinct phases of retirement.
Phase One: Retirement to age 75.
In this phase, people tend to be very active. They travel, play golf and visit their grandkids. They've got energy, they're on the go and they're spending money. I've seen articles that say retirees' cost of living will go down 40%, but that's not what I've witnessed in my clients' lives. Whatever money people spent on working (the commute, lunches, clothes, etc.) after retirement is spent on cruises, hobbies and fun. In fact, during this initial phase of retirement, costs for retirees typically go up.
Subscribe to Kiplinger's Personal Finance
Be a smarter, better informed investor.
Save up to 74%
Sign up for Kiplinger's Free E-Newsletters
Profit and prosper with the best of expert advice on investing, taxes, retirement, personal finance and more - straight to your e-mail.
Profit and prosper with the best of expert advice - straight to your e-mail.
I suggest planning for your cost-of-living to rise 4% per year in Phase One. That may sound like a very aggressive rate, but I believe in overestimating on all possible costs and underestimating on income. If you do that and reality is better than planned, your financial plan will be better than planned, too.
Phase Two: Age 75–85.
Retirees are still active in this phase, but they've slowed down. They've done a lot of the things they'd planned for retirement, and though they're still traveling and pursing hobbies, they're also settling into routines at home. Although people are still spending in this phase, the cost of living typically plateaus. I'd plan for an increase of 3% per year to be conservative. We want to overestimate our expenses in the planning process so that reality should be better than the plan.
Phase Three: Age 85 plus.
In this third phase of retirement, people tend to spend more time at home and with their families, and costs go down (as long as health problems are not an issue). It can be a good time to think about the legacy you'll leave, and even to begin transitioning some of your wealth to heirs, but once again, so as to be conservative, I also suggest you continue to build in a cost-of-living increase of 2% a year. When planning for our clients, we try to overestimate on the bad stuff and underestimate on the good stuff. The idea being that, if we are OK under that scenario, we should be OK under something better.
Having worked with retirees for many years, I've seen hundreds of people go through these three phases. One client defined them this way: "Phase One is golf, golf, golf. Phase Two is golf, golf. Phase Three is golf." No matter how you define the phases, I think you'll agree that most people's interests, abilities and spending habits change during retirement, that yours probably will, too, and that it's wise to take that into account when estimating your retirement costs.
CEO and Senior Adviser, Retirement Planners of America
Ken Moraif, CFP, is CEO and senior adviser at Retirement Planners of America (opens in new tab), a Dallas-based wealth management and investment firm with over $4.3 billion in AUM and serving over 8,000 households (as of May 2019). He is also the host of the radio show "Money Matters with Ken Moraif," which has offered listeners retirement, investing and personal finance advice since 1996.