New Options for Seniors to Get Care at Home
For relatively healthy seniors who don't want to live in a retirement community, continuing care at home can be key to maintaining independence.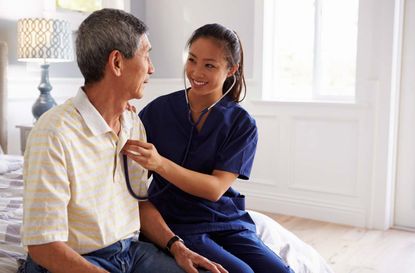 (Image credit: monkeybusinessimages)
As Americans age and the need for long-term care grows, the options for providing it continue to evolve. An increasingly available choice: "continuing care at home" programs for seniors who want to stay in their own homes.
Typically, there's an entry fee (which may be based on your age at enrollment) and monthly fees based on your level of coverage. In the Westlake, Ohio-based Kendal at Home program, for example, a 75-year-old who wants coverage of in-home and facility care would pay an entry fee of roughly $50,000 and monthly fees of about $650, says Lynne Giacobbe, executive director. Ask if the fees can go up, and by how much, and whether any part of the entrance fee is refundable. (A portion of nonrefundable fees may be tax-deductible as a prepaid medical expense.)
Make sure you understand what services are included in those fees, and what might cost you extra. Typically, all members are assigned a "care coordinator" who works with you while you're healthy to meet your wellness goals and coordinates caregivers to help you get back on your feet when you have health problems. The care is generally provided by home health aides, who can help with bathing, grocery shopping, meal preparation and other daily tasks. But you may be charged extra if you need more specialized services such as physical therapy. You may also have to pay extra for educational workshops and transportation to non-medically necessary appointments.
Subscribe to Kiplinger's Personal Finance
Be a smarter, better informed investor.
Save up to 74%
Sign up for Kiplinger's Free E-Newsletters
Profit and prosper with the best of expert advice on investing, taxes, retirement, personal finance and more - straight to your e-mail.
Profit and prosper with the best of expert advice - straight to your e-mail.
The value you get from the program, of course, depends partly on your health. Sally Strauss, age 71, of Westlake, Ohio, was healthy when she enrolled in Kendal at Home in 2011. Within months, she had to have open-heart surgery and needed many weeks of care at home. Without the program, "I don't know what I would have done," Strauss says.
Gerrie Schmidt, however, hasn't needed any in-home care since signing up with Plymouth Meeting, Pa.-based Friends LifeCare eight years ago. But the retired marketing executive has attended workshops on brain health and mindfulness meditation near her home in Philadelphia and made some new friends. "There really is a sense of community in addition to the services they provide," says Schmidt, age 70.
If you already have long-term-care insurance, a gold-plated continuing-care-at-home program "may be a belt-and-suspenders strategy," says James Ciprich, a financial planner at RegentAtlantic, in Morristown, N.J. But it may make sense to add a stripped-down continuing-care-at-home contract that provides only care coordination.
Although continuing-care-at-home programs offer something akin to insurance, they're not always regulated by state insurance departments or subject to strict financial standards. Ask to see a copy of audited financial statements, and ask a financial adviser or accountant to help you evaluate them. Ask how many members are in the program. If it's a very low number--perhaps less than 100--just a handful of people needing long-term care could hurt the financial viability of the program, Ciprich says.
Generally, the programs work to keep members at home for as long as they wish, although conditions such as advanced dementia may require a move to a facility. Since the goal is to "age in place," you may want to ask how many program members wind up in facilities. At Friends LifeCare, for example, just 33 of 2,500 members are in nursing homes or assisted-living facilities, says president Carol Barbour.

Senior Editor, Kiplinger's Retirement Report
Laise covers retirement issues ranging from income investing and pension plans to long-term care and estate planning. She joined Kiplinger in 2011 from the Wall Street Journal, where as a staff reporter she covered mutual funds, retirement plans and other personal finance topics. Laise was previously a senior writer at SmartMoney magazine. She started her journalism career at Bloomberg Personal Finance magazine and holds a BA in English from Columbia University.