Use New Web Tools to Choose a Surgeon
Based on performance, these ratings are a good starting point for patients selecting a surgeon.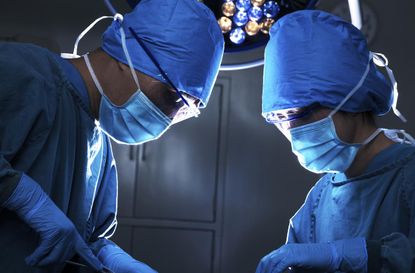 (Image credit: Getty Images/iStockphoto)
Need to get your gallbladder removed and not sure which surgeon is top notch? Patients facing major surgery can now use two new tools that rate surgeons based on outcomes such as deaths and hospital readmissions.
SurgeonRatings.org (opens in new tab), launched by nonprofit consumer organization Consumers' Checkbook, compares surgeons' results for 14 types of surgery, including gastric surgery and hip replacement. Surgeon Scorecard (https://projects.propublica.org/surgeons (opens in new tab)), launched by nonprofit news organization ProPublica, shows surgeons' complication rates for eight procedures.
The new ratings reveal vast differences among surgeons. Surgeons ranking in the top 10% of their peers for heart valve and bypass surgery, for example, had fewer than 3% of patients die in the hospital or within 90 days of discharge, Consumers' Checkbook found. Surgeons ranking in the bottom 10% for these procedures had death rates of more than 11%.
Subscribe to Kiplinger's Personal Finance
Be a smarter, better informed investor.
Save up to 74%
Sign up for Kiplinger's Free E-Newsletters
Profit and prosper with the best of expert advice on investing, taxes, retirement, personal finance and more - straight to your e-mail.
Profit and prosper with the best of expert advice - straight to your e-mail.
The new ratings not only help patients choose surgeons but also help improve surgeons' performance, says Suzanne Henry, policy analyst at Consumers Union's Safe Patient Project. "We've seen over time that transparency reduces errors," she says.
Consumers' Checkbook and ProPublica generated surgeon ratings by analyzing recent Medicare claims data. Both rating systems seek to avoid unfairly penalizing surgeons who have more sick or frail patients by adjusting the outcomes data to allow for patients' health status and other factors.
The ratings have limitations. While the ratings focus largely on deaths and hospital readmissions, "being readmitted for a complication is only part of the story," says Dr. Donald Goldmann, chief medical and scientific officer at the Institute for Healthcare Improvement. If you're having prostate surgery, he says, you'd be concerned about complications such as impotence, but "you're not going to be readmitted for that."
Find the Best in the Operating Room
Still, the ratings are a good starting point for patients. At SurgeonRatings.org, you can enter your zip code and choose a surgery type, and you'll see a list of surgeons and their star ratings. A five-star rating indicates the surgeon's performance was so much better than average that there's only a 2.5% chance it was the result of luck, while four stars indicate a 5% chance the outperformance was just luck. The site identifies only those surgeons with better-than-average performance.
The ProPublica site takes a different approach, aiming to identify both good and bad surgeons for each procedure. You can enter your location to find surgeons and hospitals in your area, or search for specific surgeons or hospitals. For each surgeon, the site shows a complication rate that's adjusted to account for factors such as the health and age of the surgeon's patients. The site also shows whether that adjusted complication rate is high or low compared to peers.
Both Web sites give patients an indication of the volume of procedures performed by each surgeon. "We know volume is related to better outcomes," says Goldmann.
Reviewing such ratings is just one step in the process of choosing a surgeon. You'll want to check the safety record of your surgeon's hospital (read Find Hospitals That Score High). Patients should also check a surgeon's background with their state medical board, Henry says. The best state medical board Web sites offer information on the doctor's education, disciplinary history and malpractice payouts. Find links to your state board at the Federation of State Medical Boards' Web site (www.fsmb.org (opens in new tab)).
Many factors that make a good surgeon are "things you can judge yourself," says Robert Krughoff, president of Consumers' Checkbook. Consider whether the doctor takes enough time to explain the procedure, listens to you and encourages you to get a second opinion before undergoing surgery.
Senior Editor, Kiplinger's Retirement Report
Laise covers retirement issues ranging from income investing and pension plans to long-term care and estate planning. She joined Kiplinger in 2011 from the Wall Street Journal, where as a staff reporter she covered mutual funds, retirement plans and other personal finance topics. Laise was previously a senior writer at SmartMoney magazine. She started her journalism career at Bloomberg Personal Finance magazine and holds a BA in English from Columbia University.