Join a Chorale Group in Retirement to Boost Your Spirits
Retirees can create, bond and entertain in a song-filled setting featuring professional conductors.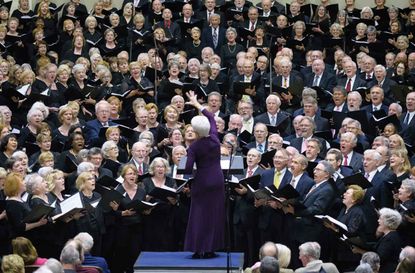 (Image credit: © David Trozzo)
Marge Lynch, 78, of Bridgeville, Del., is so devoted to her chorale group that she makes a weekly trek to Annapolis, Md.—an hour and 20 minute drive each way—to participate. The singing group saved her life, she says. When her husband, Brendan, died in 2015 after a cancer battle, she grieved for a year, and "everything dried up and I couldn't sing." But rejoining the chorus helped her "feel joy again."
Lynch is part of the Encore Creativity for Older Adults chorale program, the nation's largest chorale. The Encore chorale program (opens in new tab), which is for retirees 55 and older, started in 2007 and has grown to about 2,000 singers. The largest number of Encore chorales are in the Washington, D.C.–Baltimore region, and the newest chorale is in New York City. There are affiliates in five other cities—Chicago; Denver; Hudson, Ohio; Reading, Pa.; and Santa Clarita, Calif. Participants range in age from their fifties to nineties.
The nonprofit also runs seven Encore ROCKS, which are rock and roll choruses in Washington, D.C., Baltimore and New York City, as well as five-day summer institutes fashioned as adult singing sleepaway camps, in Maryland and New York.
Subscribe to Kiplinger's Personal Finance
Be a smarter, better informed investor.
Save up to 74%
Sign up for Kiplinger's Free E-Newsletters
Profit and prosper with the best of expert advice on investing, taxes, retirement, personal finance and more - straight to your e-mail.
Profit and prosper with the best of expert advice - straight to your e-mail.
Encore is the brainchild of founder and artistic director Jeanne Kelly, who is a conductor, former opera soloist and voice teacher. In 2001, Kelly led the chorale portion of a three-year study by George Washington University and the National Endowment for the Arts. The study, which examined creativity and aging in 150 singers with an average age of 72, found that singers who took part in professionally led choruses had fewer doctor and hospital visits, took fewer medications, had fewer falls, and experienced higher morale and less depression than the control group. The findings inspired Kelly to start Encore in the Washington, D.C., area.
The Encore program teaches singers proper breathing and posture, and participants continually work on improving vocal technique. "We attract singers who have sung their entire lives and some who have not sung for 20, 30 or 40 years," Kelly says.
Aside from professional conductors, who are paid from tuition fees, what sets Encore apart is the lack of auditions. The singers learn to read music instead of working off song sheets. And the repertoire is varied, from Broadway songs to spirituals. Encore ROCKS selections cover rock music from the 1950s to the 1990s. All Encore programs rehearse the same songs, so they can join forces in their local area for a concert held at the end of each 15-week session.
"I love the role reversal of kids and grandkids coming to cheer on the older people," says Jonathan Miller, artistic director and chief executive officer of the Chicago Encore Affiliate Program. He oversees seven choruses and ROCKS, with more than 300 participants, including his mother, 82, who is in two groups.
Social Side of Singing
Encore also provides a place for social interactions. For example, Jerry Catron, 82, of Manassas, Va., a retired naval officer and home builder, joined four years ago, and he participates in both chorale and ROCKS. His wife died two years ago. "It's a good support group and helped me transition to being single. And it's cheaper than hiring a shrink," he says. His rock chorus recently sang a medley of Woodstock songs. "I'm a Vietnam vet and those protesters at Woodstock were protesting me. But the lyrics have fantastic meanings, about love and peace."
Brian Leatherman, who co-founded the Denver Affiliate Program in 2015, which now numbers 180 people, notes that "people embrace each other and dear friendships are established."
That bonding occurs even when singing is the only common denominator, says conductor Justin Jalea, who leads the New York City programs, which began last March. "I'm seeing a lot of diversity in people's backgrounds," he says. But their shared goal is to "make wonderful music together."