6 Things You Must Know About Home Cooling Bills
Some simple steps can help you hold down the cost of beating the heat.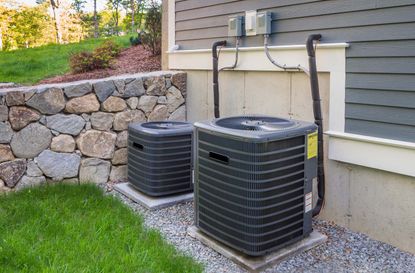 (Image credit: CDELBERT)
1. Costs remain high. Despite lower overall fuel costs, the U.S. Energy Information Administration forecasts that the average residential electricity bill this summer will be $400 or more. Air-conditioning is the biggest culprit. Take some of the load off your AC with light-filtering window treatments, and replace incandescent lightbulbs with cool LEDs (about $12 to $20 for a six-pack). Using a ceiling fan instead of, or along with, your air conditioner can keep you comfortable while allowing you to raise the thermostat. Just turn the fan off when you leave the room. Fans are designed to cool people, not spaces.
2. Care for your compressor. Dirt and debris can plug up your unit. Check for a buildup of grass or leaves, and change indoor fan filters in the spring and again in midsummer, says John Jones, national technical director at the Building Performance Institute. And instead of waiting until your AC fails in 100-degree weather, call in a professional to service your unit. At minimum, a technician should check refrigerant levels and inspect and clean all components. Go to www.acca.org/homes for advice on finding a reputable contractor.
3. Turn up the temp. "By maintaining the highest comfortable setting, people can save up to 30% of their summer cooling costs," says Tim Pettit, spokesman for Duke Energy, which provides gas and electricity in the Southeast and Midwest. Try to ease into a comfort range of 76 to 78 degrees F. A programmable thermostat ($35 to $50; smart thermostats, such as Nest, run about $200), which can turn on your AC before you come home and turn up the thermostat overnight, can save you up to 10% on heating and cooling costs a year, according to the Department of Energy.
Subscribe to Kiplinger's Personal Finance
Be a smarter, better informed investor.
Save up to 74%
Sign up for Kiplinger's Free E-Newsletters
Profit and prosper with the best of expert advice on investing, taxes, retirement, personal finance and more - straight to your e-mail.
Profit and prosper with the best of expert advice - straight to your e-mail.
4. Get a thank-you from your local utility. See if your electric company offers a summer pricing plan. For example, Pepco, which provides power in the Mid Atlantic region, offers participants in its peak-demand program $40 to $80 in bill credits, prorated over the five months of the cooling season, for allowing it to cycle their AC on and off. Or you may earn a rebate for an energy-efficient upgrade to your home, such as tuning up your heating and cooling.
5. Apply for a tax break. If your air conditioner has reached the end of its life (typically about 15 years), you may qualify for a federal tax credit of up to $300 in 2016 for replacing it with an Energy Star-rated unit that meets certain criteria. For more information, go to www.energystar.gov.
6. If all else fails . . . Still not seeing a significant difference in your bill? Consider calling in a home energy auditor ($200 to $1,000, depending on where you live and the size of your house). You may, for example, need to seal ducts in your attic or crawl spaces, or your insulation may need an upgrade. "An auditor is not just looking for things that hit your bottom line, but potential health and safety problems related to indoor air quality," says Jones. Your utility may offer such a service, or look for a professional certified by Energy Star, the Building Performance Institute (www.bpihomeowner.org) or the Residential Energy Services Network (www.resnet.us).
Associate Editor, Kiplinger's Personal Finance
Miriam lived in Toronto, Canada, before joining Kiplinger's Personal Finance in November 2012. Prior to that, she freelanced as a fact-checker for several Canadian publications, including Reader's Digest Canada, Style at Home and Air Canada's enRoute. She received a BA from the University of Toronto with a major in English literature and completed a certificate in Magazine and Web Publishing at Ryerson University.