House Hunters: Learn from My Rookie Mistakes
When I bought my first home in my 20s, I had worked hard and saved for a down payment. But I didn't do all the homework a buyer should do. Looking back years later, here are seven financial tips for house hunters today.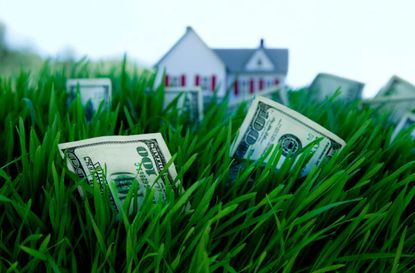 (Image credit: jonya)
Is it possible for you to delve into home ownership without all the facts? YES.
One of my three biggest financial mistakes (opens in new tab) was buying a home just one year out of college without truly considering all financial implications. Read this article if you're looking to purchase a home and don't want to make similar missteps.
Here are several places where I went wrong when I bought my first home, years ago. I didn't do my homework. I failed to investigate historical housing prices to judge whether the asking price was greater than the true value. I saved aggressively as a young adult and managed to scrimp together 10% for a down-payment on a $150,000 starter home in Saint Louis at age 23. Ideally, you should save at least 20% for a down-payment. Otherwise, you must take out an extra loan or pay private mortgage insurance (PMI). I choose PMI and regret it.
Subscribe to Kiplinger's Personal Finance
Be a smarter, better informed investor.
Save up to 74%
Sign up for Kiplinger's Free E-Newsletters
Profit and prosper with the best of expert advice on investing, taxes, retirement, personal finance and more - straight to your e-mail.
Profit and prosper with the best of expert advice - straight to your e-mail.
The home was old and charming — built in the 1920s — and lacked energy-efficient upgrades. Heating bills easily ran $300 monthly in the winter, and the tiny window air conditioning unit on the second floor did not suffice during hot summers. I poured over $20,000 in renovations to improve my first house and sold it four years later for the same $150,000 purchase price. Ouch!
When you purchase a home, steer clear of traps and focus on these recommendations instead:
1. Improve your credit score prior to the purchase.
Annualcreditreport.com (opens in new tab) allows you to access your credit report for free every 12 months from each of the three major credit bureaus — Equifax, Experian and TransUnion. Review the report in detail for errors or issues. Here's a full list of tips (opens in new tab) to repair and increase your credit score.
2. Plan to stay in your home at least five years.
The newly proposed House and Senate tax overhaul bills (opens in new tab) stipulate that you will need to live in your primary residence at least five of the prior eight years to exclude the gain on the subsequent sale of your home. Right now, the law uses two of the prior five years for the gain-exclusion calculation, but legislators are hoping to expand the look-back period to five years. This should curtail flippers, who move from house to house every two years without paying income tax when they sell. Regardless of whether this bill passes, real estate commissions and other closing costs make it very difficult to turn a profit (outside of rehabbed houses) if you spend less than five years in the property.
3. Hire a buyer's agent who is looking after your best interest.
As a buyer, you don't pay a commission to your real estate agent; that cost is borne by the seller. However, not all real estate agents are created equal. Some are focused exclusively on acting as a seller's agent or buyer's agent. Others run both sides of the table. Exercise caution if your agent is also the listing agent for the home you are most interested in purchasing — there's an inherent conflict of interest.
4. Do your homework.
If you are looking to buy in an area with young families, school districts are very important for resale value. Explore the price history on sites like Zillow (opens in new tab) to understand when and for how much the home previously sold. Pay attention to how long the home has been on the market and others like it to negotiate purchase price.
5. Consider "hidden" costs of homeownership.
Have at least 20% available in cash for a down-payment. Without that target percentage, you will either pay PMI until the loan value is 80% of the appraised home value, or you might take out a "piggyback" home equity line at a higher interest rate than a traditional mortgage to make up the difference in order to avoid PMI. Closing costs, moving expenses, new furnishings and appliances should also be considered. Contemplate ongoing costs like real estate taxes, homeowners insurance and utility bills as well.
6. Budget for home improvements early.
Make a list, prioritizing the improvements you want to make and the timeline for completion. Don't focus strictly on aesthetics like new flooring, painting or enhancing an unfinished basement. When will the roof and windows need to be updated? Driveway refinished? Air conditioning unit and furnace replaced? As a woman who spends most of her time inside the house, it's tempting to focus on the interior. Yet the exterior and home systems are more costly projects that should not be ignored.
7. Get pre-approved.
Pre-approval for a mortgage gives you a better idea of how much house you can afford. Just because you are pre-approved for a $400,000 loan doesn't mean you need to go and find a home in that price range. Determine your monthly payment and see if it fits into your personal budget. Don't forget about the hidden costs and home improvement projects discussed above. Give yourself some wiggle room. I encourage many clients to stay under the maximum pre-approval amount to meet other saving and lifestyle goals.
This list was not intended to scare you. Rather, knowledge is power. Purchasing your first home or moving into a new home is a big decision, one that makes sense to get some expert guidance on. As a comprehensive financial planner, I help clients reach their big-picture financial goals, and homeownership is an important piece of the puzzle.
This article was written by and presents the views of our contributing adviser, not the Kiplinger editorial staff. You can check adviser records with the SEC or with FINRA.
Deborah L. Meyer, CFP®, CPA/PFS, CEPA and AFCPE® Member, is the award-winning author (opens in new tab) of Redefining Family Wealth: A Parent's Guide to Purposeful Living. Deb is the CEO of WorthyNest (opens in new tab)®, a fee-only, fiduciary wealth management firm that helps Christian parents and Christian entrepreneurs across the U.S. integrate faith and family into financial decision-making. She also provides accounting, exit planning and tax strategies to family-owned businesses through SV CPA Services (opens in new tab).