6 Ways to Prevent Water Damage This Winter
If the worst happens, your homeowners insurance will cover leaks and burst pipes, or water that comes into your home through your roof and windows. But it doesn't cover flooding.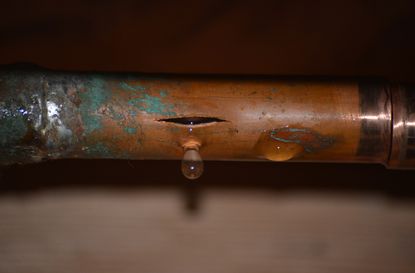 (Image credit: kortemeyer)
Question: What can I do to avoid water damage this winter? I know my policy doesn't cover flooding, but does it pay for other types of water damage claims?
Answer: Yes. Homeowners insurance covers water damage, such as from leaks and burst pipes, or water that comes into your home through your roof and windows. In fact, water damage accounts for almost half of all property damage claims, according to the Insurance Information Institute. Burst pipes or undetected leaks can cause damage to the floor, walls, ceilings, furniture, artwork and other valuables, can soak electrical systems, and can even cause dangerous mold if not cleaned up quickly. A Chubb study found that 57% of homeowners who have experienced a water leak claim in the past two years spent more than $5,000 on clean-up costs, and 15% spent $20,000 or more.
3. Check your water supply lines at least once a year. Give your house an annual leak checkup to inspect water supply lines and washing machine hoses for signs of wear, says Camp. Check for leaks from your hot water heater, washing machine, ice machine in your refrigerator, and any other appliances that can leak. Most water supply lines tend to last for about five years; you may want to replace rubber hoses with steel-braided hoses, which tend to last longer, says Camp.
Subscribe to Kiplinger's Personal Finance
Be a smarter, better informed investor.
Save up to 74%
Sign up for Kiplinger's Free E-Newsletters
Profit and prosper with the best of expert advice on investing, taxes, retirement, personal finance and more - straight to your e-mail.
Profit and prosper with the best of expert advice - straight to your e-mail.
4. Get sewage-backup coverage. Heavy rains and melting snow can overburden the storm water system, causing water or sewage to back up into your house. Sewage and drain backups usually aren't covered automatically under your homeowners insurance, but it may cost only $50, say, to add $10,000 in coverage. Also consider having a battery-powered back-up for your sump pump if the electricity goes out.
5. Clean your gutters and inspect your roof. Remove leaves and other debris, which can clog gutters and send water pouring down the side of your house or under your roof. Also inspect your roof and repair or replace missing or damaged shingles, which can cause water to come in through the roof.
6. Protect your pipes from freezing. Insulate accessible pipes with pipe insulation materials, especially in attics and crawl spaces. When it gets very cold, keep cabinet or closet doors open to help prevent pipes there from freezing. Consider low-temperature detectors, which can send an alert to your smartphone if the temperature in areas of your home near pipes dips below freezing. For more information, see the Insurance Institute for Business & Home Safety's Freezing and Bursting Pipes white paper.
For more information about protecting your home from water damage, see the Insurance Institute for Business and Home Safety's plumbing damage protection pages. Also see the Federal Alliance for Safe Homes' ways to protect your home. For more information about water damage and other homeowners insurance claims, see How to Get Your Insurer to Pay Your Claims.

Contributing Editor, Kiplinger's Personal Finance
As the "Ask Kim" columnist for Kiplinger's Personal Finance, Lankford receives hundreds of personal finance questions from readers every month. She is the author of Rescue Your Financial Life (McGraw-Hill, 2003), The Insurance Maze: How You Can Save Money on Insurance -- and Still Get the Coverage You Need (Kaplan, 2006), Kiplinger's Ask Kim for Money Smart Solutions (Kaplan, 2007) and The Kiplinger/BBB Personal Finance Guide for Military Families. She is frequently featured as a financial expert on television and radio, including NBC's Today Show, CNN, CNBC and National Public Radio.