Why I Would Never Retire in a Tiny Home
It's not that I hate tiny homes. I get the whole movement. But wouldn't saving enough for a really comfortable retirement be a better option?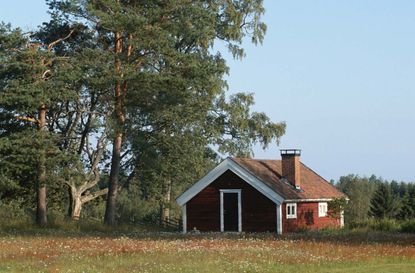 (Image credit: (c) David De Lossy)
You may dream of a tiny home in retirement. You, your partner, and 250 square feet of warm, dry space -- a fold-up bed, perhaps, Wi-Fi for the laptop, and a kitchenette.
Here's what I see: Oh, the claustrophobia. What, no room for a big-screen TV? And marital terror. A place so small and confined that at night "wives feel the edge of the carving knife and study their husbands' necks," as crime novelist Raymond Chandler famously wrote.
After all, we are talking about a space half as big as Ralph and Alice Kramden's cramped tenement in "The Honeymooners." Ralph and Alice loved each other very much. But they fought...a lot. No thanks. I want to live happily ever after in retirement.
Subscribe to Kiplinger's Personal Finance
Be a smarter, better informed investor.
Save up to 74%
Sign up for Kiplinger's Free E-Newsletters
Profit and prosper with the best of expert advice on investing, taxes, retirement, personal finance and more - straight to your e-mail.
Profit and prosper with the best of expert advice - straight to your e-mail.
All this is not to say I don't get the growing fascination with tiny homes. This is a movement, all right, with its own websites, such as TheTinyLife.com, and two popular cable TV shows -- HGTV's Tiny House Big Living and A&E's Tiny House Nation -- where couples explore "what it really means" to downsize to a living space the size of a standard kitchen or bedroom.
We've covered the trend, too, here at Kiplinger.com, and hundreds of thousands of readers have devoured our slide shows featuring different models of tiny homes. (See our new Tiny Homes for Retirees slide show.)
From first-time home buyers wanting to minimize their environmental footprint to empty nesters looking to downsize and economize as they age in place, people seem to be mesmerized with the idea of taking their living quarters to the extreme opposite of opulent mansions with media rooms and wine cellars. "The demographics are, well, wildly American," says Erik Blair, a tiny home consultant/builder and founder of Project Eden, a non-profit trying to create a tiny house ecovillage on the Hawaiian island of Maui. (Blair's title, by the way, is "Director of Happiness." Love it.)
Cost is the major factor across all demographic groups. A standard 186-square-foot tiny home costs a mere $23,000 if built by the owner; fancier pre-fabs or builder-constructed units can run in the $50,000-$70,000 range.
Quality building materials and beautiful designs definitely differentiate the genre from trailer homes and RVs. Yet, tiny homes often can be as portable as trailers. Some come on wheels. Some can be loaded on flatbeds and moved easily. "In Hawaii, we have a lava problem," Blair notes. "Traditional building methods prevent that land from being economically developed, so the land is cheap and available."
Typically, owners can move around on lava flows and "if there is a threat of a new lava flow, they can move temporarily elsewhere. Same with tsunamis."
Tiny house people are no dummies -- they're twice as likely to have a college degree than the average U.S. homeowner, with a slightly higher per-capita household income of $42,038. For older, educated folks who haven't socked away much money, yet want a more upscale lifestyle in retirement, the prospect of living mortgage/rent-free can pack major appeal (68% of all tiny home owners have no mortgage vs. just 29% of traditional homeowners).
Blair provides a vivid example of a single woman he has worked with who rents a tiny home on a Hawaiian farm, saving $800 a month compared to average housing and living costs in her county. Let's do the math: If she were to invest that savings in, say, a 5% interest savings mechanism for 30 years, she would have $665,000. "That's pretty significant," Blair says. I like the way he thinks -- very Kiplinger.
Finally, there's all that stuff you can't keep anymore. "Hoarding is unheard of in tiny houses," Blair says. "It takes 15 minutes to clean your entire house. Spring cleaning doesn't take all spring. Have to clean out the attic? No worries, there isn't one."
My question still, though, is why go to such an extreme? With any downsizing, you'll be forced to either donate, gift, store, or throw away your accumulated clutter. And because they are small and the construction venue so new, tiny homes often fly under the radar of building codes and tax assessors, setting up potential future financial problems. The so-called "granny flats" designed to help care for the aging parents of baby boomers built in backyards across America are increasingly running afoul of city and county building ordinances.
No thanks. I will not be living in a tiny home in my retirement. Give me at least a three-bedroom, two-bath, 1,600-square-foot condo. Preferably with water views.
The romance of living in a tiny space? I'll go camping. Probably by myself. My wife hates camping.
New Media Director, Kiplinger.com
Harbrecht joined Kiplinger in March 2006 from BusinessWeek.com, where he served as senior and executive editor. Prior to that, he worked in the Washington bureau of the magazine, now BloombergBusinessweek, covering policy, politics and economics. He holds a BA degree from Binghamton University and an MA in journalism from the University of Missouri. He was 1998 President of the National Press Club and a 2010 Kiplinger fellow in social media study at Ohio State University.