Is There a Bubble in Dividend Stocks?
Some sectors appear to be overvalued, but share prices are unlikely to fall much, if at all, as long as interest rates remain ultra-low.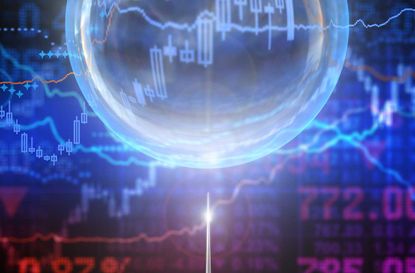 (Image credit: Petrovich9)
When it comes to today's rock-bottom interest rates, the current mantra on Wall Street is "lower for longer." One consequence of the stagnant rate picture is that investors are pouring money into dividend-paying stocks. Consider, for example, Vanguard Dividend Growth (symbol VDIGX (opens in new tab)), which recently closed to new investors after drawing $3 billion in new money (net of money flowing out of the fund) in the first six months of 2016. The fund's assets have nearly doubled in just the past three years.
Meanwhile, traditionally sleepy utility stocks, a favorite hunting ground for income investors, have become the belles of the market ball. So far this year, the S&P 500 Utilities index has delivered a total return of 16.4%, crushing Standard & Poor's 500-stock index by 8 percentage points. Real estate investment trusts are also having a banner year. The FTSE NAREIT All-REITs index earned 14.2% so far in 2016. (All returns and yields are through August 16.)
With the massive baby boom generation in or nearing retirement, demand for relatively safe, income-oriented investments is surging. But bonds, normally a crucial component of retirees' portfolios, pay a pittance nowadays. The benchmark 10-year Treasury bond yields 1.6%, 10-year investment-grade corporate debt pays less than 3% and high-grade, medium-maturity tax-free bonds yield only 1.6%. To get much more, investors have to wade into risky sectors of the fixed-income market, such as junk bonds and emerging-markets debt.
Subscribe to Kiplinger's Personal Finance
Be a smarter, better informed investor.
Save up to 74%
Sign up for Kiplinger's Free E-Newsletters
Profit and prosper with the best of expert advice on investing, taxes, retirement, personal finance and more - straight to your e-mail.
Profit and prosper with the best of expert advice - straight to your e-mail.
Many large, well-established companies pay dividends that allow investors to pocket more than they're collecting today from high-quality bonds. Even after their big run-up, utility stocks, for example, yield 3.5%, on average. And unlike bondholders, who receive fixed interest payments, stock investors can benefit from regular dividend hikes.
Still, with dividend-paying stocks having performed so well lately and with investors lavishing the group with cash, it's worth asking: Are we in a dividend bubble and headed toward disaster? Is it time to lighten up on high-yielding stocks?
The answer to both questions: No and no. "A bubble implies irrational pricing of an asset, but the reason these stocks have appreciated is perfectly rational," says Martin Walsh, a certified financial planner with Brown & Tedstrom, in Denver. "At this point, stocks look better than bonds, and companies with steady cash flows that are able to pay out a good dividend are attractive bond substitutes."
Perhaps the best argument against dumping dividend stocks now is that income investors have few better places to go. "Investors are trying to figure out how to earn enough money to live on," says Stephen Janachowski, chief investment officer at Brouwer & Janachowski, a Tiburon, Calif., money-management firm. "We are in a low-rate environment that isn't going to go away. Investing in high-yielding stocks is a way to survive."
The situation for utilities in particular is what Morningstar's Travis Miller calls a "yield paradox." The typical utility stock today yields far below the historic average of 4.7%, Miller says. That would normally constitute a sell signal, indicating that prices had risen far too high. But relative to the yield on 10-year Treasuries, utility stocks have rarely looked more attractive, he says. And utility companies are healthy and growing, with balance sheets that are as "good as they've been in decades," he says. The chance of widespread dividend cuts is remote. In fact, Miller expects utility companies to keep hiking dividends by an average of 5% per year for the foreseeable future.
Still, as share prices rise, so do risks, and opportunities for additional capital gains diminish. The S&P Utility index now sells for 18 times estimated year-ahead earnings, compared with 17 for the S&P 500. Given the high valuations of utility shares, it's hard to imagine them powering ahead unless interest rates drop substantially from today's levels. (At this point, we would normally suggest that Treasury yields can't fall below 0%. But, given that yields are negative for government bonds in a number of countries, such a declaration might not be accurate.) And when interest rates rise, as they inevitably will, utility shares could drop by as much as 25%, Miller warns.
Valuations are not quite as lofty in other dividend-oriented sectors. But many of those groups are overpriced. Stocks of companies that make consumer necessities, for instance, are overpriced by about 6%, says Morningstar analyst Erin Lash.
However, for income investors who are able to withstand a period of subpar performance relative to other types of stocks and perhaps bigger-than-average declines during the next market downturn, dividend stocks remain attractive. "Just because valuations are up is not a reason to hide in a corner," Janachowski says. "Just pay attention to the risk."
Contributing Editor, Kiplinger's Personal Finance
Kristof, editor of
SideHusl.com
(opens in new tab)
, is an award-winning financial journalist, who writes regularly for
Kiplinger's Personal Finance
and CBS MoneyWatch. She's the author of
Investing 101, Taming the Tuition Tiger
and
Kathy Kristof's Complete Book of Dollars and Sense
. But perhaps her biggest claim to fame is that she was once a
Jeopardy
question: Kathy Kristof replaced what famous personal finance columnist, who died in 1991? Answer: Sylvia Porter.