4 Ways to Disaster-Proof Your Homeowners Insurance Policy
Make sure your home is covered before disaster strikes.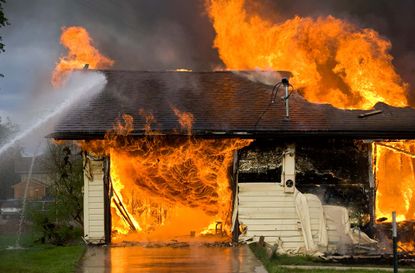 (Image credit: Scott Cramer)
One-half to two-thirds of homeowners who experience a total loss don't have enough insurance to rebuild their home and replace their belongings, according to post-disaster surveys of homeowners by United Policyholders, a consumer advocacy group. Thankfully, most homeowners never experience a total loss. But when a catastrophic loss does occur, the gap in coverage can amount to hundreds of thousands of dollars. Here's how to be sure you're covered.
1. Check the replacement cost. The key to full coverage is an accurate estimate of the cost to rebuild your home, known as the dwelling limit, which is specified in Coverage A of your policy. Most policyholders rely on their insurer to estimate their home's replacement cost, but that might not be wise. In­surers sometimes lowball the cost to reduce the premiums and win your business, says Amy Bach, executive director of United Policyholders, and mistakes sometimes find their way into the estimates.
Most homeowners policies adjust the replacement cost annually to reflect building-cost inflation in the area. Your insurer may also contact you periodically to update its information about your home. But it's better to update your profile every year—say, when you receive your annual renewal statement—and report any home improvements. Ask your agent or look online to double-check the information your agent has used, such as your home's age, size, style and features. To check the accuracy of the estimate, Bach suggests using $200 for each square foot of living space—a reliable benchmark for an average home anywhere in the U.S. Or get an independent estimate at e2Value.com for $25 (click on "Residential").
Subscribe to Kiplinger's Personal Finance
Be a smarter, better informed investor.
Save up to 74%
Sign up for Kiplinger's Free E-Newsletters
Profit and prosper with the best of expert advice on investing, taxes, retirement, personal finance and more - straight to your e-mail.
Profit and prosper with the best of expert advice - straight to your e-mail.
The cost to rebuild a high-end home could be two or three times higher than for an average home. If your insurer doesn't offer a free inspection, press for one, or hire a specially trained consultant from Castle High-Value Surveys (opens in new tab) (about $300).
Make sure you have replacement-cost coverage—not actual-cost coverage, which may be cheaper but deducts for depreciation. To cover higher building and living costs after a disaster, most policies build in extended replacement coverage of 120% to 125% of the dwelling limit. Because you may be required to repair or rebuild your home to meet current building codes, ask for ordinance and law coverage to increase your dwelling limit by 25% to 50%; this coverage costs about 50 cents per $1,000 of the dwelling limit, with a minimum charge of $50 annually.
2. Cover all your possessions. The replacement cost provides the basis for other coverage: typically 10% of the replacement cost for other structures on your property, 20% for additional living expenses when you can't live in your home, and 50% to 70% for contents.
To make sure you have enough coverage to replace all your stuff, take inventory of your possessions and estimate their replacement cost. After a major disaster, your insurer will require you to file a detailed list of damaged or destroyed items (as will the IRS, if you want to deduct your losses). To create an itemized list with photos that you can store securely in the cloud, use the UPHelp Home Inventory App from United Policyholders. It connects to online retailers so you can estimate replacement costs.
Your coverage of valuables, such as jewelry, watches and furs, may be capped at $1,000 to $2,000. Have your valuables appraised, and if necessary buy a personal property endorsement or floater, which will cover their loss for any reason and costs about $2 to $8.50 per $1,000 of coverage.
3. Don't skimp on liability coverage. A typical homeowners policy provides $300,000 of liability coverage if you, your family members or pets cause property damage or bodily injury to others, whether on your property or elsewhere. You can increase your policy's coverage to $500,000 for about $25 to $50 a year, or to $1 million with a separate umbrella policy for about $150 to $300 a year.
4. Know what your policy doesn't cover. Most standard homeowners policies exclude losses due to floods or rising water from any source, or due to earth movements such as landslides. You can buy flood insurance from the National Flood Insurance Program (opens in new tab) or from your insurance agent. The program covers homes for up to $250,000 of the cost to rebuild and insures contents for up to $100,000. The average premium is $700 per year, but rates depend on a home's features and location. You can buy a special rider for sewer backup, which costs about $130 for $10,000 of coverage or $240 for $25,000 of coverage.
Your insurer may offer supplemental earth-movement coverage, or you can buy a separate policy for about $1.75 per $1,000 of coverage in California (it costs less in lower-risk states). Californians can buy earthquake coverage from the nonprofit California Earthquake Authority (opens in new tab).
Take Our Quiz: Are You Covered?
Contributing Writer, Kiplinger's Personal Finance
Esswein joined Kiplinger in May 1984 as director of special publications and managing editor of Kiplinger Books. In 2004, she began covering real estate for Kiplinger's Personal Finance, writing about the housing market, buying and selling a home, getting a mortgage, and home improvement. Prior to joining Kiplinger, Esswein wrote and edited for Empire Sports, a monthly magazine covering sports and recreation in upstate New York. She holds a BA degree from Gustavus Adolphus College, in St. Peter, Minn., and an MA in magazine journalism from the S.I. Newhouse School at Syracuse University.