Families with Dependent Care FSAs Get Good News from the IRS
You'll still get a tax break if you carried over unused amounts from your dependent care flexible spending account from 2020 to 2021.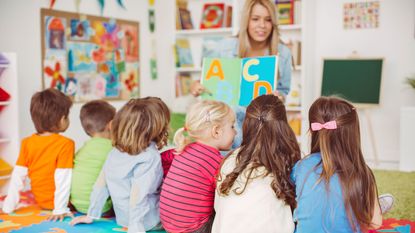 (Image credit: Getty Images)
Dependent care flexible spending accounts (FSAs) are a great way to save on childcare costs. If your employer offers one of these plans, you can contribute to the FSA on a tax-free basis and then use the funds to pay for dependent-care expenses during the year if the care is needed so that you can work. And they're not just available for childcare expenses – FSA funds can also be used to pay for the care of elderly parents or disabled adults (including your spouse) living with you who are physically or mentally incapable of providing their own care.
But, like almost everything else, the COVID-19 pandemic turned child and dependent care upside down for many families. In some cases, parents couldn't spend all the money they had in their FSA last year because childcare centers or summer camps were closed. For other families, childcare costs were much higher than expected because schools were closed. The same problems are possible this year, too. Since FSAs generally run on an annual use-it-or-lose-it basis and there are limits to the amount you can contribute each year, this puts a lot of families in a difficult situation.
Fortunately, a few temporary changes were made to help these families. First, instead of losing unused FSA funds at the end of the year, employers can modify their FSA plans to allow a worker's unused funds from 2020 to be used in 2021 and unused funds from 2021 to be used in 2022. As an alternative, an extended grace period for using FSA funds after the end of the year is allowed. Normally, FSA plans can offer a grace period of up to 2½ months (i.e., to March 15). However, a grace period of up to 12 months is allowed for using 2020 and 2021 FSA funds. Workers can also contribute more to a dependent care FSA in 2021. Instead of the normal $5,000-per-year limit on tax-free contributions, a family can sock away up to $10,500 in a dependent care FSA this year without paying tax on the contributions.
Subscribe to Kiplinger's Personal Finance
Be a smarter, better informed investor.
Save up to 74%
Sign up for Kiplinger's Free E-Newsletters
Profit and prosper with the best of expert advice on investing, taxes, retirement, personal finance and more - straight to your e-mail.
Profit and prosper with the best of expert advice - straight to your e-mail.
And now the IRS has clarified that families won't get short-changed at tax time because of these temporary FSA enhancements. According to the tax agency, unused amounts carried over from a prior year or available during an extended grace period won't be taken into account in determining the annual contribution limit for the following year. That means the funds that continue to be available are still excluded from the employee's taxable income if used for dependent care expenses.
Here's an example: Cindy contributed $5,000 to her employer's dependent care FSA in 2020. She expected to use the money to pay for summer camp last year. Unfortunately, the summer camp was closed last year, so Cindy didn't incur any dependent care expenses in 2020. Cindy was allowed to carry over the unused $5,000 to 2021. She also elects to contribute $10,500 to her dependent care FSA this year. During 2021, Cindy incurs $15,500 in dependent care expenses and is reimbursed that amount by the FSA. All $15,500 is excluded from her 2021 gross income and wages, because $10,500 is excluded as 2021 benefits and the remaining $5,000 is excluded as a carryover from 2020.
Child and Dependent Care Credit
The child and dependent care tax credit can also be used to help defray the costs of childcare. But if you have a dependent care FSA, please note that you can't claim the credit for any expenses that are paid for with the FSA. So, each year families must decide which tax break works better for them.
For 2021, the tax credit might be better because there are several enhancements in effect for this year only. For instance, the 2021 credit is refundable and the potential credit amounts are higher. The phase-out structure is also changed so that many more families will get the maximum credit amount. For more information on the 2021 credit enhancements, see Child Care Tax Credit Expanded for 2021.
Rocky Mengle was a Senior Tax Editor for Kiplinger from October 2018 to January 2023 with more than 20 years of experience covering federal and state tax developments. Before coming to Kiplinger, Rocky worked for Wolters Kluwer Tax & Accounting, and Kleinrock Publishing, where he provided breaking news and guidance for CPAs, tax attorneys, and other tax professionals. He has also been quoted as an expert by USA Today, Forbes, U.S. News & World Report, Reuters, Accounting Today, and other media outlets. Rocky holds a law degree from the University of Connecticut and a B.A. in History from Salisbury University.