Is Your Stimulus Check Taxable?
You may be wondering if you have to pay taxes on your third stimulus check. The answer may surprise you.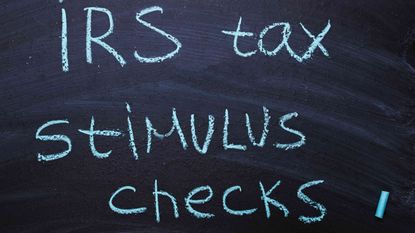 (Image credit: Getty Images)
I've heard the question many times: Will I have to pay tax on my stimulus check? The federal tax code says you must pay taxes on "all income from whatever source derived," unless it's specifically exempted or excluded. That's a pretty broad definition that seemingly would include money from the government. And, strictly speaking, there's no specific exemption or exclusion for stimulus check money. So, third stimulus checks are taxable – right?
Wrong! There's a loophole in the law that prevents you from having to pay taxes on the third-round stimulus check money you got from Uncle Sam last year. As it turns out, your third stimulus check isn't "income" after all, according to the law. Instead, it's simply an advance payment of a tax credit. And tax credits aren't taxable income.
2021 Recovery Rebate Tax Credit
When you file your 2021 federal income tax return (Form 1040) this year, you're going to see a line on the second page for the "Recovery rebate credit." Pay close attention to that line, especially if you didn't receive a full (or any) third-round stimulus check, you didn't file a 2019 or 2020 tax return, your income dropped in 2021, you had a baby in 2021, you got married last year, you're a recent college graduate, or you otherwise had a significant change of circumstances in 2021. If you're eligible for a third stimulus check, this credit could save you a lot of money.
Subscribe to Kiplinger's Personal Finance
Be a smarter, better informed investor.
Save up to 74%
Sign up for Kiplinger's Free E-Newsletters
Profit and prosper with the best of expert advice on investing, taxes, retirement, personal finance and more - straight to your e-mail.
Profit and prosper with the best of expert advice - straight to your e-mail.
Your third stimulus check and the credit amount are calculated in the same way. However, your stimulus check was based on information from either your 2019 or 2020 tax return. The tax credit is based on what you put down on your 2021 tax return. So, the failure to file a 2019 or 2020 return, or a change of circumstances from 2020 to 2021, could result in a difference between the amount of your third stimulus check and the credit amount. (Use our Third Stimulus Check Calculator to see how much you should have gotten last year.)
If the recovery rebate credit is higher than your third stimulus check, your 2021 tax bill will be lower, and you might even get a refund. If your stimulus check was higher than the allowed credit, you get to keep the difference. So, you win either way!
For more information, see What's the Recovery Rebate Credit?
You Must File a Return to Claim the Credit
It's worth pointing out that the only way you can claim the recovery rebate credit is to file a 2021 tax return. This is true even if you're not otherwise required to file a return (e.g., because your income doesn't reach the filing requirement threshold). So, if you qualify for the credit, make sure you file a tax return this year.
For most people, tax returns for the 2021 tax year are due by April 18, 2022. If you can't file by that date, request an extension to file your tax return, which will push your filing deadline to October 17. Depending on your income, you may even be able to file your tax return for free.
If you don't remember how much you actually received last year as a third stimulus check, look at Notice 1444-C, which the IRS sent you last year. If you didn't keep that notice (as you should have), don't worry – there are other ways to get the information. The IRS should have sent you a Letter 6475 earlier this year that contains your third stimulus check amount. You can also get the amount through an IRS online account (opens in new tab) or by requesting a 2021 account transcript (see the IRS's Get Transcript (opens in new tab) website).
Senior Tax Editor, Kiplinger.com
Rocky was a Senior Tax Editor for Kiplinger from October 2018 to January 2023. He has more than 20 years of experience covering federal and state tax developments. Before coming to Kiplinger, he worked for Wolters Kluwer Tax & Accounting and Kleinrock Publishing, where he provided breaking news and guidance for CPAs, tax attorneys, and other tax professionals. He has also been quoted as an expert by USA Today, Forbes, U.S. News & World Report, Reuters, Accounting Today, and other media outlets. Rocky has a law degree from the University of Connecticut and a B.A. in History from Salisbury University.