How Workers Face Double Taxation Under Trump's Payroll Tax Break
There's a catch if your Social Security payroll taxes are deferred under President Trump's recent executive order, which kicks in on September 1.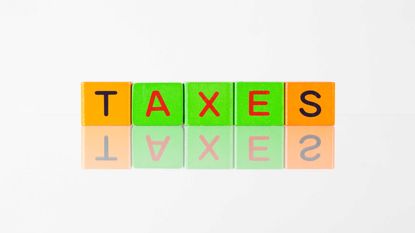 (Image credit: Getty Images)
You might be getting a bigger paycheck for the rest of 2020, thanks to President Trump's executive order deferring payroll taxes. Starting September 1, your employer doesn't have to withhold the 6.2% Social Security payroll tax from your paycheck if you earn $4,000 or less for a bi-weekly pay period (or less than an equivalent amount if you're paid weekly, monthly, or on some other schedule). This payroll tax break runs through the end of 2020. If your company participates in the program (it isn't required to), you can get a boost of up to $248 in each bi-weekly paycheck during the last four months of the year. That can add up to as much as $2,232 more in your pocket for 2020.
But there's a catch – you'll be taxed twice during the first four months of 2021 to pay that money back. Although President Trump wanted a payroll tax cut for 2020, the best he could get without Congressional action is a payroll tax deferral. In other words, he can temporarily suspend your employer's obligation to collect (through withholding) and pay the Social Security tax, but he can't make the tax debt go away completely all by himself.
According to the IRS, any business that defers collection and payment of Social Security payroll taxes in 2020 will have to collect the deferred taxes from their workers' paychecks ratably from January 1 to April 30, 2021. So, during the first four months of 2021, you could have 12.4% (rather than 6.2%) withheld from your paychecks to make up for taxes that weren't collected in 2020.
Subscribe to Kiplinger's Personal Finance
Be a smarter, better informed investor.
Save up to 74%
Sign up for Kiplinger's Free E-Newsletters
Profit and prosper with the best of expert advice on investing, taxes, retirement, personal finance and more - straight to your e-mail.
Profit and prosper with the best of expert advice - straight to your e-mail.
What If You're Not Working in 2021
There are still unanswered questions, though. For example, what if your employer defers payroll taxes in 2020, but then you switch jobs early in 2021. Does your former employer pay the taxes that were deferred, or will you get stuck with the bill? The IRS says that, if necessary, the employer can make arrangements to collect the total tax owed from the employee, but we don't know how that would work.
What if you're unemployed starting in 2021 and aren't drawing a paycheck from anyone? Will you still be required to pay the tax? Again, we're not sure at this point what would happen in that situation.
Will Businesses Defer Payroll Taxes?
As mentioned above, employers aren't required to suspend the collection and payment of the 6.2% Social Security payroll tax. In fact, a lot of employers are reluctant to follow the president's plan and halt withholding of the tax in 2020. They're worried about somehow being stuck paying the tax on their own and don't like having to double tax their employees in 2021.
As a result, don't be surprised if your employer continues to withhold Social Security payroll taxes from your remaining 2020 paychecks. The U.S. Chamber of Commerce and 32 other U.S. business organizations said that "many of our members will likely decline to implement deferral, choosing instead to continue to withhold and remit to the government the payroll taxes required by law." That means no bump in your take-home pay.
Will the Tax be Excused?
If President Trump is re-elected in November, he has promised to push for the elimination of the deferred taxes so that workers will not have to pay them later. That would take Congressional action, so his ability to fulfill that promise probably depends on whether Republicans can retain control of the Senate and gain a majority in the House.
The president may also try to implement additional payroll tax cuts if he wins the November 3 election. However, at this point, we don't know whether he'll just ask for a partial or temporary cut, or if he'll want to completely and/or permanently do away with the tax.
Should I Spend Any Deferred Taxes?
It's unlikely that the Republicans will completely sweep the election and control the White House and both houses of Congress. As a result, workers should plan to pay back any payroll tax that's deferred. So, if your employer does stop withholding the Social Security payroll tax from your wages in 2020, you probably don't want to spend that money right away. Our advice is to put that money aside for now because you're probably going to have it taken out of your paycheck in 2021.
For more information on the president's executive order to defer Social Security payroll taxes, see What Trump's Payroll Tax Cut Will Mean for You.
0
Senior Tax Editor, Kiplinger.com
Rocky was a Senior Tax Editor for Kiplinger from October 2018 to January 2023. He has more than 20 years of experience covering federal and state tax developments. Before coming to Kiplinger, he worked for Wolters Kluwer Tax & Accounting and Kleinrock Publishing, where he provided breaking news and guidance for CPAs, tax attorneys, and other tax professionals. He has also been quoted as an expert by USA Today, Forbes, U.S. News & World Report, Reuters, Accounting Today, and other media outlets. Rocky has a law degree from the University of Connecticut and a B.A. in History from Salisbury University.