Kamala Harris's Tax Policy Proposals
Since she could be a heartbeat away from the presidency next year, you might want to know where Kamala Harris stands on taxes.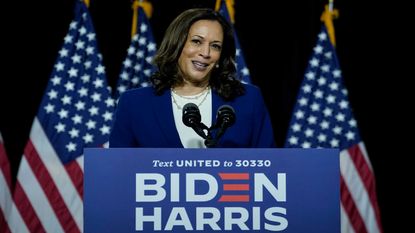 (Image credit: Getty Images)
We've come to know a lot about where Kamala Harris stands on the important issues of the day since she kicked off her run for the presidency back in January 2019. She told us that she wants an easier path to legal status for "Dreamers." She promoted a phased-in "Medicare-for-All" plan. She pressed for an increase in the minimum wage. And, in a debate exchange highlighting her views on race relations, she even called out Joe Biden for opposing busing in the 1970s and for working with other U.S. Senators who supported segregation.
But what about tax policy? Actually, we know a fair amount about what Sen. Harris would like to do when it comes to the U.S. tax code. During her campaign for the Democratic nomination, we learned that Harris is no fan of the Tax Cuts and Jobs Act (TCJA). "Get rid of the whole thing," she once said. However, she also pushed a few other tax proposals that go beyond just repealing President Trump's signature tax act, and they aren't quite as left leaning as the plans put forth by some of the other candidates in that race. Instead of soaking the rich, her tax proposals tend to focus more on tax breaks for middle- and lower-income Americans.
Since she could be a heartbeat away from the presidency next year, we all ought to know more about Harris's ideas – including the ones concerning taxes. So, to help you get a better sense of where she stands on this issue, we pulled together a list of the most significant tax proposals put forth by Sen. Harris over the past year and a half. If the Biden-Harris ticket wins in November, she'll at the very least be able to whisper her tax proposals in the new president's ear.
1/5
Middle-Class Tax Credit
Sen. Harris talked a lot about the LIFT Act (opens in new tab) on the campaign trail. This bill, which she introduced in the U.S. Senate, would give tax credits of up to $6,000 per year to families earning under $100,000 annually (up to $3,000 per year for single filers earning under $50,000). Plus, the credit could be paid in advance—up to $500 per month for families, or $250 per month for singles.
According to Harris, by allowing an advance credit each month, families would have an alternative to taking out "payday loans." She claimed that the median payday loan amount is $350, with interest rates as high as 780% annually. By making more money available, Harris said that it would also help families budget for other goals.
The legislation would also require the IRS to create a grant program to support community-based tax return preparation programs that assist low-income taxpayers and members of underserved populations.
2/5
Renter's Credit
There's a healthy list of existing tax breaks for people who own a home, but what about renters? Sen. Harris has introduced legislation to provide tax breaks for them, too.
Her rent relief bill (opens in new tab) would create a new tax credit for Americans who spend more than 30% of their earnings on rent and make less than $100,000 per year ($125,000 in high-cost areas). The amount of the credit would range from 25% to 100% of the excess rent, depending on the renter's income. For people who live in government-subsidized housing, the bill would allow a credit equal to 1/12 of the unsubsidized rent they pay during the year.
Like the middle-class tax credit mentioned above, the renter's credit would be paid on a monthly basis to put money in renters' hands when the rent check is due. The credit would also be refundable, meaning that renters would get a tax refund check if the credit amount exceeded their annual federal tax liability.
3/5
Taxing the Wealthy
Although Sen. Harris's tax plans during her presidential campaign didn't focus on hammering the rich (e.g., she didn't support a "wealth tax" like Sens. Bernie Sanders and Elizabeth Warren), she certainly had some proposals to increase taxes on wealthier Americans.
Completely repealing the TCJA, which Sen. Harris called for, would push the highest individual income tax rate back up to 39.6% (it's currently 37%). It would also reimpose limits on itemized deductions if your adjusted gross income is over a certain amount. The estate tax exemption would also drop from $11.58 million in 2020 to around $5.5 million, which means more estates would be subject to the tax. Ironically, the tax reform act's $10,000 limit on deductions for state and local taxes (a.k.a., the SALT deduction cap) would also be eliminated, which would mostly benefit wealthy people.
Beyond ditching the TCJA, there were a few other proposals on the senator's campaign wish list that would boost taxes for higher-income people. For instance, she got behind a plan to hit households making above $100,000 with an additional 4% income-based premium. She would, however, set a higher income threshold for families living in high-cost areas. Taxing capital gains at the same rate as ordinary income is something she supported, too. Sen. Harris also has a plan to guarantee up to six months of paid family and medical leave for workers. To cover the costs of her paid family and medical leave plan, she wanted to impose additional payroll taxes on families making $100,000 or more.
Sen. Harris also called for a financial transaction tax as a presidential candidate. Under her plan, there would be a 0.2% tax on stock trades, a 0.1% tax on bond trades, and a 0.002% tax on derivative transactions.
4/5
Taxes on Businesses
Repealing the TCJA would also kick the corporate income tax rate back up to 35% (it's 21% right now). That's considerably higher than the 28% rate Biden has proposed. The senator also supports ending foreign tax shelters by taxing offshore corporate income at the same rate as domestic corporate income.
The senator's climate change plan called for a carbon tax and eliminating tax breaks for the fossil fuel industry. But she supports extending and expanding renewable and clean-energy tax credits, including for energy storage and other supportive infrastructure.
Sen. Harris also wants a new 100% tax on pharmaceutical company profits made from "abusive" drug prices. She would take away the drug companies' deduction for advertising expenses, too.
5/5
Stimulus Checks
Although Sen. Harris dropped out of the presidential race before the coronavirus pandemic hit, she has spoken up since then on the need for a second round of stimulus checks. In May, she introduced the Monthly Economic Crisis Support Act (opens in new tab), which would provide $2,000 to each qualifying person, plus $2,000 for up to three dependent, until three month after the COVID-19 public health emergency ends.
Payments would be reduced (ultimately to zero) for single taxpayers with an adjusted gross income above $100,000. For head-of-household filers, the phase-out would kick in for people with an AGI over $150,000. Married couples filing a joint return would start seeing a reduction if their AGI exceeds $200,000.
Unlike the first round of stimulus checks, payments under Sen. Harris's bill would not be subject to garnishment or offsets by financial institutions.
Payments under Sen. Harris's plan exceed the amounts allowed under the two main stimulus check plans currently under consideration. Both the HEROES Act proposal (backed by Democrats) and the HEALS Act plan (backed by Republicans) call for $1,200 base payments. Unlike the senator's plan, these two other options are also for one-time-only payments.
Senior Tax Editor, Kiplinger.com
Rocky is a Senior Tax Editor for Kiplinger with more than 20 years of experience covering federal and state tax developments. Before coming to Kiplinger, he worked for Wolters Kluwer Tax & Accounting and Kleinrock Publishing, where he provided breaking news and guidance for CPAs, tax attorneys, and other tax professionals. He has also been quoted as an expert by USA Today, Forbes, U.S. News & World Report, Reuters, Accounting Today, and other media outlets. Rocky has a law degree from the University of Connecticut and a B.A. in History from Salisbury University.