How to Avoid Paying 17 Pesky Fees
Fees aren't just annoying—they're expensive.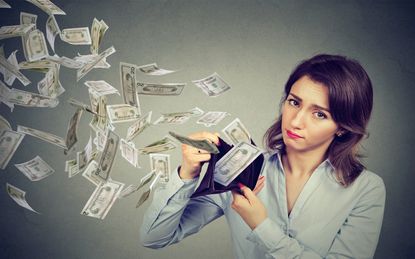 (Image credit: Getty Images)
Fees aren't just annoying—they're expensive. A few monthly surcharges can add up to hundreds of dollars a year. That's money you could use to save for retirement, give to charity, or enjoy a really nice dinner or two.
The good news is that most of these fees are avoidable, especially if you're willing to make a couple of phone calls and threaten to take your business elsewhere. Take a look.
1/17
Credit Cards: Annual Fees
The simplest way to bypass annual fees—which often run between $50 and $100 but can go much higher—is to choose cards that don't charge them. Plenty of great rewards cards, which offer cash back, miles or points on your purchases, come with no annual fee; Citi Double Cash Mastercard (opens in new tab) and PenFed Pathfinder Rewards American Express (opens in new tab) are among our favorites.
Cards that carry annual fees typically offer heightened rewards, and the fee may be worth paying if you gain enough in rewards and benefits to make up for it. But if you're not getting enough bang for your buck, the issuer may cut you a break. A recent CreditCards.com (opens in new tab) survey showed that 70% of those who asked had the annual fee lowered or waived. Some cards waive the annual fee the first year, so you can try out the card free.
2/17
Credit Cards: Late-Payment Fees
You may be charged up to $27 the first time you make a late payment and up to $38 for another overdue bill within the next six billing cycles. Plus, the issuer may increase your annual percentage rate.
Consider signing up for automatic payments to ensure you pay the bill on time. If you slip up and pay late, it's well worth asking the issuer to waive the fee. CreditCards.com says more than 80% of those who made the request had the fee waived. Discover (opens in new tab) charges no late-payment fee for the first offense and never increases your APR for late payments. The Citi Simplicity Mastercard (opens in new tab) and PenFed Promise Visa (opens in new tab) impose no late fee or penalty APR.
3/17
Credit Cards: Foreign-Transaction Fees
The number of major credit cards that charge currency-conversion fees when you use them abroad has been shrinking over the past few years. Still, many cards impose a fee of about 3% of the transaction. Some issuers, including Capital One (opens in new tab) and Discover (opens in new tab), charge no foreign-transaction fees on any of their cards. Other issuers skip the fee on certain cards—often travel cards with annual fees.
4/17
Credit Cards: Balance-Transfer Fees
If you move your balance from one card to another, the new card typically charges a fee—an average 3.46%, according to a CompareCards.com study—and such fees have been creeping up lately, says Matt Schulz, chief industry analyst for CompareCards (opens in new tab).
Look for cards that charge no balance-transfer fee and offer an introductory 0% APR. For example, the Amex EveryDay (opens in new tab) card levies no fee if you request the transfer within 60 days of opening an account, and it charges no interest for the first 15 months (after that it ranges from 14.99% to 25.99%). Plus, you'll get two points per dollar spent at supermarkets and one point on everything else, as well as a 20% bonus on points earned if you use the card at least 20 times per billing period. Points are redeemable for gift cards, travel bookings and statement credits, among other options.
5/17
Bank Accounts: Monthly Service Fees
Checking accounts that pay interest charge an average of $14.35 a month, and non-interest-bearing accounts charge $5.57, according to Bankrate.com (opens in new tab). Luckily, these fees are among the easiest to avoid. Most accounts waive the fee if you arrange for a direct deposit or maintain a minimum balance.
Among accounts at big national banks, TD Bank's Convenience Checking (opens in new tab) requires a minimum daily balance of only $100 to waive the $15 monthly fee. Or find a free account with no strings attached; internet banks and credit unions are often your best bets.
6/17
Bank Accounts: ATM Surcharges
If you withdraw cash from an ATM outside your bank's network, both your bank and the ATM's operator may hit you with fees—charging a combined average of $4.68, according to Bankrate. Choose a bank with a strong ATM network where you live and commonly travel. Or pick an account that charges no out-of-network ATM fees and reimburses you for the fees ATM owners charge.
Premium checking accounts from larger banks often provide such refunds (you'll typically have to keep a large balance to avoid a monthly fee), and free accounts from some other institutions—especially internet banks—do, too. The free Ally Bank Interest Checking Account (opens in new tab) reimburses $10 monthly in out-of-network ATM fees.
7/17
Bank Accounts: Overdraft Fees
Overdrawing your checking account could result in a fee as high as $35 to $40 if you opt to let the bank cover the overdraft for you. Instead, link your checking account to a backup savings account from which the bank can automatically transfer funds; you may pay a fee, but it'll likely be about $5 to $15 instead.
Among big banks, Chase and U.S. Bank (opens in new tab) charge no fees for overdraft transfers from a savings account with the bank. Alternatively, you can turn down all forms of overdraft protection, and your debit card will be rejected if you have insufficient funds to cover the charge (but you could still incur fees for electronic transfers or checks that overdraw your account).
8/17
Bank Accounts: Transfer Fees
Some banks charge $3 or so for a standard ACH transfer to an account with another institution, which may take a few days to clear. For a wire transfer—which often goes through on the same day—your bank may charge about $25 to $35 to send money domestically and as much as $45 or more to wire money internationally. (Many banks levy fees for incoming wires, too—typically less than $20.)
To quickly send money to another person in the U.S., check out a peer-to-peer payment service, such as Zelle (opens in new tab). It offers instant transfers directly to other bank accounts (at least one member of the transaction must have an account with a participating bank), and most banks don't charge fees for the service. TransferWise (opens in new tab) is an inexpensive choice for international transactions of a couple of thousand dollars or less, but the transfer may take a few days. Recently, sending $500 to someone in Great Britain incurred a fee of about $5.
9/17
Bank Accounts: Prepaid Debit Card Fees
Some prepaid cards stick customers with a multitude of fees, such as monthly fees of up to about $10, reload fees of about $5, and $2.50 or so each time you withdraw cash at a U.S. ATM. Use a card with minimal fees, such as Bluebird by American Express and Walmart (opens in new tab). It charges no monthly fee, most methods of reloading are free, and you can avoid an ATM surcharge by visiting machines in the MoneyPass network (opens in new tab).
10/17
Wireless, Cable & Internet Plans: Activation and Upgrade Fees
When you start a new line of service with a wireless phone carrier or upgrade your phone, you may pay an activation or upgrade fee, ranging from about $25 up to $45. Ask the carrier to waive the fee. Or watch for promotions—carriers sometimes drop the activation fee for a limited time, says Tina Chang of WhistleOut.com (opens in new tab), a phone-plan comparison website.
Sprint (opens in new tab), for example, recently offered a promotion for a year of free unlimited data, talking and texting and waived activation fees for those who switched to the carrier and brought their own eligible, unlocked phone to the plan. With some companies, you may avoid the upgrade fee by purchasing an unlocked phone from outside the carrier (say, from the manufacturer or on Amazon.com (opens in new tab) or eBay (opens in new tab)). Verizon Wireless (opens in new tab) charges no upgrade fee if you buy an unlocked phone and put your previous phone's SIM card in it yourself.
11/17
Wireless, Cable & Internet Plans: Early Termination Fees
Contracts with wireless phone carriers have gone the way of the dodo, but cable and satellite TV companies still offer them. If you break a contract, you'll likely face an early-termination fee, which may run about $15 to $20 for each month left on your contract. If you're moving to an area where the provider doesn't offer service, it may not charge the fee.
Or if you're switching to a competing company, see whether it will reimburse you. Spectrum (opens in new tab) and Verizon Fios (opens in new tab) will cover up to $500 of the previous provider's early-termination fee for new customers who sign up for eligible plans.
12/17
Wireless, Cable & Internet Plans: Installation and Service Fees
Cable companies may tack on fees of $50 to $100 or even more to have a tech set up your home for cable, internet or landline service or to fix a problem with your existing service. If your home is already wired and installation is limited to connecting basic equipment, see whether you can do it yourself; some providers offer self-installation kits free or for a reduced fee.
Or ask the provider to waive the installation fee—you'll have more leverage if you make the request before you start service than if you wait until the fee hits your bill, says Peter Zimbicki, head of operations for BillFixers (opens in new tab), a service that negotiates lower bills for consumers. It's worth asking the company to remove service-call fees, too, especially if the problem is the provider's fault.
13/17
Wireless, Cable & Internet Plans: Equipment-Rental Fees
Renting a modem from your internet provider may cost you about $10 to $15 a month. Instead, buy your own—you may pay $100 to $200, but you should recoup the cost within a year or two.
14/17
IRAs: Account Maintenance Fees
You may encounter this fee—often $20 or more per year—when you open a new IRA or have an IRA balance below $10,000, says Greg McBride, chief financial analyst at Bankrate.com (opens in new tab). But there are plenty of brokerage firms and mutual fund companies that do not charge a fee, and others will waive it if you sign up for e-mail delivery of account statements, maintain a certain minimum balance or make a specified number of trades per year.
Fidelity (opens in new tab), Charles Schwab (opens in new tab) and TD Ameritrade (opens in new tab) don't charge a maintenance fee for their IRAs (opens in new tab). Vanguard (opens in new tab) charges a $20 annual fee for accounts with less than $10,000 but waives the fee if you sign up for e-delivery service for statements, notices and confirmations.
15/17
Car Insurance: Monthly Installment Fees
Insurers usually give you the option of paying your bill monthly or in full, but the installment payments come with an extra fee. You can usually cut your premiums by 5% to 10% if you pay your bill for the full auto insurance term (usually six months) in a lump sum, says Bailey Peterson, research analyst at ValuePenguin (opens in new tab), a consumer research website.
16/17
Rental Cars: Liability Insurance
If you have your own auto insurance when you rent a car, you may not need to sign up for supplemental liability insurance, which can cost $7 to $15 per day for liability coverage up to $1 million, according to Value­Penguin. Your car insurance will cover you up to the liability limits of your policy if you rent a car in the U.S. or Canada (but usually not in other countries).
17/17
Rental Cars: Collision Damage Waiver
If you have comprehensive and collision coverage on your own insurance policy, it may be redundant to get the collision damage waiver coverage, which covers physical damage to the rental car and tends to cost $10 to $20 per day. However, that extra coverage may be worthwhile if you have high deductibles or have dropped collision and comprehensive coverage on your own car insurance policy. Plus, you may be charged an administrative or loss-of-use fee if you wreck a car after declining the CDW.
You may also have CDW coverage from your credit card company, which will pay your car insurance deductible if you reserve and pay for the rental car with that credit card and decline CDW coverage from the rental-car company. Find out about any exclusions; credit cards usually don't provide liability coverage, and some don't cover pickup trucks, truck-based SUVs or certain sports cars.
Contributing Editor, Kiplinger's Personal Finance
Lisa has spent more than15 years with Kiplinger's Personal Finance and heads up the magazine's annual rankings of the best banks, best rewards credit cards, and financial-services firms with the best customer service. She reports on a variety of other topics, too, from retirement to health care to money concerns for millennials. She has shared her expertise as a guest on the Today Show, CNN, Fox, NPR, Cheddar and many other media outlets around the nation. Lisa graduated from Ball State University and received the school's "Graduate of the Last Decade" award in 2014. A military spouse, she has moved around the U.S. and currently lives in the Philadelphia area with her husband and two sons.