12 TRIPS ON THE ROADLESS TRAVELED
If travel to you is more about having a fresh experience at a great price than visiting well-trod and tourist-mobbed hotspots, we have a dozen destinations that offer what you want at about 20% to 70% off the cost of visiting marquee destinations.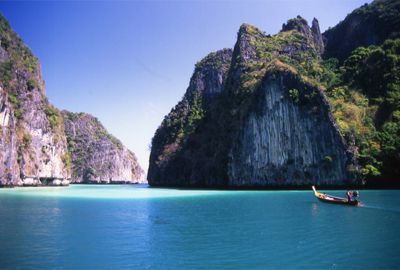 (Image credit: Doug Wales/Bridger Bowl)
If travel to you is more about having a fresh experience at a great price than visiting well-trod and tourist-mobbed hotspots, we have a dozen destinations that offer what you want at about 20% to 70% off the cost of visiting marquee destinations. Some are ideal for travel this fall or winter, while others you can start planning ahead for next spring or summer.
In the November issue of Kiplinger's Personal Finance, we give you tips on how to find a great travel bargain off the beaten path. We've also put together a slide show of 12 fabulous autumn-time getaways. Wherever your travels take you, you can get help booking your trips online with our list of the 25 Best Value Travel Sites. Let the vacation planning begin:
By Sean O'Neill
1/12
CUENCA, ECUADOR
Why it's hot: Cuenca is home to well-preserved, 18th century colonial buildings. Offshore, attractions include the Galapagos Islands where you can see exotic wildlife that inspired Darwin's evolutionary theory.
When to go: Best from April through September. The Galapagos Islands are at their most pleasant -- and most visited -- from December through February.
Top bargain: Spa resorts. "You can get spa services, such as facials and mud-bath, for a fifth the price of comparable quality spas in, say, Scottsdale, Ariz," says Charlie Rounds, owner of Forward Motion Travel of Minneapolis.
Money-saver: Ecuador uses U.S. dollars as currency, so you won't face currency conversion fees when you visit.
2/12
PRAGUE, CZECH REPUBLIC
Why it's hot: Prague rivals Vienna with its fairytale castles and well-preserved architecture, such as the centuries-old archway shown here by the Charles Bridge. Yet Prague charges about 20% less than Vienna for food and entertainment. Plus, the Czech Republic doesn't use the euro so Americans get a better exchange rate.
When to go: Spring and fall offer pleasant weather, low hotel rates and thin crowds. But stay away in January and February when the bitter chill dulls the city's charm.
Top bargain: Walking and bus city tours for $10 to $20, which is much less than guides cost in other Western European capitals, says Rick Steves whose company offers tours throughout Europe.
Money-saver: Prague's taxi drivers often overcharge. Ask your hotel or restaurant to call a cab for you from a trustworthy service.
3/12
SAN JUAN, PUERTO RICO
Why it's hot: San Juan and its 16th-century, Spanish fortresses and golden beaches are affordable because of an airline price war. Discount airlines JetBlue and Spirit are in a dogfight with American on flights to San Juan, making it cheaper to fly here than to the rest of the Caribbean from cities such as Boston and Detroit
When to go: Fall and spring, the shoulder season when hotel rooms go for a third off peak winter rates.
Top bargain: The free hop-on, hop-off bus that circulates the city's shops and casinos, says Doug Stallings, an editor at Fodor's guidebooks.
Money-saver: Visitors may score a $200 double room for $100 at business hotels such as Hyatt and Ramada on weekends when business travelers abandon the city and its convention hall.
4/12
GLASGOW, SCOTLAND
Why it's hot: While not cheap, this Scottish town is about 10% less expensive than London. Plus, Glasgow is half as dense, offering a more leisurely holiday pace.
When to go: March through May, when the city's in bloom. Summer can also be nice, but temperatures vary.
Top bargain: Outdoor cafés, like the one shown here, are an affordable way to gain a feel for this city built between hills. Have an espresso with fudge for about $3 between stops at the buildings designed by influential Victorian architect Charles Rennie Mackintosh and the city's 14th century cathedral.
Money-saver: Find money saving tips and event listings at SeeGlasgow.com.
5/12
BRAN, ROMANIA
Why it's hot: Gothic cathedrals, famous monasteries and a castle once visited by the man who inspired the legend of Dracula make Romania appealing. Even better, the country's on sale for American tourists because its economy hasn't yet gotten its legs after the Communist era. "Romania is one of the cheapest and most fascinating places for an American to visit today," says Tim Leffel, author of Make Your Travel Dollars Worth a Fortune.
When to go: Summer has the best weather.
Top bargain: For the equivalent of $1.65, you can can tour Bran Castle (shown here), known as Dracula's castle. Your ticket also buys you admission to the Village and Customs Museums.
Money-saver: Bring your own garlic to ward off vampires. More seriously: Flights on Austrian Air and Romania's Tarom Romanian Airways are often cheaper than those on other airlines. Fares from New York range from $450 to $900, depending on the time of year.
6/12
SANDUSKY, OHIO
Why it's hot: Cedar Point Amusement Park was recently named the best amusement park in the world by Amusement Today. It boasts 16 roller coasters, more than any other U.S. park. Cedar Point competes to have the world's tallest and fastest roller coasters, but it also offers choices for people who prefer tamer rides.
When to go: May through September, when this amusement park is fully open. Cedar Point is less crowded on weekdays than weekends.
Top bargain: Purchase discounted tickets in advance at Cedar Point's Web site, where an all-day adult pass for adults is $40 and kids and seniors pay $10.
Money-saver: The best value is a pass that also admits you to the Soak City water park next door.
7/12
BUENOS AIRES, ARGENTINA
Why it's hot: The dollar's exchange rate with the Argentine peso has put this elegant capital city on a two-thirds-off sale for U.S. visitors. Buenos Aires offers European-style architecture and sidewalk cafes at cut-rate prices.
When to go: Springtime -- October and November -- is magical in Argentina. "The mix of purple and green trees and the grey marble buildings is gorgeous," says Michael Luongo, author of Frommer's Buenos Aires.
Top bargain: Custom-made clothing costs a quarter of the price as in major U.S. cities. Tango dance parties, such as the one held in the building shown here, also offer free or cheap entertainment.
Money-saver: Skip international chain hotels in favor of Argentine-owned properties for lower nightly room rates and a higher staff-to-guest ratio.
8/12
ISTANBUL, TURKEY
Why it's hot: This is one of the only Middle Eastern countries stable and peaceful for American tourists. The U.S. dollar also has a lot of buying power in Turkey. Think $5 private guided tours and $15 spa services at Turkish baths.
When to go: Spring and fall bring thinner crowds, nicer temperatures and lower prices.
Top bargain: Hotels, where four-star stays can be scored at three-star rates. For example, Istanbul's boutique hotel Ibrahim Pasa offers rooms with wireless Internet and other perks for about $190 a night (including continental Turkish breakfast). The hotel offers a clear view of the centuries-old Blue Mosque (shown here).
Money-saver: For the best exchange rate, go to the post office (called the PTT) at Istanbul's airport.
9/12
PUERTO PLATA,DOMINICAN REPUBLIC
Why it's hot: The Dominican Republic offers all-inclusive resorts at prices that are 20% to 50% less than rates for comparable resorts in Nassau, St. Thomas and other Caribbean destinations with white sandy beaches.
When to go: For the best deals, avoid busy tourist seasons such as late December and early March
Top bargain: All-inclusive resorts, especially in Puerto Plata. Name-brand, all-inclusive resorts charge about $30 a night, says Jessica Labaire, spokesperson for the TNT Vacations agency of Boston.
Money-saver: Starting in early 2007, Americans traveling to the Dominican Republic must carry a U.S. passport. If yours has expired, look for travel companies such as Apple Vacations that offer to pay for your passport application.
10/12
QUÉBEC CITY, CANADA
Why it's hot: Québec City offers French cuisine and architecture at about a third of the cost of a visit to France. Canadian tours are alluring when compared with our dollar's unfavorable exchange rate with the euro, which puts a 22% premium on everything in France. Our dollar is about 10% stronger than the Canadian dollar.
When to go: Airfares to Montréal and average hotel rates in Québec City are both lower in summer than October (the peak leaf-peeping month), says Expedia.com.
Top bargain: Sipping a $4 coffee while viewing the St. Lawrence River from the terrace lounge of the four-star hotel Fairmont Le Château Frontenac.
Money-saver: Take 6% off your expenses by applying for a refund on the taxes you pay for purchases, including hotel tabs. Learn more.
11/12
KO PHI PHI DON, THAILAND
Why it's hot: The financial bust after the tsunami two years ago has led to a boon in deals for tourists. Thailand offers Buddhist temples, super snorkeling, tasty food and beautiful beaches at ultra-low prices.
When to go: In general, Thailand is rainy from June to October, cool from November to February and hot from March to May. The most pleasant season to visit is from November to February. The exception are the weeks around December 25, when crowds and prices peak.
Top bargain: Guided tours. For instance, a three-day tour of Thailand's highlands with a private guide -- including elephant treks, swimming through waterfalls and home-cooked meals -- costs about $60 per person.
Money-saver: Buy a tour package that includes travel on a major airline, such as Cathay Pacific.
12/12
BRIDGER BOWL SKI RESORT, MONTANA
Why it's hot: This is what skiing was like before resorts started charging $7 for hot chocolate and lift lines became longer than the runs. Unlike resorts in Veil and Aspen, Bridger Bowl, located about 16 miles outside of Bozeman, Mont., is run as a nonprofit, keeping a lid on prices. This winter, lift tickets will cost $41 a day, while comparable resorts in the Rockies charge about twice that fee. Ski rentals cost $25 a day -- another steal.
When to go: Prices are consistent throughout ski season.
Top bargain: A 90-minute, private ski lesson costs $75.
Money-saver: Browse package deals at BridgerBowl.com. Hampton Inn was recently offering a four-day stay including breakfasts and lift tickets for two for about $564.