13 Ways Black Friday Retailers Trick You
Here's a look at 13 common tricks stores use on and around Black Friday to boost sales.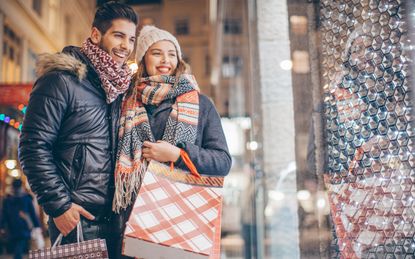 (Image credit: Getty Images)
Black Friday is the traditional kickoff to the holiday shopping season. Think: Doorbuster deals, overcrowded malls and staying glued to your laptop so you don't miss out on online-only flash sales. In fact, holiday spending is expected to reach record levels this year. According to the National Retail Federation, holiday sales for 2023 are expected to increase between 3% and 4% over 2022, to between $957.3 billion and $966.6 billion.
Retailers will pull out all the stops to get their cut. Remember when Black Friday sales were actually limited to the day after Thanksgiving? No more. Pre-Black Friday sales have already started, and many Black Friday doorbuster deals will start in earnest in stores on Thanksgiving Day (November 23). Moving up the start dates of Black Friday promotions is one tactic employed by retailers to get shoppers to spend more. There are many others. Some are overt, some are subtle, but they are all aimed at boosting sales.
Understanding these proven retailing tactics will help you stay on budget and get the best deals this holiday season. Here's a look at 13 common tricks stores use on and around Black Friday.
1/13
Price-matching policies may be suspended
Many brick-and-mortar retailers -- and even some online sellers -- offer customers price-matching throughout the year. Find an item you've purchased selling for less at a competitor within a set time frame, and the original retailer will refund the cost difference to you. Typically, proof of purchase and proof of the competitor's lower price (such as a print ad) are required.
Even though price-matching is a smart way to entice repeat customers, some retailers will suspend price-matching during Black Friday weekend, says Lisa Lee Freeman, a consumer expert and co-host of the Hot Shopping Tips podcast. The reason is simple: Price-matching all of the drastic markdowns offered during Black Friday sales could severely impact retailers' holiday profits. Walmart, for one, will not honor price-matching for any items related to Black Friday.
If you're planning to make a major Black Friday purchase, say a widescreen TV or a large appliance, be sure to comparison shop first before committing to a retailer that has suspended price-matching. Once you buy it, you'll be out of luck if you later see the same product for less somewhere else.
2/13
Advertised discount amounts can be misleading
Nothing lures a bargain shopper into buying something during a Black Friday sale better than the promise of a deep discount. However, that discount being touted on your favorite e-commerce site in the days leading up to Black Friday might be inflated, suggests Courtney Jespersen, NerdWallet.com's consumer savings expert.
During the Black Friday shopping weekend, online sale prices are often compared to the manufacturer's suggested retail price (MSRP). However, many items routinely sell below MSRP periodically throughout the year, which makes the advertised discount misleading, Jespersen says, albeit technically accurate. If the MSRP is $100 and the Black Friday sale price is $70, then the discount being touted online is 30%. But if the item was already widely selling for $80, the actual discount you're getting on your $70 Black Friday purchase is a more modest 12.5%.
3/13
Different prices for different online shoppers
Most e-commerce sites use what are called computer "cookies" to track online shoppers. These tiny files store information about your browsing and buying habits, so when you return to a site the retailer might serve up targeted offers based on how you behaved in the past. This legitimate practice is common and even helpful in many ways. However, it can be a detriment to online consumers who don't regularly bargain shop, suggests Bobbi Rebell, a certified financial planner and host of the Financial Grownup podcast.
Simply put, an online shopper whose cookies indicate she is consistently willing to pay full price might not see the same Black Friday promotions as someone whose cookies indicate a preference for discount codes and clearance sales. One solution: Try shopping online using a web browser set to "incognito mode." This will mask your previous cookies, so the retailer won't identify you by your past shopping habits.
4/13
Some deals require a mail-in rebate
The discounts will be plentiful during the Black Friday shopping weekend. However, not all deals are created equal. While many retailers will offer sale prices upfront, others may require you to purchase a desired item at full price and then mail in a rebate form (yes, via snail mail!) in order to receive the discount, NerdWallet.com's Jespersen says.
Mail-in rebates can be unappealing for several reasons. There's the hassle of filling out the form, remembering to include proof of purchase, and finding a stamp. Most rebate programs have a time limit, so if you drag your feet and forget to mail the form on time — or, worse, ever — the rebate will be lost for good. Even if you do file on time, you'll likely need to wait several weeks before receiving your rebate check. And since you just handed over your personal and contact information to the manufacturer (or a company acting on behalf of the manufacturer) on the rebate form, don't be surprised to receive a flood of marketing offers.
5/13
FOMO: The fear of missing out
Retailers use many tactics aimed at creating an artificial sense of urgency for shoppers to spend more — and spend it now. On many e-commerce sites, you'll see a countdown ticker on the homepage during major holiday shopping weekends. This signals to shoppers that time is quickly running out on exclusive deals. You'll also see language such as "only one hour left" or "limited time only," says smart shopping expert Trae Bodge of TrueTrae.com. Amazon.com's limited-time-only "Lighting Deals" section is a good example of this, she points out. At brick-and-mortar storefronts, you'll see doorbuster deal promotions that say "while supplies last."
Don't be swayed by these tricks that prey on your fear of missing out on a good deal. While some flash-type Black Friday sales can be true bargains, much comes down to understanding ahead of time what price you want to pay and when you're most likely to find that price. For example, pricing on computers and some other related tech accessories can be significantly lower on Cyber Monday than Black Friday. Laptop prices tend to be super-low during back-to-school sales in August. Prices on fine jewelry tend to be cheapest right after Valentine's Day. Furniture prices hit rock-bottom in January as retailers try to clear out the previous year's inventory to make room for the new season's stock.
6/13
Doorbuster quantities are limited
Doorbuster deals on everything from 75-inch televisions to high-end smartphones bring bargain shoppers out in droves every year during the Black Friday shopping weekend. What retailers don't widely publicize is that those mind-blowing doorbuster deals are usually only available in extremely limited quantities, says Jeanette Pavini, Coupons.com's savings expert. It's the promise of a chance at a coveted doorbuster that a retailer dangles, but the real goal is to get you to buy other stuff with higher profit margins since you're already in the store.
How to gauge whether you have a shot at snagging a doorbuster? Before venturing out to go toe-to-toe with other deal hunters, be sure to read the fine print in the store's Black Friday ad, recommends Pavini. You'll likely see language such as "no rainchecks," "limited stock on hand" or "for the first 10 customers." This will help you better determine if it's worth the hassle to try to snag the doorbuster.
7/13
Timed sales on hot-ticket items
A twist on the doorbuster deal is to offer hot-ticket items not only in limited quantities "while supplies last" but also only during a specific time period, says Brittney Mayer, a credit analyst at CardRates.com. What that means is a retailer will advertise a super-low price on, say, a Blu-ray player or tablet, but those items will only be available at the sale price during limited hours, perhaps from 7 a.m. to 9 a.m. only on Black Friday.
Why a time limit on a sale? It's a strategy many retailers use to lure customers inside stores they might not otherwise visit. Once inside, retailers hope the shoppers will be persuaded to spend even more on other items in addition to the timed doorbuster deal. If you're on a tight budget and can't afford to stray from what's on your gift-giving list, avoid the temptation. Mayer recommends checking the store website to see if the product you've been ogling is also available for purchase online. This has been the case during recent major holiday shopping weekends, she adds.
8/13
Free shipping that requires a minimum purchase
Offering free shipping is an effective way to get online shoppers to load up their carts. It's important to note, however, that some retailers will only offer the perk if you spend a certain amount, such as $35 or more per order. If you add extra items to your cart just to hit the minimum purchase amount, you're not really saving money in the end.
One trap shoppers fall into is miscalculating the total amount of the purchase before checking out, warns Lisa Rowan, who wrote for ThePennyHoarder.com. Shipping costs are calculated after Black Friday discounts have been taken off at checkout. "So even if you think you're purchasing enough to get free shipping, you might find that you're still a few dollars away from getting that benefit," she says.
Fight the urge to spend more online simply to get the free shipping by shopping in-store instead. Or if you'd rather skip the crowds and shop from the comfort of your couch, patronize retailers that will be offering free shipping with no-strings attached over the holidays. Target.com will be offering free two-day shipping when using a Target RedCard or spending $35 or more, and BestBuy.com will be offering free standard shipping on online orders.
9/13
Strategic product placement inside stores
The store layout at a big-box retailer such as Walmart or Costco is sprawling for a reason. Retailers want shoppers to wander past multiple displays and through multiple aisles before getting to what they actually came to buy. The end goal: to encourage impulse purchases. It's why Black Friday doorbuster items are often placed at the back of the store instead of the front, says Coupons.com's Pavini.
Another Black Friday product placement trick: Displaying doorbuster items next to related accessories that aren't on sale, Rowan adds. For example, you might find wall mounts, television stands and surround sound systems selling at full price adjacent to doorbuster TVs.
There are ways to avoid making unplanned purchases. Go to a retailer's website and print out a store map in advance, familiarize yourself with the aisles you want to shop and stick to your route. Also, plan for accessories. If you're eyeing a doorbuster TV and know that you'll need a new wall mount to go with it, price them online ahead of time. If the same wall mount is more expensive at the store, order it online instead from a site offering free holiday shipping.
10/13
Gift returns can be problematic
While some retailers offer extended holiday return policies, others don't. Even for the ones that do, read the fine print and be on the lookout for restrictions on returns and exchanges for specific items purchased over the Black Friday shopping weekend. This is especially true if you plan to buy gifts now that won't be given until late-December, says Financial Grownup's Rebell.
For example, at Apple you only have 14 days from the date of purchase to return an item. At Best Buy, which is known for its Black Friday doorbuster deals on electronics, shoppers have until January 13, 2024, to return many items. However, the extended holiday return policy doesn't apply to mobile phones and similar devices that need to be activated, AppleCare plans and holiday products.
When possible, consider shopping at retailers with more lenient holiday return policies that cover a wide range of products including mobile devices and gadgets.
11/13
Offering off-brand TVs as doorbusters
Widescreen television sets are usually one of the most sought-after doorbuster deals on Black Friday. Shoppers camp out for hours waiting for their favorite big-box retailers to open so they can be first in line to score deep discounts on TVs ranging in size up to 65 inches or more. However, some of the biggest deals tend to be on off-brand versions instead of name-brand sets made by top-tier manufacturers.
What consumers need to know is that many of the off-brand televisions with super low prices were manufactured specifically for big sale events, says budgeting expert Andrea Woroch. This means that these TVs were likely constructed using lower quality materials and may even be missing key features such as HDMI inputs. If an item was made specifically for Black Friday and has never been previously sold, it's extremely difficult for shoppers to compare prices and accurately gauge value.
Keep in mind that if you buy a cheaply made TV only to have to replace it a year later, that doorbuster deal was no deal at all. Before you buy, do your research and review product specs to ensure the dimensions and features are exactly what you need, Woroch recommends.
12/13
The same deals get recycled from year to year
For budget-conscious shoppers who plan their Black Friday strategy in advance, you can look to last year's deals as a reference for what to expect. That's because retailers often recycle the same offers from year-to-year, says Saundra Latham, a staff writer for Cheapism.com. This is especially true with items commonly bought during big sales events in the winter months, such as winter clothing, kitchen appliances and luggage.
Latham, who tracks deals offered by major retailers, notes that Target always has an offer for a five-piece Skyline luggage set for about $50. Another retailer she calls out is Macy's, which usually offers a cashmere sweater deal priced at around $40. Latham mentions that all of the big-box retailers will offer deals on a KitchenAid mixer (about $220), a Keurig coffee maker (about $50) and an Instant Pot pressure cooker (about $60).
While retailers do a good job of getting shoppers excited about scoring huge savings, oftentimes the price difference from year-to-year is usually just a couple of dollars. Keep in mind that Black Friday is one of the busiest shopping days of the year. For the sake of time (and your patience), it might be wise to spend at the retailer where you can purchase most of the must-have items on your shopping list at one time.
13/13
Dangling a discount for opening a store credit card
Retailers will try to entice Black Friday shoppers to spend more by offering additional discounts when they open a store credit card. While scoring an even deeper discount on your holiday purchases may sound like a no-brainer, store credit cards tend to have high annual percentage rates, warns TrueTrae.com's Bodge. Having a high APR can be problematic if you aren't able to pay the bill in full every month. You'll owe interest, plus you can get hit with a late fee every time your payment doesn't post on time.
To put this into perspective, Target is touting an additional 5% off on all purchases and early access to holiday deals when customers open a Red Card account. The APR for its store credit card is 29.95% variable. Meanwhile, the national average APR for credit cards is 20.93%, according to CreditCards.com.
A smart way to avoid accumulating unwanted debt this holiday shopping season is to pay for items with cash or to only use your debit card. That way you're only able to spend the money you have on hand.
Related Content

Browne Taylor joined Kiplinger in 2011 and was a channel editor for Kiplinger.com covering living and family finance topics. She previously worked at the Washington Post as a Web producer in the Style section and prior to that covered the Jobs, Cars and Real Estate sections. She earned a BA in journalism from Howard University in Washington, D.C. She is Director of Member Services, at the National Association of Home Builders.