Best Buys of Summer (June, July, August)
To get the very best deal, you have to know when to buy.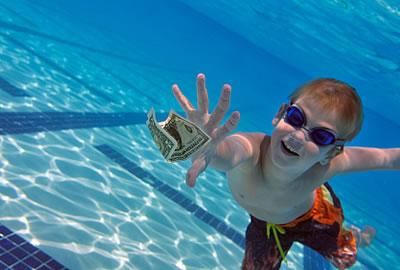 To get the very best deal, you have to know when to buy. Most things are marked down at certain times each year. So planning your purchases to get items when they're at their lowest price can potentially save you hundreds of dollars.
You won't find quite as many items on sale in the summer as in other seasons. But that doesn't mean you can't find some great deals in June, July and August. In particular, you'll find lots of items that kids need for school marked down as they head back to the classroom or campus.
Here are nine things that you'll find at their lowest prices of the year in the summer.
1/10
Gym Memberships
When warm weather arrives, exercise junkies head outside. So gyms tend to offer a variety of discounts in June to lure people back inside. Many eliminate new-member fees, and some reduce monthly rates, says Luke Knowles, creator of FreeShipping.org. For more tips, see How to Save Money on Gym Memberships.
2/10
Lingerie
Victoria's Secret has its big semiannual sale in June, and many other lingerie retailers follow suit with sales of their own. It's a good time to stock up on undergarments that are deeply discounted by 50% or more.
3/10
Furniture
Furniture stores have clearance sales in both January and July to clear out inventory before new styles are released. Many stores offer 0% financing along with discounts of up to 60%, says Brett Billick, senior vice-president of Deals2Buy.com.
4/10
Tools
You'll see plenty of sales on tools in advance of Father's Day, according to dealnews.com. But the deals get even better in July, when retailers further discount tools that didn't sell the previous month, says Louis Ramirez, senior features writer at dealnews.com. So if Dad needs a new wrench, give him a gift card and tell him to wait until the next month to buy it.
Note: You'll need to wait until November for deep discounts on large, pricey power tools. They go on sale on Black Friday.
5/10
Jeans
Best month to buy: July/August
Jeans are a staple of many teens' (and adults') wardrobes. Because demand remains pretty strong for this item of clothing year-round, you don't see popular brands discounted often. However, they do tend to get marked down during back-to-school sales in July and early August, according to dealnews.com. And denim that didn't sell during the back-to-school season goes on sale again in October.
6/10
Laptop Computers
Best month to buy: August
If you don't like dealing with the crowds on Black Friday in November to get a good deal on a computer, you can take advantage of markdowns on laptops and laptop bundles in August. As part of back-to-school promotions, tech retailers often offer laptops along with a gift card, printer, gaming console or other accessory at a price not much higher than what you'd pay for a laptop alone, according to dealnews.com.
7/10
School Supplies
Best month to buy: August
Although retailers kick off back-to-school sales in July, a study by money-saving Web site NerdWallet found that 90% of back-to-school items for sale in July sold for the same or lower price in August. Plus, if you live in one of the 16 states with sales-tax holidays in August, you'll save even more on pens, pencils, markers, binders, paper and backpacks.
8/10
Summer Apparel
Best month to buy: August
Retailers will dramatically mark down summer apparel as they try to make room for fall clothes. Look for discounts of at least 40% to 70%, according to dealnews.com. And you'll likely be able to find coupons, too, that will help you get an even lower price.
9/10
Swimwear
Best month to buy: August
With summer coming to an end, retailers will clear out their swimwear inventory in August. You might not get much wear out of a swimsuit this season. But you can save up to 60% by shopping now, Billick says, and you'll be ready with a practically new suit next summer.
10/10

Former Online Editor, Kiplinger.com
Award-winning journalist, speaker, family finance expert, and author of Mom and Dad, We Need to Talk.
Cameron Huddleston wrote the daily "Kip Tips" column for Kiplinger.com. She joined Kiplinger in 2001 after graduating from American University with an MA in economic journalism.