17 Best Things to Buy This Fall
To get the very best deal, you have to know when to buy.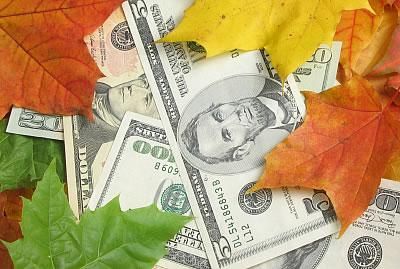 (Image credit: Thinkstock)
To get the very best deal, you have to know when to buy. Most things are marked down at certain times each year. So planning your purchases to get items when they're at their lowest price can potentially save you hundreds of dollars.
As the temperatures start to drop in the fall, so do the prices on a whole host of goods. September and October bring sales on summer items that retailers are eager to clear out to make room for cold-weather inventory. And November – Black Friday, in particular – is a deal hunter's smorgasbord.
Here are 17 things that you'll find at their lowest prices of the year in the fall.
1/17
Airline Tickets and Vacation Packages
Best month to buy: September
Because fall is shoulder season – the period between summer and the holidays when fewer people are traveling – you can find deals on hotels (as much as 50% cheaper than in the summer) and flights to many U.S. cities and overseas destinations, says Anne Banas, executive editor of SmarterTravel.com. Book your holiday travel now when prices are lower and more seats are available. You could save hundreds of dollars, says CheapAir.com CEO Jeff Klee.
2/17
Appliances
Best month to buy: September
New models of major appliances -- such as dishwashers, ranges, and washers and dryers -- come out in September and October. Retailers typically mark down the previous year's models to make room for the new batch of appliances that will be hitting their stores, says Brett Billick, Deals2Buy.com senior vice-president. Often the deals are best during Labor Day sales, when appliances are marked down as much as 70%, says Offers.com vice president Howard Schaffer. Also look for sales during fall's holiday weekends, such as Veterans Day in November.
One exception: These clearance sales typically don't include refrigerators, which go on sale in May before new models are released in June.
3/17
Bicycles
Best month to buy: SeptemberNew models of bicycles arrive in the fall, so you can find discounts of about 25% on last year's models in September, says Luke Knowles, founder of FreeShipping.org. Bicycles usually don't undergo a major redesign every year, according to Bicycling magazine, so you'll get a good deal by buying the previous year's model if the new model hasn't been changed much.
4/17
Broadway Tickets
Best month to buy: September
September is off-season for Broadway, so it's a good time to find deals on tickets to shows, says Erich Jungwirth, chief operating officer of the Lyric Theater (formerly Foxwoods Theatre). Theatergoers also can get two-for-one tickets during Broadway Week in September (and January).
5/17
Lawnmowers
Best month to buy: September
Home-improvement stores need to make room for winter gear, so they try to unload their lawn mower inventory in the fall. Billick of Deals2Buy.com says consumers can expect to see discounts of 30% or more.
6/17
Sunglasses
Best month to buy: September
When summer and beach season are over, you'll find deals on sunglasses. The best storewide sales on sunglasses pop up in September at retailers such as Oakley Vault, Sunglass Hut, REI, 6pm.com and Endless.com, according to DealNews.com.
7/17
Wine
Best month to buy: September
Late summer and fall are harvest time at vineyards in the northern hemisphere. So as the current year's wines start hitting the shelves in September, the previous years' wines go on sale. Billick says the best discounts tend to come from wine clubs, such as Wine.com.
Learn about more ways to save money on wine.
8/17
Grills
Best month to buy: September/October/November
This seasonal item goes on sale as summer ends. But in many parts of the country, the weather is still nice enough in the fall to grill outdoors, so demand lingers. Wait until after Labor Day weekend to find grills marked down 50%, Billick says.
The longer you hold off, the more prices will drop -- although selection will be more limited, says online shopping expert Brent Shelton of FatWallet.com. In November, if you shop online through sites that offer you cash back on your purchases -- such as FatWallet.com, Ebates.com and BeFrugal.com -- you can double your cash-back savings for as much as a 3% to 6% rebate during early holiday promotions, Shelton says.
9/17
Patio Furniture
Best month to buy: September/October
Retailers start having sales on patio furniture in the summer, but DealNews.com recommends waiting until September if you want the best deal. Discounts can reach as high as a staggering 90% off in the fall months. Keep in mind, however, that the longer you wait, the smaller the selection.
10/17
Camping Gear
Best month to buy: October
Even if you're not planning a camping trip during the fall or winter because you don't want to shiver all night long, you don't want to miss this opportunity to get a great deal on outdoor gear. Schaffer of Offers.com says you'll find tents, fishing gear and summer hiking gear discounted 60% to 70% during end-of-season clearance sales.
11/17
Jeans
Best month to buy: October
Jeans that didn't sell during the back-to-school shopping season in late summer go on sale in October, Billick of Deals2Buy.com says. Another good time to find denim deals is in July, according to dealnews.com.
12/17
Vacuums
Best month to buy: October/November
Many sources suggest buying a new vacuum cleaner in the spring. But DealNews.com has found by searching its monthly archive of sales data that there are almost twice as many good deals on these handy home appliances in October and November. Discounts range from 25% to 40%. During Black Friday doorbuster events and Cyber Monday sales, retailers offer the lowest prices of the year -- with discounts of up to 60% -- on some high-end bagless vacuum models and cordless models, Shelton of FatWallet.com says.
13/17
Candy
Best month to buy: November
If you have a sweet tooth, you can stock up on candy in early November because any Halloween treats that didn't sell will be deeply discounted. Billick says you'll also be able to find a lot of manufacturers' coupons for candy after Halloween.
14/17
Computers
Best month to buy: November
If you missed out on a computer deal during back-to-school sales, you'll find some of the lowest prices of the year during sales before Thanksgiving and on Black Friday (the day after Thanksgiving), according to DealNews.com. Look for the best bargains to be on laptops, with prices on even top name-brand models dropping below $400, Shelton says.
15/17
Cookware
Best month to buy: November
Retailers mark down pots, pans and kitchen accessories just in time for the holiday cooking season. According to DealNews.com, there are more cookware deals in November than in any other month. Discounts range from 30% to 80%, depending on the retailer. In particular, look for cookware sales on Black Friday or Cyber Monday -- the Monday after the Thanksgiving weekend, when online retailers mark down items. If you need supplies to prepare your Thanksgiving meal, you'll find sales on cookware sets and food-storage sets during pre-Black Friday sales, Shelton says.
16/17
Televisions
Best month to buy: November
Retailers often use televisions as their Black Friday doorbuster deals, Knowles of FreeShipping.org says. Prices on off-brand HDTVs tend to reach record lows on Black Friday, and there are lots of deals on name-brand 32-inch to 47-inch HDTVs, according to DealNews.com.
Some retailers, such as Amazon, Best Buy and Walmart, do mark down name-brand big-screen HDTVs to incredibly low prices on or around Black Friday, Shelton says. But the deals are available only for a short time, and quantities are extremely limited. So if you can't snag a deal on a name-brand big-screen TV (55 inches and up) during these flash sales, hold off until January or February for pre-Super Bowl sales.
17/17
Wedding Dresses
Best month to buy: November
Bridal stores stock up on new dresses in the fall months to prepare for the large number of couples who get engaged in December, says Schaffer of Offers.com. December is the most popular month to get engaged, with 16% of couples doing so then, according to wedding resource site TheKnot.com. So shops lower the prices on their current inventory to clear the racks for new dresses. Brides-to-be can shop without the crowds and take advantage of discounts of up to 70% in November, Schaffer says.

Former Online Editor, Kiplinger.com
Award-winning journalist, speaker, family finance expert, and author of Mom and Dad, We Need to Talk.
Cameron Huddleston wrote the daily "Kip Tips" column for Kiplinger.com. She joined Kiplinger in 2001 after graduating from American University with an MA in economic journalism.