Best Internet Banks, 2018
These are the best internet-based financial institutions for 2018.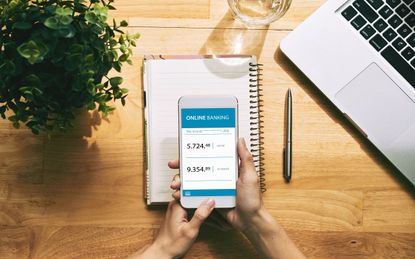 (Image credit: Getty Images)
Because online-only banks don't have the same overhead costs that brick-and-mortar banks do, they are more likely to pare down pesky fees and provide accounts with no minimum balances and higher yields.
For example, our picks charge only $25 for overdrafts (compared with the national average of about $32, according to Informa) and allow you to link accounts for free transfers. They also make up for a lack of in-person service with around-the-clock customer service.
Here's a look at our top picks for online-only banks.
1/3
BEST: Ally Bank
Ally Bank (opens in new tab), our top pick among online-only institutions, began nearly a century ago as GMAC, the auto-financing arm of General Motors. Ally keeps its account offerings simple: There's only one checking (opens in new tab), savings and money market account (opens in new tab), and each has no monthly fees and strong yields. Ally offers a range of CDs that can be opened with any amount, including an 11-month No-Penalty CD (opens in new tab) that allows you to withdraw your money, including interest, at any time without paying a penalty. (Yields range from 1.25% to 1.8%, depending on initial deposit.) The High-Yield CD (opens in new tab) pays between 2.1% and 2.3% for a one-year term, depending on initial deposit.
To address jitters about branchless banking, Ally gives you free checks, postage-paid deposit envelopes and free incoming wire transfers. You can avoid ATM fees by sticking with the more than 43,000 machines in the Allpoint network in the U.S., but Ally will offset up to $10 per month in charges from other banks' ATMs.
Ally also supplies a suite of digital banking tools, including remote check deposit, Ally Assist (a voice-enabled help service in the iOS app) and Ally Skill (account management by voice using Amazon Alexa). Live customer service is available by phone or online chat 24-7 (phone wait times are posted on the website), or you can correspond via Facebook Messenger or Ally's dedicated customer service Twitter feed (opens in new tab). The bank offers mortgages and auto loans, as well as the Ally Invest brokerage.
2/3
RUNNER-UP: Axos Bank
With five checking accounts on tap, banking at Axos Bank (opens in new tab) (formerly Bank of Internet USA) can be as simple or complex as you want. On the simple end, we like the no-frills Essential Checking (opens in new tab), which doesn't charge for overdrafts and reimburses all domestic ATM fees. On the more complex end, Rewards Checking (opens in new tab) dangles a rate of 1.25% as long as you meet several conditions each month (including a direct deposit of at least $1,000 and frequent use of the debit card). You need $100 to open a checking account.
Savings choices are more straightforward. The lone savings account (opens in new tab) yields a respectable 1.3%; the money market account (opens in new tab) earns 1.05% and includes a debit card. As with checking, there are no ongoing fees or balance requirements beyond an initial $100 deposit. You'll need $1,000 to open a CD; a five-year term recently yielded 2.25%.
Only the CashBack Checking (opens in new tab) and Golden Checking (opens in new tab) (for those 55 and older) charge the $25 overdraft fee; the other four checking accounts will reject the overdrawn item, at no cost to you. Axos Bank doesn't partner with any ATM networks, but it will reimburse up to $8 monthly in ATM fees in the U.S. for the Golden (opens in new tab) checking account, up to $12 for the teen-oriented First Checking (opens in new tab), and unlimited amounts for the other accounts. There is only one physical branch, at company headquarters in San Diego, but otherwise live help is available anytime by phone or from 7 a.m. to 6 p.m. Pacific time via online chat.
3/3
The Best Banks and Credit Unions for You, 2018
These stellar banks and credit unions are making all the right moves to win satisfied customers:
Associate Editor, Kiplinger's Personal Finance
Miriam lived in Toronto, Canada, before joining Kiplinger's Personal Finance in November 2012. Prior to that, she freelanced as a fact-checker for several Canadian publications, including Reader's Digest Canada, Style at Home and Air Canada's enRoute. She received a BA from the University of Toronto with a major in English literature and completed a certificate in Magazine and Web Publishing at Ryerson University.