RETIRING TO A COLLEGE TOWN
It's a fantasy of many an aging baby-boomer.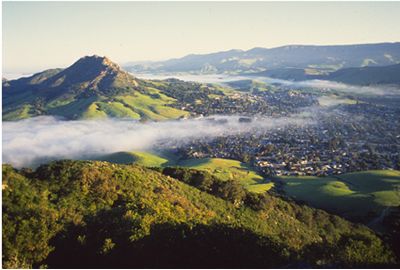 (Image credit: David E. Garth)
It's a fantasy of many an aging baby-boomer. The mind drifts back to college days of yesteryear: crossing the tree-lined quad on your way to class, spending time with friends at the local hangout, and on weekends, the Big Game. But returning to campus life doesn't have to be just a dream. Retired and about-to-retire boomers are creating mini-boomlets in and around college towns, such as San Luis Obispo (shown here), home to California Polytechnic State University.
It's back to campus--minus all-nighters and final exams. College-town life offers cultural and educational benefits to enrich retirees. High-quality medical facilities are usually part of the deal, too. And, of course, it's an easy commute
to the stadium parking lot for weekend tailgate parties. If you're
contemplating a return to campus for your senior
years, consider these vibrant, affordable college towns.
Compiled by Rachel L. Sheedy and Amy Pollak
Statistics Sources: Census Data, Cities Ranked & Rated (Wiley, $25).
1/9
Ann Arbor, Michigan
Population: 603,358
Cost of Living: 110.3
Median Home Price: $206,900
Less than 40 miles from Detroit, Ann Arbor offers a lively downtown with sidewalk cafes, an annual blues and jazz festival, and annual art fair. Sports lovers can root for the top-quality teams of the University of Michigan Wolverines. For educational enrichment, there's the Turner Senior Resource Center's Learning in Retirement program, offering lectures and minicourses for older "students of life." Most cost less than $35, plus a yearly $15 membership fee.
Cost of Living Index Average is 100
2/9
Iowa City, Iowa
Population: 114,300
Cost of Living: 97.7
Median Home Price: $150,860
This lovely prairie town is home to the University of Iowa, well-known for its writers' programs. Cultural opportunities abound, from the town's annual jazz festival to events held at the university's performing arts theater, Hancher Auditorium (shown here). The university alumni association offers a series of classes for retirees at a cost of $30 per course series. Course offerings range from poetry to football.
3/9
Ithaca, New York
Population: 96,493
Cost of Living: 96.2
Median Home Price: $130,100
Yes, it's isolated, and yes, it's cold in winter. But located at the foot of Cayuga Lake in the Finger Lakes region of central New York, Ithaca offers intense natural beauty. Housing is relatively cheap, and the town has more than 200 restaurants, including Moosewood, of cookbook fame. Two campuses are set in Ithaca's hills: Cornell University, shown here, and Ithaca College. Retirees looking for intellectual stimulation can attend Cornell's Adult University, open to alumni, and their friends and families.
4/9
Athens, Georgia
Population: 157,862
Cost of Living: 95.4
Median Home Price: $141,170
Athens secured a place in the pop culture scene with the success of rock bands R.E.M. and the B-52's. Town life revolves around the University of Georgia, founded in 1785. Shown here is Athens' City Hall (notice the Greek classical touches). The cost of living is well below the national average, and there are plenty of award-winning restaurants in a restored downtown. What's not to like about two excellent hospitals, three golf courses and free classes to anyone over age 62?
5/9
Research TriangleNorth Carolina
Population: 1,267,676
Cost of Living: 103.6
Median Home Price: $173,100
At the heart of Tobacco Road sits North Carolina State University in Raleigh, Duke University in Durham and the University of North Carolina at Chapel Hill. The triumvirate forms the Research Triangle, located in the piedmont of northeastern North Carolina. For more of a small-town atmosphere, you'll want to stroll Chapel Hill's quaint Franklin Street, shown here, with its great shops and restaurants. Durham offers Duke University's top medical center. And for the amenities of a midsize city, there's Raleigh, the Tarheel state's capital.
6/9
Austin, Texas
Population: 1,349,291
Cost of Living: 95.3
Median Home Price: $151,000
Everything's big in the Lone Star State, including the University of Texas, in the heart of the state capital. From the UT Austin Tower, shown here, you can take in a 360-degree view of the university campus and Austin city limits. Noted for its vibrant music scene, including the annual South by Southwest music fest, Austin combines laid-back ambience with a wide choice of cultural opportunities. Seniors can attend the University of Texas's "Third Age University," as well as the outreach programs and lectures sponsored by the LBJ presidential library and museum. The summers
hot, but from October to May, the climate
ranges from delightful to moderate.
7/9
Charlottesville, Virginia
Population: 64,197
Cost of Living: 102.5
Median Home Price: $177,840
Charlottesville is home to the University of Virginia, "Mr. Jefferson's University," founded in 1825. Thomas Jefferson designed the original campus and buildings, including the Rotunda pictured here. Downtown, there's a pedestrian mall with more than 150 shops and restaurants. The Charlottesville Pavilion amphitheater and the newly renovated Paramount Theater provide plenty to satisfy your cultural appetitie. In the spring, the city hosts the annual Virginia Festival of the Book. Even with four distinct seasons, Charlottesville's climate is mild, allowing
residents to take advantage of outdoor recreation, from golf to
hiking in the foothills of the Blue Ridge Mountains.
Close by: the historic homes of Presidents Jefferson,
James Madison, and James Monroe.
8/9
Oxford, Mississippi
Population: 13,618
Cost of Living: N/A
Median Home Price: $123,400
An hour south of Memphis, Oxford is a Southern literary haven. The birthplace of novelist William Faulkner features Square Books, a renowned independent book store. Oxford's lively town square houses boutiques and an eclectic assortment of restaurants. Here the square plays host to the annual Double Decker Arts Festival. And then there's the University of Mississippi, or Ole Miss, which offers continuing-education classes through Lifelong Learners. Students age 65 or older can take four credits per semester free. Attend brown-bag lunch gatherings, and go
to shows at the university's performing arts center.
9/9
San Luis Obispo, California
Population: 253,408
Cost of Living: 155.1
Median Home Price: $380,130
Want to live by the sea and by the mountains? San Luis Obispo, home of California Polytechnic State University, sits along scenic Morro Bay with the Nine Sisters, ancient volcanic peaks, forming a scenic backdrop. The median home price is high, but lower than many areas of California. Its moderate climate presents numerous opportunities for outdoor recreation, from mountain biking to surfing. Plus, if you're a wine lover, you can enjoy tours and tastings at nearby wineries. Truly a mellow lifestyle.