10 Insect Superheroes
You might have heard the buzz: Our payback for the warm winter and early spring will be larger-than-usual hordes of mosquitoes, midges, aphids, termites and other bad actors this summer.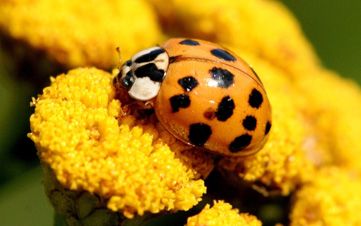 (Image credit: Whitney Cranshaw, Colorado State University, Bugwood.org)
You might have heard the buzz: Our payback for the warm winter and early spring will be larger-than-usual hordes of mosquitoes, midges, aphids, termites and other bad actors this summer.
The silver lining? There's a bug cavalry of sorts on the way, also courtesy of mild weather: armies of voracious insects that feast on the bad bugs. These "good" bugs will help limit bad-bug infestations of farmers' crops, keep ecosystems in balance and may even save you from an extra bug bite or two.
Here are 10 predator insects that soon will be thwarting the evildoers in fields, orchards, forests, parks, lawns and gardens.
1/11
Assassin Bugs
Aptly named, these insects go after ants and aphids (also known as plant lice). They punch their needle-like mouths into their prey, inject a lethal saliva that dissolves their victims' innards, then kick back for a juicy meal.
2/11
Dragonflies
Their ability to fly over 50 miles per hour and snatch mosquitoes, midges and other prey out of midair as well as spiders out of their webs gives dragonflies a reputation as the insect world's ultimate aerial killers. They start young, too. Dragonfly larvae feast on mosquito larvae and other small aquatic creatures.
3/11
Pirate Bugs
Friends of farmers and gardeners everywhere, these omnivores go after spider mites, corn earworms, caterpillars and leafhoppers. They eat both the eggs and the adult insects. They can be a bit naughty by biting people, though the bites are harmless.
4/11
Syrphid Flies
Resembling small bees, and even flying like them, they go after aphids, mealybugs, termites, thrips and leafhoppers. Adult syrphid flies provide good pest control in fields of vegetables, oilseeds and other annual crops. And like bees, they pollinate crops by carrying pollen on their feet as they hunt for pests.
5/11
Wolf Spiders
Excellent nighttime predators, these spiders (yes, we know they're arachnids, not insects) don't bother building webs. Instead, they run down their prey. They chomp on cotton bollworms in cotton fields. In orchards and elsewhere, they go after caterpillars that later turn into harmful moths.
6/11
Lacewings
Starting when they're larvae, they devour a slew of harmful crop pests -- spider mites, psyllids, whiteflies, mealybugs and more. The larvae, called "aphid lions," resemble minuscule alligators with pincers like tiny ice tongs. Note that the U.S. Department of Agriculture has identified a pheromone that can attract male and female lacewings from hundreds of yards away. It will soon be available for sale.
7/11
Soldier Beetles
Like lacewings, these nocturnal predators are related to lightning bugs but are warriors, not just pretty flashers. They're carnivorous from the time they hatch as larvae in the soil, feeding on cutworms and other insects that farmers don't want around.
8/11
Ladybugs
Though they can be a nuisance to humans when they winter in homes and other buildings, they help keep aphids under control in pecan orchards, vineyards and soybean fields. There are more than 5,000 different types of ladybugs worldwide -- nearly 500 varieties in the U.S. alone. They can be bright red, orange, yellow, gray, pink or black.
9/11
Spring Tiphia Wasps
These guys feast on the grubs of Japanese beetles, those voracious emerald green pests that attack gardens, grapevines and fruit trees. The wasp adults feed on juices from aphids and mealybugs as well as from plants. The females then dig into the ground to lay their eggs on Japanese beetle grubs. Tiphia larvae are stealthy assassins, sneaking up on grubs to kill them.
10/11
Tooth-Necked Fungus Beetle
This beetle is a rising star in the Eastern U.S., proving to be a big help in controlling the hemlock wooly adelgid, a sap sucking bug from East Asia that is a scourge of Eastern and Carolina hemlocks.
First observed in Pennsylvania in the 1960s, the sap sucker has weakened and killed trees from Massachusetts to Georgia. The tooth-necked beetle and its nymphs feed on the pest and its larvae. The beetle, one of the few biological controls for the adelgid, is native to the Pacific Northwest and is starting to flourish in many Eastern forests as well.
11/11
Editor, The Kiplinger Agriculture Letter
Maixner was a student of news writing, agriculture and public policy before starting as editor of The Kiplinger Agriculture Letter in 2003. Raised on a ranch in western North Dakota, he kept a foot in the family farm and the farm news beat through 20 years with North Dakota newspapers – interrupted to study economics and finance while finishing an MA degree in journalism as a Kiplinger fellow at Ohio State University. Ed worked on legislation in agriculture, natural resources and international trade as an aide in the U.S. House and Senate, then ran a Washington, D.C., agricultural news bureau before joining Kiplinger. He was president of the North American Agricultural Journalists in 2011-12.