DESIGN THAT WORKS FOR EVERYONE
Universal design.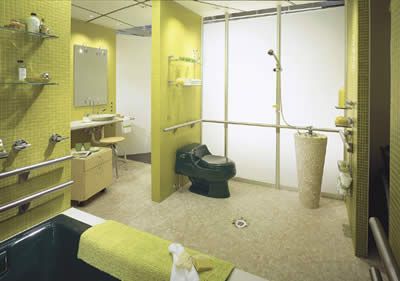 (Image credit: Universal Design Alliance/Fred Gerlich Photography/Designers Anna Marie Hendry, Rita Goldstein,)
Universal design. It's a term you're likely to hear more of in the coming years. This design approach takes into account functionality and ease of use for multigenerational living. The concept is appropriate for both young families and for people who want to stay in their homes as they age. "It's livable housing," says Rebecca Stahr, co-founder of the Universal Design Alliance and founder of LifeSpring Environs, a design firm. "Once people have these convenient features, they"ll wonder how they ever did without them."
Functional does not mean institutional. Take the bathroom at right. The design is sleek and modern--it's not until you look closer, that you'll realize how accessible this bathroom really is for young children, aging baby-boomers and elderly folks. There are hundreds of ways to incorporate universal design in a home. Here are some examples that illustrate how your living spaces can work better for you.
By Rachel L. Sheedy
Research by Amy Pollak
1/12
Accessible Bathroom Sink
A wall-mounted sink adds a modern touch while accommodating a wheelchair or other mobility device. Lever faucet handles, instead of round knobs, make turning on the water easier for both children and for people whose dexterity has decreased. The sink also features a grab bar that you can use for mobility, or to just hang a towel on. But be prepared to pay a pretty penny if you're remodeling an existing house, instead of designing rooms for a new house. "It's always a higher cost to remodel," says Stahr.
2/12
Grab Bars
Falling is one of the biggest dangers in a bathroom for people of any age. To help avoid that danger, install grab bars around the toilet, bathtub and shower. But these aren't your grandmother's grab bars: They are available in up-to-date finishes, including polished brass, satin nickel or chrome. The ones shown here are polished chrome. When having bars installed, make sure your contractor secures them into the wall studs.
3/12
Adjustable Shower Head
A key feature to add to a bathroom is an adjustable-height shower head. Such a fixture can move up or down on a bar, and can become a hand-held shower. Kohler's WaterHaven shower tower has multiple shower heads that can accommodate people of various heights. It can also adjust low enough for a person in a wheelchair to use.
4/12
Seamless Floors
Simplifying and streamlining the space under your feet can make a big difference for mobility. This is a no-step shower threshold, which defines two separate spaces with no transition lip. Other universal design features to consider for bath floors include slanting the interior shower floor, for better drainage and to prevent water from rolling out, and using smaller tiles, which provide more traction with multiple grout and surface textures, to reduce falls.
5/12
Functional Kitchen
Although at first glance this may look like a standard kitchen, a closer inspection reveals how universal design has made the room more functional. Notice it includes a raised dishwasher for less bending, high-toe kicks under the cabinets to allow room for wheelchairs or other mobility aids to go underneath, and a microwave that's at table level for more convenient access.
6/12
Easy Access
Less bending and straining is good for everyone. A refrigerator and freezer with double doors makes it easier for family members young or old to reach food or beverages inside. A raised oven means no bending, and for young families, it keeps the oven out of reach from curious children. Underneath the oven, there's a drawer that lets you extend your countertop space. That allows you to put hot pans down quickly to avoid burns.
7/12
Hidden Seating
Universal design can be inconspicuous. Because the oven is raised in another part of the kitchen, there's space to use under the stovetop. Here that space is occupied by functional seating. Instead of standing while cooking, you can pull the stool out to sit while using the stove. Afterward, the stool can be hidden behind the cabinet doors so it'll be out of the walkway.
8/12
Open Cabinet Space
There are other ways to make sinks accessible besides mounting them on the wall. This open cabinet below a kitchen sink has a finished interior space with a protected plumbing apron. That apron allows seated users to easily access the sink without being burned by hot plumbing.
9/12
Add Drawers
Consider installing more drawers in the kitchen. Pullout drawers provide more convenient access by minimizing the amount of strength needed to access supplies -- drawers bring objects to the person, versus the person moving to the objects. Having drawers below the stovetop allows you to place pots at their point of use.
10/12
Improved Laundry
A table and chair in the laundry room lets you fold and sort laundry without breaking your back. And when the laundry's finished, you can use that area to do crafts. Lighting and high-contrast colors make it easy to view objects on the table or floor. The ability to sit at the sink is good for someone who can't stand for a long time, and elevated appliances reduce the need to bend.
11/12
Take an Elevator
Can't use stairs? If you've got the cash, install an elevator. This elevator, which accesses three different levels, has contrasting wood tones inside, a safety handrail around the perimeter and a recessed telephone in case of emergency. When landing on the second level, this elevator opens on either side for access into two different rooms.
12/12
Free Flow
Universal design not only works in individual rooms but also between them. Here the living room has a clear, accessible route with no obstructions for easy flow and mobility. And with no doors, there's no risk kids will slam their hands. Contrasting colors help define positioning and provide bearings for declining eyesight. A wide 36-inch passage between the dining room and kitchen allows for the passage of a wheelchair.
Ready to apply universal design to your home? While there's no certification for universal design, find a designer who specializes in it through the referral service of the American Society of Interior Designers (www.asid.org (opens in new tab)).