9 More Tiny Homes You'll Love
Imagine living in a home the size of a large SUV.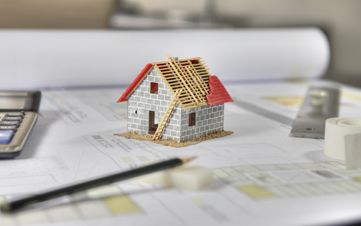 (Image credit: Thinkstock)
Imagine living in a home the size of a large SUV. Hard to do? Tiny homes are a practical and very affordable option for buyers ranging from young singles (21% of tiny-home buyers are under 30) to empty-nesters and retirees looking to downsize (38% are over 50), according to our interviews with owners and builders of pre-fabricated models on the market.
These prefabs can also make attractive backyard additions, serving as a a "granny flat" for an aging relative, for example. (But make sure to check your local zoning laws, and beware that regional zoning restrictions can affect the construction and location of your tiny home, warns the New York Times.)
If you've got the land, costs range from around $20,000 for the smallest models to more than $150,000. By contrast, the U.S. median price for new single-family homes was $275,800 in April 2014, according to U.S. census data. It's not just savings in building costs. By their very nature, tiny homes help homeowners save big on utility and maintenance costs. The biggest challenge? "Minimizing your accumulation of stuff," says Hunter Floyd, of tiny-home builder Cinderbox Dwelling.
We've rounded up nine appealing tiny homes, all 500 square feet or less. Our tiniest is 128 square feet, occupying a mere six feet less than a 2014 Chevy Suburban. The average single-family home is 2,300 square feet, according to the National Association of Home Builders. Take a look.
Disclaimer
NOTE: "Cost to build" prices include materials and construction by the manufacturer. Cost does not include the land, unless otherwise stated.
1/10
A Backyard Bungalow
Square footage: 461
Bedrooms: Studio
Bathrooms: 1
Price: $155,000 (shipping included)
Builder: Blu Homes (Waltham, Mass.)
The Origin model featured here is the second-largest home in our slide show and is crafted from environmentally friendly materials. Standard appliances include a refrigerator, cooking range, microwave and dishwasher. A garage addition is available with options starting at $45,000.
2/10
A Retiree Getaway
Square footage: 160
Bedrooms: Studio
Bathrooms: 1
Price: $36,000
Builder: Tiny Home Builders (Deland, Fla.)
This single-story home, known as the Tiny Retirement model, was designed with the retired homeowner in mind. Everything is conveniently located on one level -- no ladder steps to climb to access a loft-style bed area, which is common in tiny homes. The living space is 20 feet long, with an area for a bed or a small sleeper sofa at one end and the bathroom on the opposite end. The lavatory has a 36-inch standing shower and a toilet with a small storage area overhead. There's a cathedral ceiling, which helps to make this compact space feel much larger.
Cost for delivery from the builder's Deland, Fla., location ranges from $1.50 to $3 per mile after the first 50 miles.
3/10
A Rustic Haven
Square footage: 128
Bedrooms: Studio
Bathrooms: 1
Price: $37,000
Builder: Spice Box Homes (Dolores, Colo.)
The interior of this house, dubbed the Rustic Barn, consists of a large open space, plus a storage loft that's 50 square feet. Vaulted ceilings and exposed wood collar beams above the kitchen and main living areas can be used to store items such as pots and pans or even a bike. For buyers looking to go green, the finish options for this model include recycled flooring, countertops, light fixtures and appliances. There's also a bathroom with a walk-in shower and composting toilet.
Shipping costs are negotiable.
4/10
A Conversation Piece
Square footage: 260
Bedrooms: 1
Bathrooms: 1
Price: $150,000
Builder: Tiny Texas Houses (Luling, Texas)
This builder uses salvaged materials to create its homes, making each one-of-a-kind. Company owner Brad Kittel lives in the house featured here. It was constructed using recycled stained-glass windows and rosewood and pine fixtures. It stands 18 feet tall and has two levels, plus a loft area for a bed. On the first floor, there's a main living area and kitchen. The second floor has a den and sitting room. The second level and the loft are accessible via ladder steps. There's also a covered front porch, as well as a screened back porch, where you'll find the bathroom.
Buyers of new Tiny Texas Houses homes must provide their own appliances.
5/10
A Modern Space-Saver
Square footage: 200
Bedrooms: 1
Bathrooms: 1
Price: $19,000
Builder: Cinderbox Dwelling (Phoenix, Ariz.)
This single-level prefab home is constructed with Japanese shou sugi ban-style burnt wood siding, which is rot-resistant. Corner sliding doors open to a covered outdoor porch. Inside are a desk alcove, storage closet, built-in shelving and a bookcase that doubles as a ladder, which is used to access the loft-style bed area. Appliances are not included, but this home comes with LED strip lighting and cable and Ethernet hookups.
Shipping costs are negotiable.
6/10
A Cozy Cottage With a View
Square footage: 272
Bedrooms: Studio
Bathrooms: 1
Price: $199,000 (land included)
Location: North Truro, Mass.
Located in a resort town just ten minutes from popular Provincetown on the Cape Cod National Seashore, this detached condo was built in 1930 and is on the market. The home sits on a lot that's less than a half-acre. Three large windows and a sliding glass door deliver an abundance of natural light. There's also an outdoor brick patio, big enough to fit a small table and a few chairs, that faces a private beach and the area's popular East Harbour. An extra cost awaiting buyers: You must provide your own appliances.
The average home listing price in this area is $700,020, according to Trulia.com.
7/10
A Texas-Sized Tiny Home
Square footage: 400
Bedrooms: Efficiency
Bathrooms: 1
Price: $65,000 (land included)
Location: Surfside Beach, Tex.
Here's a quaint home on the market that still has enough space to store plenty of stuff. Constructed in 1960, it comes with a storage unit situated underneath the main level.
There's also a wraparound deck. Appliances include a refrigerator and stove. Galveston's beaches are an hour's drive away.
8/10
A Small Piece of Paradise
Square footage: 510
Bedrooms: 2
Bathrooms: 1
Price: $640,000 (land included)
Location: Honolulu
Built in 1928 and currently for sale, this is the largest home in our slide show. It's also the most expensive by far. That's in large part due to its location in the Kaimuki area of Honolulu, one of the ten most expensive U.S. cities to live in. But you'll also get two bedrooms (more than you'll find in the other tiny homes featured here) in this fully renovated, one-story cottage. Future owners will enjoy an updated kitchen that comes with a full-size refrigerator and stove. There's also a washing machine, as well as new plumbing, flooring and lighting and a carport.
9/10
A Twin-City Compact
Square footage: 416
Bedrooms: 1
Bathrooms: 1.5
Price: $70,000 (land included)
Location: St. Paul, Minn.
Built in 1922, this single-level home has plenty of modern updates and is currently for sale. There are new hardwood floors and bathroom tile. Appliances include a full-size refrigerator, stove and stacked washer/dryer. The kitchen has a breakfast bar, and the living room area can fit a small couch.
10/10

Browne Taylor joined Kiplinger in 2011 and was a channel editor for Kiplinger.com covering living and family finance topics. She previously worked at the Washington Post as a Web producer in the Style section and prior to that covered the Jobs, Cars and Real Estate sections. She earned a BA in journalism from Howard University in Washington, D.C. She is Director of Member Services, at the National Association of Home Builders.