6 Stocks That Stand to Gain From Higher Interest Rates
A Federal Reserve rate hike appears all but certain on the heels of February's strong jobs report.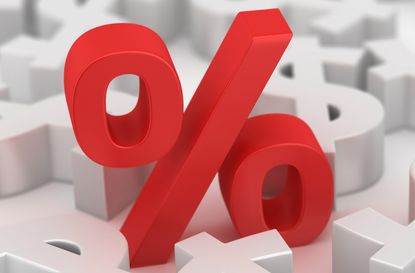 (Image credit: iStock)
A Federal Reserve rate hike appears all but certain on the heels of February's strong jobs report. But financial stocks, traditional beneficiaries of higher interest rates, have already rallied mightily since the presidential election in November. If the central bank does indeed lift short-term rates when it concludes its two-day meeting on March 15, how much upside in financial stocks could there be left?
Plenty, says analyst Richard X. Bove of Rafferty Capital Markets. Due to safeguards put in place during the Great Recession, financial institutions are sitting on mountains of cash that are earning very low returns. "In the last 10 years, the government has forced them to raise their cash and securities, so if you get an increase in rates they see a jump in interest income," Bove says. "And there's no cost against that. It's a simple increase in revenue."
SEE ALSO:27 Best Stocks to Own in 2017
Kiplinger is forecasting three quarter-point rate hikes in 2017. If that holds true, the Fed's target on the federal-funds rate, the rate banks charge each other for overnight loans and a key influencer of other interest rates, would rise to a range of 1.25% to 1.5% by the end of the year. And as rates rise, banks, asset managers, insurers and other financial companies with heaps of assets already on the books will prosper without management having to lift a finger. Here are six stocks, in particular, that are well positioned to benefit from Fed rate hikes.
Data is as of March 10, 2017, unless otherwise indicated. Click on symbol links in each slide for current share prices and more.
(Stocks are listed in alphabetical order. Market capitalization, provided by Zacks.com, represents current share price times the number of share outstanding. Dividend yield is calculated based on the last four quarterly dividend payments.)
Senior Investing Writer, Kiplinger.com
Dan Burrows is Kiplinger's senior investing writer, having joined the august publication full time in 2016.
A long-time financial journalist, Dan is a veteran of SmartMoney, MarketWatch, CBS MoneyWatch, InvestorPlace and DailyFinance. He has written for The Wall Street Journal, Bloomberg, Consumer Reports, Senior Executive and Boston magazine, and his stories have appeared in the New York Daily News, the San Jose Mercury News and Investor's Business Daily, among other publications. As a senior writer at AOL's DailyFinance, Dan reported market news from the floor of the New York Stock Exchange and hosted a weekly video segment on equities.
Once upon a time – before his days as a financial reporter and assistant financial editor at legendary fashion trade paper Women's Wear Daily – Dan worked for Spy magazine, scribbled away at Time Inc. and contributed to Maxim magazine back when lad mags were a thing. He's also written for Esquire magazine's Dubious Achievements Awards.
In his current role at Kiplinger, Dan writes about equities, fixed income, currencies, commodities, funds, macroeconomics, demographics, real estate and more.
Dan holds a bachelor's degree from Oberlin College and a master's degree from Columbia University.
Disclosure: Dan does not trade stocks or other securities. Rather, he dollar-cost averages into cheap funds and index funds and holds them forever in tax-advantaged accounts.