Best Cars for Long Road Trips
It's summertime, and the open road beckons.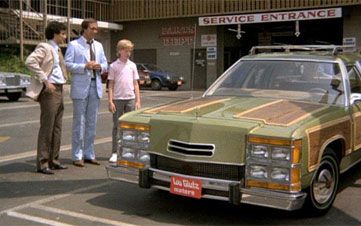 It's summertime, and the open road beckons. Time to fill the Thermos, kennel the dog and get your road trip on.
Cars have come a long way from the dark days of the \"Family Truckster,\" made infamous in the movie National Lampoon's Vacation. Walley World may still beckon, but today we expect more than just a cavernous interior and a roof rack capable of carrying Aunt Edna. Improvements in engineering, styling, and technology have made some cars a dream for long hauls.
Here are our eight picks for making long trips seem a lot shorter. Most are offered with an eye toward fuel economy, given today's gas prices.
1/9
Best Bet for Driver Comfort: 2012 Volvo C30
• Sticker Price: $27,575 (T5 Premier Plus)
• Highway MPG: 30
Any number of features can excite a road-tripper for the first few hours. But the appeal of a friendly navigation system or a stereo that holds 15 gigs of your music wears off when your keister starts complaining at mile marker 300.
Consider the sporty Volvo C30. A somewhat oddly styled coupe, it has seats that reflect almost 50 years of Volvo efforts to keep you happy (on the premise that a comfortable driver is a safer driver).
Unfortunately, Volvo's focus on front-seat comfort comes at the expense of rear occupants' knee room, so don't plan on putting anyone other than kids in back, or maybe a cooler.
To get a true built-in navigation system -- with a screen that pops up from the center of dashboard -- you'll have to spring for the $2,400 Platinum group option package. But with any C30, Volvo offers a portable Garmin nüvi, which plugs into a special base that's prewired into the windshield pillar. You just click it in when you're driving and click it out after you park; no dangling power cord.
2/9
Best for a Noisy Brood: 2011 Honda Odyssey
• Sticker Price: $44,335 (Touring Elite)
• Highway MPG: 28
All minivans have serious road-trip potential, but the Honda Odyssey is our favorite. We rated it the Best in Class minivan in our annual rankings after its most recent redesign.
It offers class-leading resale values and fuel efficiency, plus the lowest insurance cost among minivans -- along with 15 cup holders for your Big Gulps (almost two per passenger).
For your road trip, you\'ll want to go full-boat with the Touring Elite package. It includes a 16.2-inch wide monitor in back that can run a split screen video.. If that isn\'t enough to keep the kids quiet, there\'s a 115-volt plug to run a laptop or air-hockey table. And, at this price point, a built-in navigation system is included.
Here\'s the best part: The Touring models get an extra mile per gallon on the highway than their cheaper siblings, thanks to a six-speed transmission.
3/9
Best Bladder Buster: Mercedes-Benz E350 BlueTEC diesel sedan
• Sticker Price: $51,775
• Highway MPG: 33
You say you're not going to stop, no matter what? Here's the car for you. With 21 gallons of diesel fuel in the tank, this Mercedes will take you almost 700 miles between fill-ups. Assuming you average 60 mph, that's about 11 hours behind the wheel.
So while you could go from Los Angeles to Salt Lake City without stopping in the BlueTEC, we don't recommend that approach to racking up the miles. (Why? For any number of reasons, one of them being Las Vegas.)
The E-class Mercedes has long been a favorite here at Kiplinger -- we named it one of our Best Cars of the Decade. Used versions, including diesels, are good bets as well, whether for your summer long haul or the long haul in general.
The E350 offers a sophisticated in-car navigation system. Think about springing for the optional massaging seats, which can automatically increase lateral support if you\'re ripping around corners or if the car senses a potential accident.
4/9
Best Traditional Station Wagon: Mercedes-Benz E350 4MATIC Wagon
• Sticker price: $57,075
• Highway MPG: 23
The American station wagon bit the dust in the mid 1990s as domestic carmakers switched to minivans and SUVs. Today, it's European carmakers that dominate the wagon segment, and the Mercedes E-class option does the best job of channeling the old concept -- without repeating its flaws, thankfully.
The key component? Mercedes is the last manufacturer to offer a rear-facing jump seat, just like in the old American land yachts. Two children can fit back there and flash the peace sign (we hope) to passing motorists. Taking the passenger capacity to seven will come at the expense of virtually all your cargo room. So you'll want to strap your American Touristers to the included roof rack.
This model has all of the E-class value we've already detailed for the E350 BlueTEC. With a 3.5-liter gasoline-burning V6, highway fuel economy drops to 23 mpg and range falls to under 500 miles. But the kids aren\'t going to make it that far, anyway.
5/9
Best Used Traditional Station Wagon: 1996 Buick Roadmaster Estate
• Fair market value:
$1,500-$2,500
• EPA highway MPG: 24
Okay, so you're dead-set on recreating the road trips of your youth.
You'll need to dig hard through Craigslist or AutoTrader to come up with the wood-grained car of your dreams.
But the true last gasp of the domestic wagon, a General Motors body-on-frame behemoth, offers a sweet spot of modern(ish) technology and retro looks.
We're talking about the Buick Roadmaster Estate (as well as the Chevy Impala Wagon). In the last year of its production, this GM classic was armed with a honking 5.7-liter V8 from the Chevy Corvette to help it move all that mass. Rear-facing third-row seats, wood paneling, shifter on the steering column -- it's all there. You can even sit a third passenger up front when the ruckus in back gets too loud.
Gas mileage? Could be worse. Cup holders? Oh, a couple. Navigation system? The windshield will gladly accept yours. Or, you could read a map.
6/9
Best Open Road Convertible: Ford Mustang V6
• Sticker Price: $32,160 (Premium)
• EPA highway MPG: 31
Wind in your hair, blue skies above. There's nothing like a convertible, right?We're picking a sentimental favorite, the Ford Mustang, because it's got class-leading fuel economy. Really, would you expect a 300-horsepower sports car to top 30 miles per gallon on the highway? The V6 Mustang has better mileage than its V8 cousin, whose loud exhaust can wear you down.
Note that this car is in a number of car-rental fleets, so you can try it out if you're looking for just a topless fling rather than a full-time commitment.
Road-tripper\'s question: What about the GPS? It\'s part of a $2,400 option package that also adds an HD radio and automatic climate control. It seems hard to justify when you can buy your own GPS unit for $150 or so, or just use your smart phone. But remember that this is a convertible, and you\'ll need to secure a portable GPS every time you leave the car.
7/9
Best for a Rough Road: Subaru Outback
• Sticker Price: $28,495 (2.5i Limited)
• EPA highway MPG: 29
Subaru basically created the not-quite-SUV niche in 1995 when it added big tires and a suspension lift to its Legacy model to create the Outback.
Redesigned in 2010 with more-generous proportions, we rated its latest iteration the Best in Class wagon thanks to its stylish design, strong resale values and heaps of utility.
The Outback shines when your road-trip destination is a trailhead, mountain cabin or canoe put-in reachable only by something that\'s not quite a road. Though not prepared for true off-roading with the Jeep crowd, this wagon\'s extra ground clearance and all-wheel drive will make sure you get there.
For road-trip duty, we\'d recommend optioning up to the 2.5i Limited model, which gets you ten-way power-adjustable seats, seat heaters and the ability to add an in-dash navigation system.
8/9
Best for Back-Seat Drivers: Bentley Mulsanne
• Sticker Price: $291,295 (base)
• EPA highway MPG: 16
We can all dream, can't we? As you relax in back enjoying your light refreshments (Grey Poupon, anyone?), you'll likely not even notice the triple-digit speeds James is pulling. This 3-ton plushmobile can exceed 180 mph.
You'd think for $300K they'd throw in a driver, too. But no. However, the Bentley Mulsanne is quite a pleasure to pilot yourself, as Car and Driver reported in its road test of this, um, car (it's nearly the size of a Chevy Suburban). Given that the price of Bentley\'s top-of-the-line model will buy you a decent house in much of the country, the magazine\'s testers also tried living in it, which wasn't quite as much of a pleasure.
Still, with a multitude of 12-volt outlets throughout, power shades on all the back windows, and massaging seats available in all positions (another $3,000, please), this is what we'd pick for our cost-is-no-option, price-of-gas-be-darned cruise across America.
We hope it's okay if we take up two parking spots at the Cracker Barrel. Door dings, you know.
9/9
More from Kiplinger
SLIDE SHOW: 10 Cars that Refuse to Die
QUIZ: How to Get the Best Deal on a New Car
SLIDE SHOW: Best Cars for Families 2011
SLIDE SHOW: 10 Best Cars of the Past Decade
QUIZ: 10 Ways to Better Maintain Your Car

Former Senior Online Editor
In his former role as Senior Online Editor, David edited and wrote a wide range of content for Kiplinger.com. With more than 20 years of experience with Kiplinger, David worked on numerous Kiplinger publications, including The Kiplinger Letter and Kiplinger's Personal Finance magazine. He co-hosted Your Money's Worth, Kiplinger's podcast and helped develop the Economic Forecasts feature.