8 New Military Technologies to Make a Stronger Warrior
Already the most technologically advanced in the world, the U.S.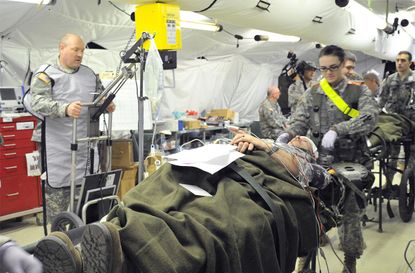 (Image credit: Courtesy Department of Defense)
Already the most technologically advanced in the world, the U.S. military continues to develop new technologies for gathering intelligence, attacking enemy positions and defending American lives and interests.
Some of the most innovative work focuses on soldiers themselves—amazing breakthroughs to help protect, strengthen and heal them during and after deployment. Much of the research is being done by the private labs and companies under the auspices of the Pentagon's Defense Advanced Research Projects Agency (DARPA).
In the works: Eight exciting projects with potential benefits for both soldiers and civilians. Take a look.
1/8
Ultimate Brain Fix
It's not the stuff of The Manchurian Candidate, the thriller in which an American prisoner of war in Korea is programmed to become a political assassin. But new brain implant research funded by the U.S. military is just as spellbinding.
Work is under way on development of brain implants—not just electrodes, but actual implants—to monitor and control the emotions of mentally ill subjects, including possibly veterans with post-traumatic stress issues and personality disorders such as depression and addiction.
The implants, assembled as an array of mini-electrodes on a tiny plastic host, will intricately monitor parts of the brain—sometimes down to the single neuron level—that are associated with emotion and provide targeted stimulation as the brain changes.
Known as Systems-Based Neurotechnology for Emerging Therapies (SUBNETS), the project has awarded initial contracts to Massachusetts General Hospital and the University of California at San Francisco. Teams of physicians and neuroscientists will collaborate on the work at Lawrence Livermore National Laboratory and at the facilities of Medtronic, the medical device industry giant in Minneapolis. Early research will be done with animals. Simple versions of the devices for human testing may be ready in three years.
2/8
Nerve Signal Master
The disruption of neuroelectrical and biochemical signals is often at the root of several chronic organ issues, including inflammation and rheumatoid arthritis.
Military-backed research is under way to develop microscopic devices—hundredths of a millimeter in size—that could be injected through a needle into specific areas of the peripheral nervous system. There they would monitor and regulate nerve signals, helping to treat injured organs. The devices could one day spell less reliance on traditional prescription drugs for treating such conditions.
The DARPA research, known as Electrical Prescriptions or ElectRx, relies on neuromodulation techniques, similar to a heart pacemaker, to fine-tune specific nerve signals and neural circuits.Prototypes are a few years away.
3/8
Virtual Pain Reduction
A virtual reality mask is not new. But the military is thinking in a different direction. It's researching a futuristic face mask with special software that can reduce a person's perception of pain simply by engaging him or her in a virtual game during, say, physical therapy, changing of bandages on a burn wound or dental work.
Information from chemical signals produced in the brain when someone is distracted, concentrating, dreaming or feeling pain will be used in developing the mask.
The mask will take the patient on a virtual tour. Sights, sounds and distractions—both calm and frantic—will focus the wearer's attention on the virtual game and away from pain.
The goal is to lessen the effect of pain signals and make an ordeal with a surgeon or doctor more manageable. It's a top priority for the military, and future civilian applications are a good bet as the technology improves. Samsung and Sony are leading research being done at the University of Washington and at the University of Texas.
4/8
Super-Packed Blood Cells
It's not your grandfather's blood. Red blood cells for transfusions could one day be packed with more antitoxins and other lifesaving agents to protect or rehabilitate soldiers suffering from battlefield trauma or recovering in military hospitals.
The modified blood cells would be infused with payloads of medical material—vaccines, antitoxins, antibodies and synthetic and natural healing agents—that would be designed to quickly neutralize pathogens. The process, as envisioned by military-backed researcher Celgene in Summit, N.J., would create a pool of universally common blood cells that would be accepted regardless of blood type.
Clinical trials are expected to begin around the turn of the decade.
5/8
Prosthetics with Feeling
Recent years have brought spectacular leaps in the development of prosthetic limbs for amputees in both the military and civilian worlds. Coming next: Prosthetics that generate feeling in the brain.
The first goal is to develop prosthetic hands with fingertips that send messages to the brain when the wearer wants to grasp or lift something. The idea is to get the brain to command the desired motion. Researchers also want to use such sensory feelings to possibly reduce or even eliminate phantom pain, which affects 80% of amputees after the loss of a limb.
A working, feeling prosthetic approved by the Food and Drug Administration may be ready in four years. The neural sensory interface technology is being developed by a handful of university and independent labs and small companies, including Nerves Incorporated in Dallas and Ripple LLC in Salt Lake City.
6/8
Smart E-Pants
We've seen futuristic "exoskeletal" hard protective gear for the body in action movies such as Iron Man.
Now the U.S. Army has a more comfortable, soft and practical exosuit in the works. Think more intricately engineered spandex to be worn under outer apparel. It would help provide support for muscles and joints, enabling soldiers to walk longer with less muscle fatigue and to minimize risk of injury when lifting something heavy. Synthetic textile innovations and sensors will sense when a joint is being stressed and provide more support to the area instantly.
7/8
Personal Air Conditioner
A helicopter can be a hot, hot place. Now imagine riding in one for hours while wearing chemical-protective gear—a full body garment, face mask and helmet. Sweating yet?
Researchers from the U.S. Army Natick [Mass.] Soldier Research, Development & Engineering Center and elsewhere are testing a miniature air conditioner that crew members can wear under protective suits and body armor while still moving freely about the chopper, or even when getting in and out to unload cargo. (Pilots now can plug their suits into a climate-control system built into the aircraft, but that involves staying connected to a tube.)
When activated, the small systems cool a fluid that is then pumped through about 110 feet of tubing looped in a vest worn by the soldier. It can provide about 120 watts of cooling, driven by a flat battery fitted under clothing. The whole system weighs less than seven pounds. Testing during simulated 11-hour sessions shows that the system lowers body temperature and heart rate, improving endurance. Next up for the system is field testing, including in the heat of early fall in Hawaii.
Other potential users of the system could include soldiers deployed in hot climates and members of bomb squads. Nonmilitary uses could extend to firefighters and those diagnosed with multiple sclerosis.
The cooling system, known as the Light-Weight Environmental Control System, is from Rini Technologies in Oviedo, Fla.
8/8
Camouflage Skin Coating
Painting your face for battle is as old as, well, battle. The newest skin coatings (don't call it makeup) don't just conceal the soldier to the human eye; they also reduce the fighter's visibility to thermal vision sensors by blocking the near-infrared wavelengths those systems look for. Plus, some have bug repellent built in.
Now U.S. Army researchers and chemical scientists are looking to take these skin coatings to a new level by making them block heat—specifically, from explosions. Testing of prototype face paint at the U.S. Army Natick Soldier Research, Development & Engineering Center found some formulations capable of giving service personnel critical seconds to avoid injury during the intense (but brief) heat impulse of an explosion such as a roadside bomb. Testing is continuing on making the products soldier acceptable—that is, still providing visual concealment and being easy to put on and take off.
One potential civilian market: Firefighters.