6 Low-Cost Franchises with Great Growth Potential
Thinking of starting your own business?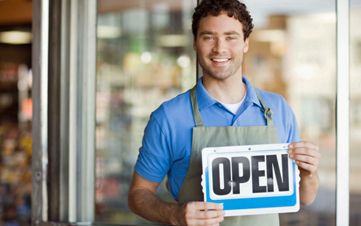 (Image credit: Thinkstock)
Thinking of starting your own business? Opening a franchise of an established and successful service business can be a good way to navigate the many challenges of entrepreneurship. Franchisors typically help new franchisees learn their business, set up their stores, acquire supplies and more. Here are six low-cost service franchises that franchise experts contacted by Kiplinger think will see growing demand in the years ahead.
Each has a franchise fee around or under the industry average ($30,000 or so, according to the International Franchise Association). Net worth requirements run from as low as $35,000 to upwards of $300,000 (the average investment in a new franchise is between $50,000 and $100,000). The five-year growth rates cited are based on the number of franchises each franchisor had in operation at the end of 2013, compared with five years earlier.
1/7
Novus Glass
Service: Windshield replacementTotal U.S. franchises: 316 (as of 2013)Five-year growth (2008-2013): 31%Franchise fee: $34,070Net worth requirement: $50,000
Franchisees have the option of running the business from a bricks-and-mortar location or solely as a mobile business — going to the customer to fix the windshield. Existing automotive shops can also diversify their business by adding windshield repair services via the Novus Affiliate License Program. The Novus firm has been in the business since 1985 and its patented system gives it an edge in the field, according to the Entrepreneur's Source, which connects entrepreneurs with franchise opportunities.
Cracks and chips in car windshields happen — a lot. This Savage, Minn.–based operation trains franchisees in the art of replacing and repairing one of the most critical parts of a car. Franchisees receive hands-on training in auto glass replacement, business management, advertising and marketing.
The company's franchise fee covers marketing costs. But the firm also charges continuing 8% royalty fees, and franchisees who opt to run a mobile business are required to buy a van. Total initial investment in a franchise tops $44,000.
2/7
Express Employment Professionals
Service: StaffingTotal U.S. franchises: 637Five-year growth (2008-2013): 222%Franchise fee: $35,000Net worth requirement: $200,000
Oklahoma City–based Express Employment is one of the most recognized names in the staffing industry, providing everything from temporary and contract workers to HR services. Many in the field believe franchisees will benefit as more and more small-business owners opt to keep their staff under 50 employees — the threshold for an employer to have to offer health care coverage under the Affordable Care Act. In addition to its domestic locations, the company has expanded to the international market, with locations in Canada, Africa and Australia. It expects to add 100 new franchises this year alone.
Franchisees can expect to pay about $75,000 to open an office. The firm collects ongoing royalty fees of about 7.6% and also requires a $380 monthly technology fee that covers Internet service, firewalls and secure data connections. Training at the firm's headquarters, including flights, hotels and meals, is provided free of charge.
3/7
Mosquito Joe
Service: Outdoor pest controlTotal U.S. franchises: 34Five-year growth: N/AFranchise fee: $15,000Net worth requirement: $100,000
After only one year of franchising, this mosquito and insect eradication business has already doubled in size. Mosquito Joe franchisees have good growth potential, in light of the Centers for Disease Control urging Americans to be more vigilant about controlling and treating insect-related diseases, such as West Nile virus. Franchisees are offered training on equipment, management, and marketing at MoJo University, located at the company's headquarters in Virginia Beach, Va. Mosquito Joe uses insecticides similar to those used in pet shampoos, making them a safer choice for home use than many other brands. Treated areas are safe enough for pets and humans within about 30 minutes of application, the company says.
A typical initial investment is less than $75,000 and includes an initial supply of chemicals and other materials. The company offers special financial aid opportunities for community safety professionals, such as current or former policemen or firefighters, as well as folks with a background in pesticide application. Ongoing royalty fees are about 10% of gross profits.
4/7
TapSnap
Service: Event photosTotal U.S. franchises: 120Five-year growth: N/A. The company started in 2011, with 33% growth in one year.Franchise fee: $15,000Net worth requirement: $35,000
TapSnap provides do-it-yourself photo services for parties, weddings and conferences. Franchisees set up their booths at events and allow guests to take pictures on 42-inch screens with touch technology. Users can then edit photos and share them on social media platforms or print them to save as keepsakes. TapSnap technology even allows party-goers to edit and digitally draw on their pictures before printing or sharing. Franchisees benefit from a baked-in marketing tactic — their franchise's logo or brand name embedded on all pictures printed during their events.
The low franchise fee, flexible schedule and ability to work from home makes the Vancouver, B.C.–based operation worth a look for first-time franchisees or those who want to start a business to supplement existing income. Total initial investment, including the cost of the 42-inch touch-screen tablet computer, starts at about $38,000. The company charges a 7% ongoing royalty fee.
5/7
Great Clips
Service: HairstylingTotal U.S. franchises: 3,408Five-year growth (2008-2013): 25%Franchise fee: $20,000Net worth requirement: $300,000
The net worth requirement is the highest on our list. But Great Clips, headquartered in Minneapolis, opened its first franchise store in 1983 and continues to be a popular destination for a haircut in many places. Customers like the online check-in system that also keeps a record of their haircut preferences. Plus many stores are open for a full 12 hours on weekdays. Though the long hours are not outlined in the franchise agreement, franchisees consent to them as long as their store lease allows it. The company has seen steady business, even during the Great Recession, because consumers tend to spend on grooming in both good times and bad. Experts at the Entrepreneur's Source, which connects entrepreneurs with franchise opportunities, are forecasting another growth year for Great Clips in 2014, as personal care remains a popular industry and Great Clips looks to increase their store numbers.
Franchisees are provided with a two-day training session and have access to regional training sites for salon stylists and managers. The company also assists franchisees with location scouting for their new salon and offers software to streamline the process of tracking schedules, inventory and store productivity. Average initial investments start at $109,150. The firm charges a biweekly 6% royalty fee, and annual fees can run just north of $500 for franchisor assistance, including recruiting help, education and software.
6/7
Visiting Angels
Service: Home care for seniorsTotal U.S. franchises: 478Five-year growth (2008-2013): 27%Franchise fee: between $34,950 and $42,950 (based on territory size)Net worth requirement: $100,000
The brand is one of the most recognized names in the industry, thanks in part to the company's commitment to aggressive marketing, a benefit it extends to franchisees. It offers customized materials and help spreading the word about a new franchise. Visiting Angels boasts low fees in comparison to many competitors, which helps franchisees turn a profit more quickly.
In-home care for seniors will continue to be a growing need as the population ages. The U.S. Dept. of Health's Administration on Aging says the number of Americans over 65 will jump to around 72 million by 2030, nearly 20% of the overall population vs. about 12% in 2009.
Visiting Angels provides services for seniors, such as taking care of medication, errands, laundry and meal preparation, and providing companionship. These services allow clients to remain in their homes or other familiar surroundings. Franchisees chose the caretakers they will rely on, while the corporate office provides training, regional contacts and help with finding clients. Franchises can also participate in webinars and corporate retreats throughout the year.
Initial investments in Visiting Angels franchises typically cost between $62,935 and $84,685. The firm charges an annual 2.5% "national co-op advertising fee" and an ongoing 3.5% royalty fee, which can be reduced to 2.0% if a franchisee produces a high volume of business.
7/7