7 Ways the Pandemic Will Change Big U.S. Cities
Historically, pandemics transform cities.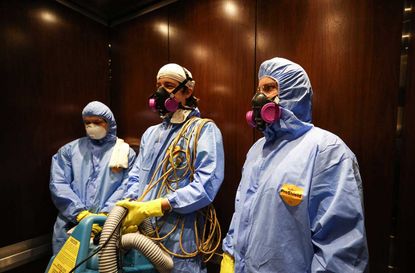 (Image credit: Getty Images)
Historically, pandemics transform cities. Outbreaks of cholera and other diseases, for example, spurred improvements in planning and sanitation throughout the 19th and early 20th centuries. COVID-19 will also leave a lasting impact, in part by accelerating preexisting trends.
In the short term, cities will likely suffer as the virus highlights the disadvantages of dense urban spaces. Even before COVID-19, population growth in urban counties had flatlined. Several factors will favor the suburbs—some old (the lower cost of living, for example) and some new (an increase in telework).
So, will COVID-19 usher in a new era of de-urbanization? Not necessarily. Indeed, cities may be in the best position to lead the economic recovery after the pandemic, much as they did after the Great Recession. "Superstar" cities with strong tech industries like San Francisco and Seattle will likely rebound the fastest.
Read on to discover seven post-pandemic developments to expect in big cities across America.
1/7
Many of Your Favorite Restaurants Will Disappear
The devastation of the retail and restaurant sectors, both key sources of jobs and tax revenues for cities, will be particularly painful. One in five restaurants could permanently close because of the pandemic. Stores and eateries that remain will look and feel different, with limits on the number of customers allowed inside and lots of physical dividers.
Long term, the pandemic will help accelerate the hybridization and consolidation of retail. In the future, more stores will double as (or share space with) restaurants and coffee shops, catering to customers' growing desire for experiences as well as goods.
Even before COVID-19, the U.S. had a massive surplus of shopping real estate, with anywhere from 23.5 to 46.6 square feet of retail space per person (versus 2.4 square feet per person in Germany and 1.5 square feet per person in Mexico). Expect some of that space to be repurposed as lifestyle and recreation centers, even housing.
2/7
Many Downtown Offices Will Remain Vacant
Office and retail vacancy rates will spike and may stay elevated for the next few years, depending on the pace of the economic recovery. Companies will likely continue reducing their office footprint as a growing number of employees work from home. Fewer workers downtown will further compound the pain of city restaurant and retail sectors, slowing their recovery.
As with retail, unused office space may also be converted to residential, helping to ease the current shortage of affordable housing in urban areas.
3/7
Bracelets for Office and Factory Workers
The next office fashion trend? Electronic bracelets or smartwatches that buzz whenever workers get too close to each other. That's just one example of the hardware employers will use to ensure social distancing and allow for "contact tracing" of COVID-19 in the workplace. Another: location tracking systems, so employers can retrace the steps of workers who contract the virus and determine who else may be at risk.
Other features of the post-pandemic workplace: Regular temperature checks. More physical barriers between workers. The cubicle may be poised for a comeback, especially as open floor plans—now a feature in seven of 10 offices—become deeply unpopular.
4/7
Big Cities: Still Home to the Fastest-Growing Jobs
Suburban job growth has outpaced urban job growth for decades. But in the long term, urban areas have the mix of jobs projected to grow the fastest over the next decade, including medical and life scientists and software developers.
Again, cities may lose some of these jobs to telework. Others may eventually shift to the suburbs as employers pursue lower costs—but most will not. Tech-sector jobs, for example, are highly concentrated in urban areas to take advantage of network effects.
5/7
More Traffic Congestion
There may be fewer workers coming downtown each weekday in the future, but there could be more cars. Americans will likely be shunning public transit for private vehicles, making traffic congestion worse as economic activity resumes.
Rail systems in Chicago, San Francisco and New York, for example, have seen ridership decline by 90% or more since the start of the pandemic. Bus ridership has also tumbled, though it held up better than rail because it depends less on suburban commuters.
6/7
Smaller Crowds at Concerts and Sporting Events
Concerts and sporting events will be less crowded, with limits on the number of people per venue—when they finally happen again. At the very least, expect more empty seats and hand sanitizer stations everywhere. Some public health experts have also proposed temperature checks for fans before they enter.
Still, even as major sports leagues consider plans to resume play—the NFL, for example, is hoping is hoping the 2020 season will proceed as planned this fall, with fans in stadiums—most Americans say they don't want to go to games until a vaccine is widely available.
7/7
Tech Will Take Over
Technology essential to coping with the virus will only grow in prominence, from online grocery delivery to urban informatics. That's the practice of gleaning insights from big data to make policy decisions, now a tool to "test and trace" the spread of COVID-19.
Globally, so-called "urban tech" is a $65 billion industry, with the U.S. accounting for roughly a third of all such investment. While some segments of urban tech will struggle after COVID-19, most notably coworking spaces such as WeWork, others will thrive. Even ride-sharing services such as Uber, while hard hit now, could ultimately benefit from people's wariness of public transportation.
But however useful, expect many of these new tools to raise privacy concerns.

Reporter, The Kiplinger Letter
Housiaux covers the White House and state and local government for The Kiplinger Letter. Before joining Kiplinger in June 2016, he lived in Sioux Falls, SD, where he was the forum editor of Augustana University's student newspaper, the Mirror. He also contributed stories to the Borgen Project, a Seattle-based nonprofit focused on raising awareness of global poverty. He earned a B.A. in history and journalism from Augustana University.