COVID 'Long Haulers' Could Find Help from Social Security
Social Security Disability Income (SSDI) is there for American workers who are struggling, but it takes some effort to qualify.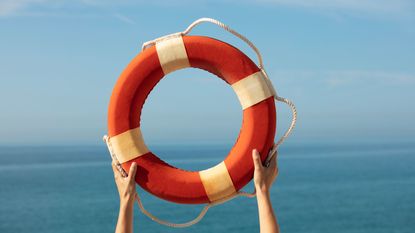 (Image credit: Getty Images)
We are now over two years into the COVID-19 pandemic. While nationwide caseloads, hospitalizations and deaths are trending down and vaccinations among Americans are trending up, it's not clear whether we will be rid of this virus anytime soon. Nearly 80 million cases of COVID have been recorded in the U.S., with the number of undocumented cases likely much higher.
The virus has had different effects on different people. Some people were asymptomatic, showing almost no effect at all, while others – particularly the elderly or immunocompromised – were completely incapacitated. Most people who contracted the virus fell somewhere in between, and exhibited mild to moderate symptoms not similar to a bad bout of influenza: fatigue, fever, shortness of breath, cough, runny nose, sore throat and body aches. Depending on severity of symptoms and when treatment began, as well as their vaccination status, symptoms typically subsided for most people within two weeks.
COVID effects linger for some unlucky people
Not everyone has been so fortunate, however. For some people who recover from an initial, acute case of COVID, additional health complications arise and persist for months, steadily wreaking havoc on their bodies. In these cases, the COVID virus is no longer active in their body (a test for the virus will come back negative), nor can they transmit it to others, yet they may be debilitated all the same. This has come to be termed as post-COVID syndrome, or more commonly, "long COVID," with those who suffer being referred to as "long haulers."
Subscribe to Kiplinger's Personal Finance
Be a smarter, better informed investor.
Save up to 74%
Sign up for Kiplinger's Free E-Newsletters
Profit and prosper with the best of expert advice on investing, taxes, retirement, personal finance and more - straight to your e-mail.
Profit and prosper with the best of expert advice - straight to your e-mail.
Symptoms of long COVID can be respiratory, but the underlying causes run much deeper and can possibly be permanent – in a case of long COVID, shortness of breath can be caused by significant scarring and other problems in the lungs, or possibly heart inflammation. Since the COVID virus affects cells in the nasal pathways, senses of smell and taste can be permanently altered or lost completely.
Some of the effects of long COVID are less obvious, but more insidious. Patients can experience neurological symptoms, such as memory loss, brain fog and other difficulties focusing or concentrating. Anxiety, depression and other mental health issues are also frequently reported.
Much remains unknown about long COVID, including just how long symptoms will last. It is well-known, however, that its lingering effects can have a catastrophic impact on patients, crushing not only their health, but their finances (opens in new tab). In addition to the unforeseen health care costs, including for recurring hospital visits to treat ongoing health problems, it may reach a point where symptoms become so severe that full- or even part-time work is no longer an option.
Help for those with a long-term disability: SSDI
Many people who experience a disability, such as a severe medical condition that disrupts work for months or years, apply for Social Security Disability Insurance (SSDI) (opens in new tab). This federal disability insurance coverage is paid for by more than 156 million U.S. workers through their FICA payroll taxes, and it provides important income after a disability occurs. However, in many cases of long COVID, claims may ultimately be rejected because SSDI is designed for disabilities that have lasted for 12 months or longer, and claimants simply have not been experiencing symptoms for long enough.
Still, SSDI applicants who are suffering from symptoms of long COVID can drastically improve their chances of approval by observing a few simple but important steps.
Apply as early as possible
To say that the SSDI approval process is a long one is putting it mildly. To put it in perspective, a Government Accountability Office survey (opens in new tab) showed that 1.3% of applicants declared bankruptcy while awaiting a final decision about their appeal, and 1.2% of applicants died before receiving a final decision. It can take anywhere from three months to a year or more for a decision to be reached through denials and appeals, so be sure to plan and budget accordingly.
Document your symptoms in detail
You need to establish a detailed record of your symptoms to present as evidence of disability. Schedule regular visits with your doctor and document things like length, severity and frequency of all symptoms you are experiencing that you believe are related to your diagnosis of long COVID.
Be aware of financial and other qualifications
In order to qualify for SSDI, you must meet Social Security's criteria for disability. This includes symptoms that are so severe that you are physically or mentally incapable of working. You must also reasonably expect that your condition will persist for a year or more. In addition, your declared income must reflect that you are unable to engage in substantial gainful activity (SGA). For the year 2022, that means a non-blind individual must make less than $1,350/month (opens in new tab) to qualify for SSDI benefits.
Medical researchers are still working to understand the long-term impact of contracting COVID, and the medical community will continue to learn with time. For those individuals who have been significantly impacted, it's vitally important to access disability insurance through SSDI.
Engaging the services of an effective representative, like Allsup, can help individuals understand their options and the likelihood of qualifying for Social Security disability benefits. It's even more important and key to getting an SSDI claim submitted quickly and properly.
Steve Perrigo, J.D., is Vice President, Sales and Account Management, for Allsup (opens in new tab)and has over two decades of experience and knowledge of the Social Security Administration (SSA) and its programs. He joined Allsup in August 2010 and helps clients understand their options when coordinating private disability insurance benefits with the Social Security program. Prior to joining Allsup, Steve Perrigo spent 17 years with the SSA in various roles of increasing responsibility.