As America Ages, Hard Questions Loom
Census data show a decline in younger workers. That puts more pressure on Social Security and other programs that support seniors.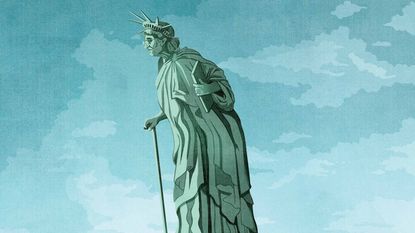 (Image credit: Benedetto Cristofani)
If it seems as if an assisted-living complex is going up on every other corner and half of the commercials on the evening news are for arthritis remedies, you're not imagining things. The U.S. is rapidly aging, and businesses are responding. The percentage of people in the U.S. who are 65 and older has grown by nearly 35% in the past decade, and by 2040, about one in five Americans will be 65 or older, up from one in eight in 2000.
Although it's comforting for seniors to be surrounded by people their age, the trend is troubling from an economic standpoint. Data released by the U.S. Census Bureau in April showed that the country's population grew by 7.4% over the past decade, the slowest rate since the 1930s.
The national slowdown in growth reflects a decline in immigration and a drop in the birth rate, which fell 4% last year, the largest decline in nearly 50 years. That means fewer people are joining the workforce and paying into the programs that seniors rely on, which are already under financial stress. According to the 2020 annual report by the Social Security Board of Trustees, Social Security's annual costs are expected to exceed income from payroll taxes and interest starting this year, forcing Social Security to draw down its trust fund.
Subscribe to Kiplinger's Personal Finance
Be a smarter, better informed investor.
Save up to 74%
Sign up for Kiplinger's Free E-Newsletters
Profit and prosper with the best of expert advice on investing, taxes, retirement, personal finance and more - straight to your e-mail.
Profit and prosper with the best of expert advice - straight to your e-mail.
If nothing is done to shore up the program, the board projected that the trust fund will be depleted by 2034, forcing Social Security to pay out only 75% to 80% of promised benefits. (The board hadn't released its 2021 annual report at press time, so it's not yet known how the pandemic has affected that timeline.)
Meanwhile, the Congressional Budget Office has projected that Medicare's Hospital Insurance Trust Fund, which covers hospital, nursing home, and hospice services, could become insolvent as early as 2024, which means providers of those services wouldn't be fully reimbursed.
The search for solutions. Advocates for seniors see some upside to these worrisome findings. As the population of seniors continues to grow, lawmakers will face more pressure to take actions—some of which are po­litically fraught—to shore up the programs that support older Americans. "There are going to be a lot more people on Social Security, and they've always had clout at the ballot box," says Max Richtman, president and CEO of the National Committee to Preserve Social Security and Medicare.
There's no shortage of proposals to rescue Social Security (see Shoring Up Social Security), and one that's likely to gain more support in the months to come would increase the limit on wages subject to the payroll tax. Each year, Social Security sets a limit on how much of each worker's wages are taxed, based on average increases in wages. For 2021, the cap is $142,800. President Biden has proposed keeping the current structure for the taxable maximum but reapplying the 12.4% tax for wages above $400,000; the amount of earnings between the initial maximum and the $400,000 threshold would not be taxed. Some senior advocacy groups want to eliminate the cap entirely and subject all wages to the payroll tax.
Medicare is a more complex problem because it's difficult to project how much money the program will need, particularly at a time when Americans are living longer and health care costs continue to rise. Although COVID-19 took a terrible toll on this country, and on seniors, in particular, it also offered some potential solutions to lowering health care costs, says Marcia Ory, professor of environmental and occupational health at Texas A&M University. For example, the pandemic led to an increase in the use of telehealth services, a money-saving option that's likely to continue even after people are comfortable returning to their doctor's office.
Meanwhile, expanding programs that pay family members to care for elderly relatives—which some state Medicaid programs offer—could lower nursing home costs and address the shortage of paid caregivers.
Focusing more attention on preventive care is also critical, Ory says, because that will ultimately lower costs covered by Medicare, Medicaid, and other government programs.

Senior Editor, Kiplinger's Personal Finance
Block joined Kiplinger in June 2012 from USA Today, where she was a reporter and personal finance columnist for more than 15 years. Prior to that, she worked for the Akron Beacon-Journal and Dow Jones Newswires. In 1993, she was a Knight-Bagehot fellow in economics and business journalism at the Columbia University Graduate School of Journalism. She has a BA in communications from Bethany College in Bethany, W.Va.