Take This Job, I'm Retiring
The pandemic and bull market have led to an increase in the number of workers who are retiring. You might call it the Gray Resignation.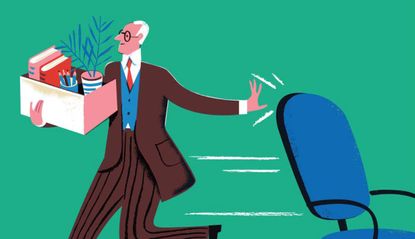 (Image credit: Illustration by Iker Ayestaran)
Perhaps you have heard by now about the Great Resignation, the term coined to describe the mass exodus of workers who have left their jobs in recent months. Employers are scrambling to retain their employees or attract new ones, and in the service industry, "Help Wanted" signs, with promises of bonuses and other perks, are as ubiquitous as hand sanitizer.
Although many workers have switched to jobs offering better pay and benefits, some who have left a job may never return to work, thanks to a secondary trend that could be characterized as the Gray Resignation. In the third quarter of 2021, 50.3% of adults older than age 55 were retired, up from 48.1% in 2019, according to an analysis by the Pew Research Center. Nearly 67% of adults between age 65 and 74 were retired in the third quarter, up from 64% during the same period in 2019.
This trend is a reversal of the shift that occurred during the Great Re­cession of 2008–09, when the rate of retirement fell. Many retirees saw their investment portfolios decline sharply during that period, which may have compelled them to work longer in an effort to recover their losses. By contrast, millions of investors saw the value of their portfolios soar during the past two years. Home values have also skyrocketed, contributing to seniors' worth. "Asset prices have done very well, so it has made it more feasible for older workers with assets to retire," says Stephanie Aaronson, director of the economic studies program at the Brookings Institution.
Subscribe to Kiplinger's Personal Finance
Be a smarter, better informed investor.
Save up to 74%
Sign up for Kiplinger's Free E-Newsletters
Profit and prosper with the best of expert advice on investing, taxes, retirement, personal finance and more - straight to your e-mail.
Profit and prosper with the best of expert advice - straight to your e-mail.
Other factors related to the COVID-19 pandemic also may have influenced older workers' decisions to retire. Some who left the workforce during the pandemic because of health concerns have declined to return, Aaronson says. And there are also nonfinancial issues at play, says Liz Windisch, a certified financial planner with Aspen Wealth Management in Denver. "This pandemic has really made people reevaluate their priorities on what they want their life to look like," she says. "Killing yourself at work may not be worth it."
Focus on finances. But financial planners are concerned that some older adults who are calling it quits aren't financially prepared to retire. "I think that the market has been up for so long that some of us have forgotten it's not always like that," Windisch says. "While people's portfolios and home values may have grown, you still need to make your money last 30 or 40 years."
Of particular concern is what could happen to retirees if the stock market declines sharply soon after they leave the workforce—a real possibility at a time when stock market valuations are at record highs, says Andy Baxley, a CFP with The Planning Center in Chicago. "If, in the first two or three years of retirement, you see flat or negative investment returns, that matters a lot more than if you see it halfway through retirement," he says.
Don't forget to take the cost of health care into consideration before you turn in your security badge. If you retire before age 65, you'll need to purchase your own health insurance, which can be pricey, even if you buy a plan from your state's health care exchange. And even after you're eligible for Medicare, you'll need to pay for Part B premiums and other out-of-pocket costs, which continue to rise. In addition, paying for long-term care later in life could cost you $200,000 or more, Baxley says.
Working just a few more years, or even months, can make a big difference to your financial security. It will reduce the amount of time in retirement you'll need to finance with savings and allow you to continue contributing to your nest egg, while giving that money more time to grow. In addition, you can postpone filing for Social Security benefits, increasing the amount of your payouts.
Help really wanted. The good news is that retirees who decide to change jobs or return to the workforce will probably find a receptive job market. "If workers remain scarce, on balance that could encourage employers to try to attract older workers," Aaronson says. In addition, older workers may have more flexibility to work on their own terms, says Tim Driver, founder of RetirementJobs.com. The pandemic showed that employees can work effectively from home, which means workers who want to work remotely will likely find employers are much more open to the idea, he says.
Driver adds that the number of companies designated as Certified Age Friendly Employers by the the Age Friendly Institute is rapidly increasing, encompassing a wide range of industries.
Senior Editor, Kiplinger's Personal Finance
Block joined Kiplinger in June 2012 from USA Today, where she was a reporter and personal finance columnist for more than 15 years. Prior to that, she worked for the Akron Beacon-Journal and Dow Jones Newswires. In 1993, she was a Knight-Bagehot fellow in economics and business journalism at the Columbia University Graduate School of Journalism. She has a BA in communications from Bethany College in Bethany, W.Va.