What Could 2021 Hold for Your Finances?
After a wild 2020, many of us are ready for a fresh start in the new year.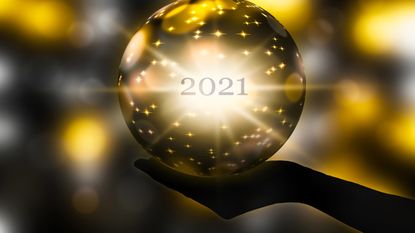 (Image credit: Getty Images)
Last year put a lot of our financial strategies to the test. Volatility that plagued the markets for the past few years was exacerbated by the COVID-19 pandemic, which is still raging nearly 12 months later. Many people watched as their investments and retirement savings wildly fluctuated, while others dealt with more pressing issues, such as unexpected unemployment and tapping into emergency funds just to get by.
I think it's safe to say that many of us are ready to leave 2020 – and the financial, mental and physical strains it brought – behind. But according to a recent Allianz Life study (opens in new tab), while many of us would like to move on, the vast majority of Americans expect market volatility to continue this year. At the same time, they are trying to navigate the lingering financial impacts of COVID-19.
The study found that Americans are worried that markets will retreat from their recent highs, with 44% saying they feel the market hasn't bottomed out yet, and nearly three-quarters (72%) believing the markets will continue to be very volatile in 2021.
Subscribe to Kiplinger's Personal Finance
Be a smarter, better informed investor.
Save up to 74%
Sign up for Kiplinger's Free E-Newsletters
Profit and prosper with the best of expert advice on investing, taxes, retirement, personal finance and more - straight to your e-mail.
Profit and prosper with the best of expert advice - straight to your e-mail.
This doesn't come as a surprise since volatility and market risks have become the new norm. But when you add in the financial and economic challenges from the COVID-19 pandemic, like the fact that over one-third (34%) say they have had to dip into their retirement savings because of the impact COVID-19 has had on the economy, it starts to paint a dire picture.
So what does this mean as we look to 2021? For many, it could mean taking lessons learned from the past year and applying them to financial and retirement strategies to help mitigate some of those risks down the road.
Looking ahead
As the pandemic drags on, over half (53%) of respondents say COVID-19 is having a negative effect on financial retirement plans. For this group, it's important to maintain focus on addressing what we can control, and tweaking your retirement strategy to account for these effects. Managing some of those risks to your retirement strategy in 2021 could mean diversifying your portfolio with the help of a financial professional, or exploring protection products such as certain types of annuities that can help protect your money when the market drops, but still offer some growth potential for when indices continue to climb as we have seen over the past few months.
The silver lining here is that despite many of the challenges, 67% say the impacts of COVID-19 on the economy have made them rethink how to protect their retirement savings. There is always room for improvement in a financial strategy, and last year is a reminder that those black swan events do happen, so taking steps to address risks now can be smart.
A focus on finances
However, as we enter a new year, over half (57%) of people are choosing to focus on their health and wellness instead of their finances. Given the specific health challenges drive by the COVID-19 pandemic, this is certainly understandable. But does it mean that taking care of finances is going to take a backseat?
According to the New Year's Resolutions Study from Allianz Life (opens in new tab), just 13% of people are including financial planning as a resolution in 2021 – an 11-year low. This can pose a serious risk to a financial strategy, particularly one that was put through the wringer last year.
Even if you plan to focus on health and wellness in 2021, don't forget about your financial and retirement strategies. Making small adjustments in respect to your current situation can make a big difference in the long term. Perhaps this means adding to an emergency fund if you're able, revisiting your saving strategy for health care expenses in retirement, or even revising your retirement timeline. Financial professionals can be a huge benefit in helping people identify risks to their finances and prepare accordingly.
Bright economic spots ahead?
Despite the current harsh realities of the pandemic on top of all that 2020 (and 2021 thus far) has delivered, there is still some hope for what 2021 could bring. Two-thirds of Americans (66%) say they think the economy will improve in 2021, and another 67% say they think their financial situation will ultimately improve.
Perhaps it speaks to a tendency toward optimism, or maybe people just need something to look forward to, but whatever this new year will bring, a renewed focus on finances can benefit nearly everyone – no matter how your financial situation was impacted last year.
Allianz Life is a leading provider of retirement solutions including annuities and life insurance.
Guarantees are backed by the financial strength and claims paying ability of the issuing company. Diversification does not ensure a profit or guarantee against a loss.
This article was written by and presents the views of our contributing adviser, not the Kiplinger editorial staff. You can check adviser records with the SEC or with FINRA.
Vice President, Advanced Markets, Allianz Life
Kelly LaVigne is vice president of advanced markets for Allianz Life Insurance Co. (opens in new tab), where he is responsible for the development of programs that assist financial professionals in serving clients with retirement, estate planning and tax-related strategies.