What You'll Pay for Medicare in 2024
Medicare premiums for 2024 will increase. The cost of Medicare Part A Deductible, Medicare Part B and Part D premiums have increased.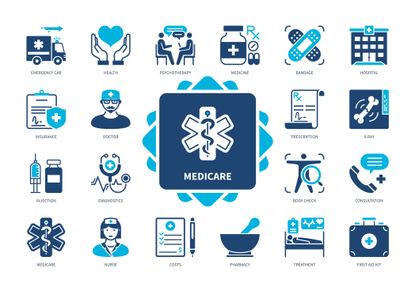 (Image credit: Getty Images)
Open enrollment is here (through Dec. 7) and so are the updated Medicare premium amounts for 2024. Premiums are up from 2023. Increases were expected after last year's unusual decrease in premium and deductible costs.
In order to get the most from your plan, it's important to understand your out-of-pocket costs, which will vary depending on your income and the type of plan you choose. Here's a rundown of what you can expect in 2024.
Part A deductible
The Part A deductible for hospital admissions will increase by $32 in 2024 to $1,632. The Part A inpatient hospital deductible covers beneficiaries' share of costs for the first 60 days of Medicare-covered inpatient hospital care in a benefit period.
Subscribe to Kiplinger's Personal Finance
Be a smarter, better informed investor.
Save up to 74%
Sign up for Kiplinger's Free E-Newsletters
Profit and prosper with the best of expert advice on investing, taxes, retirement, personal finance and more - straight to your e-mail.
Profit and prosper with the best of expert advice - straight to your e-mail.
There's no limit to the number of benefit periods you can have in a year. This means you may pay the deductible more than once in a year.
For patients who are hospitalized for longer than 60 days, the coinsurance amount will increase in 2024 from $400 a day to $408 a day for the 61st through the 90th day of hospitalization and from $800 a day to $816 the day after that. For beneficiaries in skilled nursing facilities, the daily coinsurance for days 21 through 100 of extended care services in a benefit period will increase from $200 to $204.
Medicare Part B
In 2024 the standard monthly premium will be $174.70, up $9.80 from $164.90 in 2023. The annual deductible for all Medicare Part B beneficiaries will be $240 in 2024, which is $14 more than the 2023 deductible of $226.
You'll pay more if you're a high earner. Surcharges for high earners are based on adjusted gross income from two years earlier. In 2024, beneficiaries with 2022 AGI of more than $103,000 ($206,000 for married couples filing jointly) will pay between $244.60 to $594.00 per month for Part B. Surcharges in 2024 for beneficiaries with 2022 AGIs of more than $97,000 (more than $194,000 for married couples filing jointly) paid between $230.80 and $560.50.
Part B covers doctor visits, outpatient services, home health care, durable medical equipment and many preventive services. For Part B covered services, you usually pay 20% of the Medicare-approved amount after you meet your deductible. This amount is called your coinsurance.
There's no yearly limit on what you pay out of pocket, unless you have supplemental coverage — like Medicare supplement insurance. You can choose to buy Medigap to help pay your remaining out-of-pocket costs such as your 20% coinsurance.
Medicare Part D
The average premium for Part D, which covers drug costs, will be about $55.50 a month in 2024 down from $56.49 in 2023. Seniors with high drug costs may run into a coverage gap, although it has been shrinking.
In 2024, once you and your plan spend $5,030 combined on drugs, including deductibles, you'll generally pay no more than 25% of the cost for prescription drugs until your out-of-pocket spending is $8,000 in 2024. The 75% discount on brand-name and generic drugs is funded by drug manufacturers (70%), insurers (5%) and you pay the remaining 25%.
Once your out-of-pocket spending reaches $8,000 you won't have to pay a copayment or coinsurance for covered Part D drugs for the rest of the calendar year, Medicare picks up most of the cost. The $8,000 amount includes whatever drug manufacturers paid on your behalf and assistance from Medicare's Extra Help program.
A surcharge for high earners also applies to your Medicare drug coverage (Part D). In 2024, If your income is above $103,000 if you file individually or $206,000 if you're married and file jointly, you'll pay an extra amount in addition to your plan premium. That surcharge rages from $12.90 to $81.00. You'll also have to pay this extra amount if you're in a Medicare Advantage Plan that includes drug coverage.
Medigap
Medicare doesn't cover everything. This has often been called the "doughnut hole." Part B pays for only 80% of doctor's visits and other outpatient services. In addition, Medicare doesn't cover dental care, eye appointments or hearing aids. You have two options to deal with your uncovered expenses. You can purchase supplemental insurance to complement your Original Medicare insurance or enroll in a Medicare Advantage plan.
Some Medigap policies also offer coverage for services that Original Medicare doesn't cover. Generally, Medigap doesn't cover long-term care, such as care in a nursing home, vision or dental services, hearing aids, eyeglasses, or private-duty nursing.
Medicare supplemental insurance, or Medigap policies are offered by private insurers and cover deductibles and copayments. Medigap policies are categorized by letters A through N. Every policy that goes by the same letter must offer the same basic benefits, and usually the only difference is the cost. All plans offer the same basic benefits, no matter where you live or which insurance company you buy the policy from.
Plans that cover the Part B deductible were eliminated for new enrollees as of 2020. As a result Plan F and Plan C are unavailable for new enrollees. The closest substitute for Plan F is Plan G, which pays for everything that Plan F did except the Medicare Part B deductible. Anyone enrolled in Medicare before 2020 can still sign up for plans F and C.
Medicare Advantage
The alternative to a Medigap plan is to enroll in a Medicare Advantage plan. This isn't supplemental coverage. Advantage plans replace Original Medicare. Medicare Advantage Plans are sometimes called "Part C" or "MA Plans." To be clear, if you join a Medicare Advantage Plan, you'll still have Medicare but you'll get most of your Part A and Part B coverage from your Medicare Advantage Plan.
These plans provide medical and prescription drug coverage through private insurance companies. The monthly premium, in addition to Part B, varies depending on which plan you choose. The Center for Medicare and Medicaid Services (CMS) estimates that the average monthly premium will be $18.50 in 2024, up .64 cents from $17.86 in 2023. Advantage policies charge lower premiums than Medigap plans but may have higher deductibles and copayments, and your choice of providers may be more limited than with Original Medicare.
Related Content
Donna joined Kiplinger as a personal finance writer in 2023. Previously, she spent more than a decade as the contributing editor of J.K.Lasser's Your Income Tax Guide and edited state specific legal treatises at ALM Media. She has shared her expertise as a guest on Bloomberg, CNN, Fox, NPR, CNBC and many other media outlets around the nation. Donna graduated from Brooklyn Law School and University at Buffalo.