How Congress Could Expand Medicare Benefits to Cover Dental, Hearing and Vision
Democrats have included the proposal for the new benefits in their budget reconciliation bill. They also want to allow Medicare to negotiate lower drug prices with pharmaceutical companies.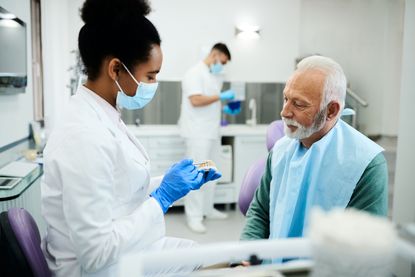 (Image credit: Getty Images)
Democrats are trying to get their massive budget reconciliation bill passed, a process that has met with resistance from members of their own party. That means they will likely need to cut some of the bill's proposals to shrink the overall package. For now expanding original Medicare so that it covers dental, hearing and vision care and allowing the government to negotiate lower prices for prescription drugs remain in the package but it is uncertain if these proposals will be in the final bill.
Many Medicare Advantage plans, which private insurers offer, include hearing, dental and vision benefits already, but original Medicare does not. "This is an historic opportunity to meaningfully expand benefits to all in Medicare and not just those in a private plan," says David Lipschutz, associate director at the Center for Medicare Advocacy in Washington, D.C.
The proposed changes are part of a larger package, the Democrats' Build Back Better plan, which originally cost $3.5 trillion over 10 years. But the Democrats are now looking at trimming parts of that bill to gain broader support, and the price tag has dropped to about $2 trillion. The Medicare expansion and negotiating drug prices could always be dropped or drastically altered in the final bill.
Subscribe to Kiplinger's Personal Finance
Be a smarter, better informed investor.
Save up to 74%
Sign up for Kiplinger's Free E-Newsletters
Profit and prosper with the best of expert advice on investing, taxes, retirement, personal finance and more - straight to your e-mail.
Profit and prosper with the best of expert advice - straight to your e-mail.
But the proposed new Medicare coverage has the backing of 84% of voters, including 79% of Republicans, according to a Morning Consult poll from last June. Ideas with broad support tend to have staying power. In fact, the current legislation is similar to another bill that passed the House in 2019 before foundering in the Senate.
Whatever happens in Congress now, experts believe this is not the last you'll see of these Medicare provisions. Whether in this bill or some other piece of legislation, Democrats are likely to push for them again. But how would these new benefits work, and what effect would they have on Medicare premiums?
Ideas on the Table
Any new benefits probably would be phased in. The current proposal calls for vision coverage to begin in 2022, hearing in 2023 and dental benefits in 2028. Vision coverage would include a routine eye exam and fitting services for contact lenses every two years. Medicare would cover hearing aids every five years for those with severe hearing loss and some of the costs for two preventive-care dental exams each year.
Compared with other items on the Medicare wish list, like long-term care, adding dental, vision and hearing coverage is more affordable. The price tag for these benefits in the 2019 bill was almost $360 billion over a decade, according to Congressional Budget Office estimates. Of that, $238 billion was for dental coverage, $30 billion for vision care and $89 billion for hearing. "It's kind of low-hanging fruit," says Kenton Johnston, associate professor of health management and policy at Saint Louis University, noting that Medicare beneficiaries are reliable voters that politicians frequently court.
If original Medicare is expanded, experts speculate that the new coverage would be folded into an existing program, most likely Part B. The current proposal structures the expansion this way, giving every enrollee the new benefits, whether they want them or not.
Part B costs, including premiums, will likely rise. Even before factoring in any expanded coverage, Part B costs, which are also supported with tax revenue, were expected to continue growing -- on average, 8.5% annually over the next five years, according to the 2021 Medicare trustees report.
Disgruntled Dentists Push Back
The American Dental Association, however, prefers adding a new Medicare section, like Part E, for dental benefits. The ADA contends that a separate Medicare program is appropriate because dental care differs from other health services. The ADA also wants the coverage limited to beneficiaries with income up to 300% of the federal poverty level, a group that includes about 47% of seniors, the organization says. Sen. Joe Manchin (D-W. Va.) also wants means testing for all of the proposed new Medicare benefits.
Some providers may wait to see how much Medicare will reimburse them for their services before signing on. The current bill doesn't specify reimbursement amounts and leaves the decision to the Department of Health and Human Services. "I think everyone will jump on it if the reimbursement rates aren't terrible," says Geoffrey Joyce, director of health policy at the Leonard D. Schaeffer Center for Health Policy & Economics at the University of Southern California in Los Angeles. "You can't walk away from Medicare [and] 70 million seniors."
Plus, dental care is increasingly becoming essential care. "A generation ago, dental care wasn't seen as medically necessary," says Joyce. "Now we know that dental health is correlated with the rest of your health."
The American Optometric Association and the American Academy of Audiology are more supportive of expanding benefits, though both want tweaks to the legislation. The AOA prefers routine exams to be covered annually, instead of every two years, and the AAA wants a provision requiring a medical referral for hearing services removed.
Some experts, however, are skeptical that medical practitioners will want to participate. "I don't think the providers would support this, the dentists especially, precisely because they would expect to see a substantial cut in what they can charge," says Joseph Antos, a senior fellow for health care and retirement policy at the American Enterprise Institute, a right-leaning think tank in Washington, D.C.
If the legislation passes, all Medicare Advantage plans would be required to provide at least the same dental, vision and hearing benefits as original Medicare. To compete, Advantage plans would have to offer something more. Additional benefits like dental care helped propel the growth of Advantage plans over the past decade. The plans could offer new benefits or make their dental, vision and hearing coverage more generous. "Adding vision, hearing and dental to Part B would help not only people in traditional Medicare but also those in Advantage plans," Lipschutz says.
An Rx for Rising Drug Prices
Letting Medicare negotiate drug prices with pharmaceutical companies would help offset the costs from the expanded benefits. For the 2019 bill, the Congressional Budget Office estimated that negotiating prices would reduce federal spending by roughly $456 billion over a decade.
Proponents say the change could also help lower prescription drug costs for beneficiaries. "There's just a really strong appetite among the public for policy-makers to do something about prescription drug prices," says Juliette Cubanski, deputy director for the Kaiser Family Foundation's Medicare policy program.
The current proposal from Democrats would allow Medicare to cap drug costs at 120% of the average price in six countries (France, Germany, the United Kingdom, Japan, Australia and Canada). But this would only happen if the government and the drug companies failed to agree on a lower price.
The negotiation process would only apply to single-source brand name drugs with no generic competitors or roughly 25 drugs in 2024 and 50 in later years. These would be selected from the 125 medications with the highest net Medicare Part D spending and the 125 with the highest net spending nationally.
Consequently, the proposal would likely help beneficiaries who are prescribed the most expensive drugs while possibly slowing premium hikes for Parts B and D for everyone. Currently, a relatively small number of drugs make up a disproportionate amount of spending for Part B, which covers medications administered by a doctor, and Part D, which covers outpatient prescriptions. In 2019, the top-selling 250 drugs with no generic alternatives accounted for just 7% of covered medications but made up 60% of all of Part D spending, according to the Kaiser Family Foundation. For Part B, the top 50 drugs comprised just 8.5% of covered drugs but totaled 80% of the program's overall spending.
Most medications will probably be unaffected, Cubanski says. Medicare doesn't need to negotiate prices for every single drug because most are already inexpensive. Instead, the legislation is aimed at lowering costs for medications with no generic alternative. "They don't have competition forces to keep that price in check," she says.
You'd never know that from the Big Pharma ads telling seniors that negotiating drug prices would make it harder for them to obtain their medications, a claim that Cubanski believes is misleading. "There is nothing in this proposal that would mean the government is telling Medicare beneficiaries which drugs they can or can't use," she says. "There is no formulary with only certain drugs covered and others not covered."
Opponents argue that lower drug prices will mean less revenue for pharmaceutical companies to reinvest in research and development, resulting in fewer new drugs, which is true. A CBO study found that if the 2019 bill had been enacted, the number of new drugs would have been reduced by two in the first decade and by 23 over the next 10 years.
Senior Retirement Editor, Kiplinger.com
Jackie Stewart is the senior retirement editor for Kiplinger.com and the senior editor for Kiplinger's Retirement Report.